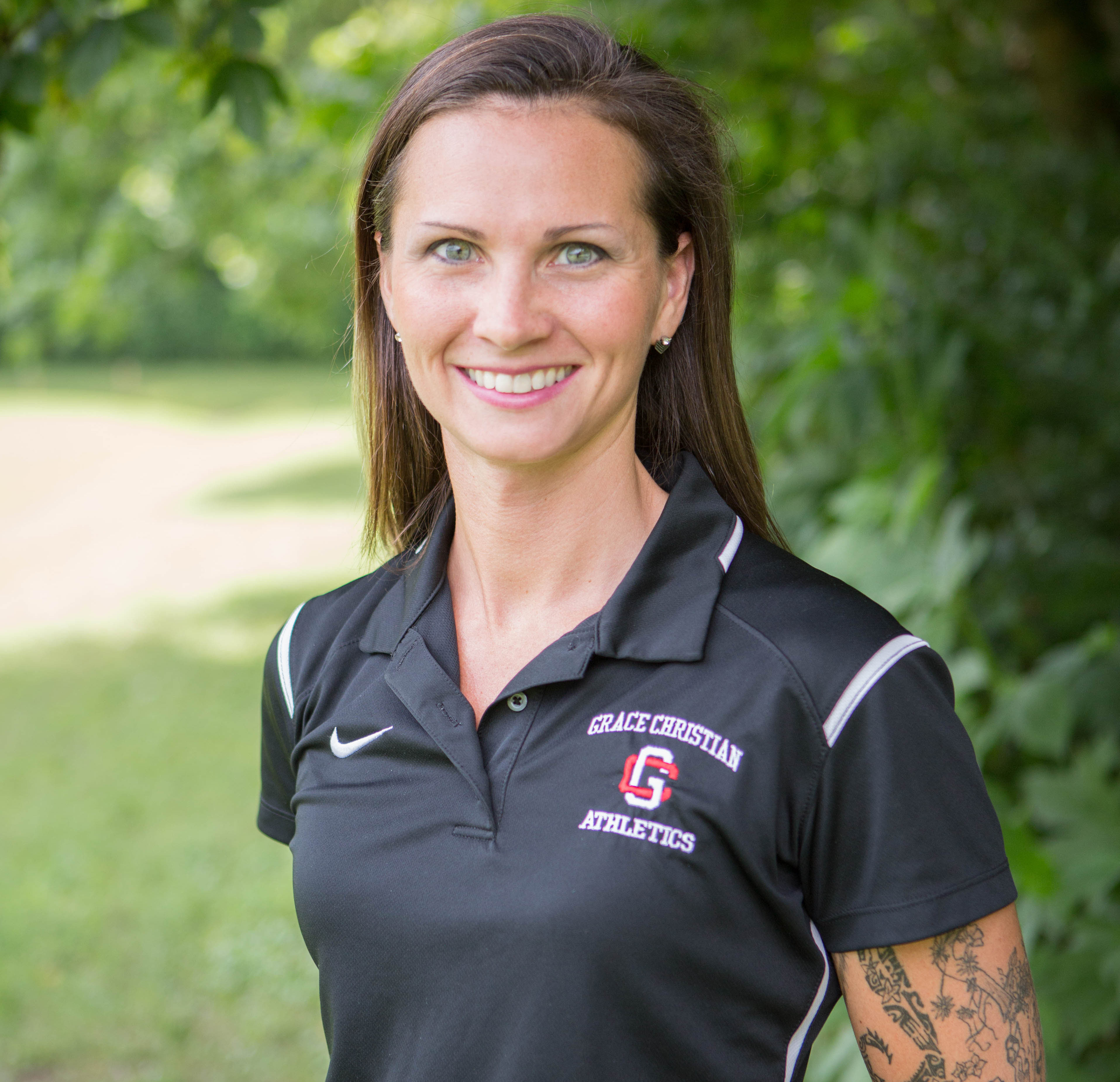 By MITCHELL STEPHENSON 
In this spotlight we share insight from Grace Christian Academy's athletic trainer, Jessica Hester.
What made you want to become an athletic trainer? What does an athletic trainer do? 
JH: I have always loved sports and was athlete from the time I was five years old until college, then I served in the military, which is incredibly physical as well. During high school I broke my ankle for the first time. I did not know that my school had an athletic trainer; at the time, athletic trainers were more for the football and wrestling teams than female athletes. Once I got to college, never having gone through any kind of rehab for my ankle, I continued to sprain it constantly, and the other ankle.
The human kinetic chain of body couldn't put up through the increasing demands I put on it for my ROTC program and I eventually succumbed to patellar tracking dysfunction (knees) and stress fractures on both hips, and the final straw was breaking my ankle again. After all of these injuries, I finally met an athletic trainer working at a PT clinic. I switched majors so that I could help other stubborn athletes. I make it a priority to attend as many parent meetings as I can and meet with all of my teams daily so that students and parents know what an athletic trainer is and that I am here to help, from diagnosis of initial injury through help with appropriate physician care, through the rehabilitation and finally to the gradual return to play.
What is your favorite aspect of being an athletic trainer?
JH: I love my daily interaction with my athletes. I am the first one they see at the end of a hard day of school or a great day. I get to develop a relationship with each athlete where I'm not only a trusted medical professional, but also their personal cheerleader. I love watching my students succeed on the court/field, in the classroom and their development from kids into gracious, kind and courageous young adults.
Athletic trainers have a huge responsibility to the student-athletes' health and safety. Please share some of the duties you perform to accomplish this.
JH: Athletic trainers duties vary depending on their setting. For example, the athletic trainers in the industrial workforce provide emergency care as well as help create preventative programs such as in the field of ergonomics to increase the safety of factory workers. Athletic trainers who work exclusively at a clinic may do anything from sutures to functional assessments and rehabilitation.
At the secondary school setting, we do preventative taping so that athletes do not aggravate a current or old injury. We implement some type of cognitive assessment so that should one of our athletes sustain a concussion we can accurately measure the severity and when it is safe for them to resume activity. We ensure environmental factors are safe, such as having a plan for heat (adequate water supply, breaks, clothing, etc) and lightening or other severe weather. We create and train coaches on an Emergency Action Plan (EAP); many us train our coaches in CPR and First Aid.
We create rehabilitation programs for athletes who have been injured so that they are not injured again in the future. We work with strength coaches to be sure their programs are safe and include prehab exercises to prevent as many injuries as possible, and of course, we provide emergency care when needed by diagnosing and providing care accordingly or referring or activating the EAP as needed. Of course we also do the mundane tasks such as charting/ documenting all given care, parent follow up and maintaining a clean and fully stocked athletic training room.
Do you have a staff to assist you? If so how do you coordinate with them?
JH: I do not personally have a staff to assist me, but my coaches are great about working together with me to ensure our students are safe and have excellent care!