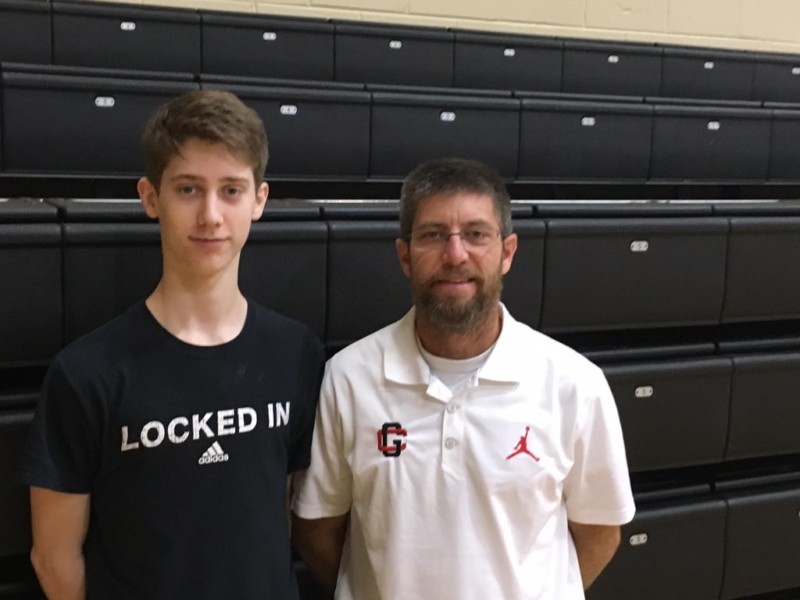 BY MITCHELL STEPHENSON 
Our next spotlight is on Grace Christian Academy athletic director and boys basketball coach Len McKnatt.
McKnatt is a state-winning basketball coach (BGA, 2014) who transitioned over to GCA to lead its athletic efforts.
His Lions basketball team has won its district and made the region tournament in the past, and he's overseen players like Nate Moran at BGA, a D-I athlete, and notable Lions like his son, Mason McKnatt (a 2000+ point scorer in his junior season, pictured above with Coach McKnatt) and 1,000-point alum Cole Scott.
How does the athletic department work with the school administration to implement the overall goals of GCA?
LM: First and foremost the one consistent thing you will see at Grace Christian Academy in all aspects of school life, including the athletic department, is that we are distinctly Christian. Our Athletic mission statement falls directly in line with our overall school mission. The mission of the Grace Christian Academy Athletic Department is to glorify God through the discipleship of student athletes and the pursuit of excellence in athletics with the Bible as the foundation and Jesus Christ as our focus.
Our Principal, Richard Anderson, our Academic Dean, Dr. Amy Hodgson, our Director of Fine Arts, Carrie Estes, and myself (Len McKnatt/Director of Athletics) meet on a weekly basis to make sure we are all on the same page in supporting the mission of the school and talk about ways to improve and to help each other. Our goal in the athletic department is to win every contest we compete in but this is not our purpose. Our purpose goes way beyond the results seen on the field and courts.
We want to see influential Christian leaders, husbands, wives, mothers, fathers, employees and passionate servants of Jesus Christ, as we follow our student athletes into their future years. Since this pursuit of excellence and being distinctly Christian permeates through our entire Leadership TEAM, it is very easy to co-exist with all areas of school life: academics, fine arts, missions, etc.
It becomes very easy to keep the main thing the main thing and work together to support each other. We are fortunate to have a principal in Richard Anderson that is very supportive of Athletics, Academics, and Fine Arts. It is not often that you have your principal on the sidelines of a soccer game, in the dugout of a baseball game and in the student section at basketball games. His wisdom and leadership have helped cultivate this culture of each area striving to help each other and do things in an excellent manner all while keeping athletics in its proper perspective as it relates to the overall purpose of GCA. Our Headmaster, Robbie Mason, is a great example of a servant leader. His support of every aspect of school life, including athletics, is unsurpassed in my 25 years of teaching and coaching.
We cover all sports. What are some of the ways the athletic department supports the coaches, and student/athletes to be successful?
In order for our coaches to be able to support, encourage and mentor our student-athletes to the best of their ability, it is our job to support our coaches and make their jobs as easy and enjoyable as possible. We are fortunate to have several great people in the athletic department staff that take care of many things that could otherwise eat up a lot of our head coaches' time.
Tricia Summers, Athletic Assistant, spends countless hours organizing transportation, updating our athletic calendar, preparing to host our refs and officials, organizing and updating all of our medical forms, setting up our admission tables and concession stand workers, and the list goes on and on. The more of these things we can take off of the coaches plate the more time they can spend mentoring our young men and women on and off the courts and fields.
Our Head Girls Basketball coach, Tony McLeod, also spends parts of each day helping out in athletics. His main responsibility has been updating our @GCALionSports Twitter page and other social media outlets with pictures, upcoming events, results, etc. Tony also broadcasts our HS Football games online and helps me cover all of the different athletic events going on in the fall, winter, and Spring.
We have had so many parents that have also stepped up to help our coaches and athletic program in getting volunteers, serving as TEAM moms or dads, helping with transportation, etc. etc.
Our parents understand the level of commitment our coaches have to pouring into their sons and daughters and they are always willing to step up and take some of these time consuming tasks off of our coaches. One of our moms, Shar Valdez, helped organize and support our concessions. One of our moms, Dana Harris, provided volunteers for as many athletic events as possible. The list could go on and on.
We don't want to be an athletic department that sits behind a desk and stares at a computer all day. You hopefully will find us cutting grass, lining fields, picking up trash, cleaning locker rooms, mopping floors and whatever else needs to be done for our coaches, student-athletes, officials, visitors, and opponents to have a great experience when they arrive at Grace Christian Academy. We as an athletic department strive to be examples of servant leadership to again free up time for our coaches to serve our student-athletes in this same capacity. Thanks so much to Assistant Baseball Coach Blake Crigger for the great job he has done on our outdoor fields.
Another large part of the athletic department responsibilities is in communication with our future opponents and the officials that service all of our contests. We want to be proactive in giving them directions to games, admission prices, and any other detail they need to make their experience a great one when they are on our campus. We want our officials to know how much we appreciate what they do for HS Sports in Middle Tennessee. They have a tough and sometimes thankless job so anything we can do to make their experience better while on campus, we hope to provide.
I can't say enough about how our coaches pour into our student athletes. There are countless hours spent on the courts and fields learning the particulars about a sport and many life lessons. What I'm more proud of with all of our coaches and programs are the number of hours spent off of the fields and courts with their TEAMS. Whether that be discussing life, leading Bible studies, doing mission work, blessing needy families, or helping around the building and church itself, our coaches are truly service oriented. As an athletic department, we take a lot of pride and careful consideration of the coaches that we put in front of our student-athletes. More than just hiring coaches that are knowledgeable about their sports, we want coaches that can mentor our young ladies and young men to be great Christian leaders and members of society. This is one of the most important roles we have as an athletic department. God has blessed us with these type of men and women that have coached with a tremendous success rate but more than that are winners off the field and courts.
Our school has really stepped up in two other areas to give our student-athletes and coaches the best opportunity to be successful. We have been fortunate to have a full-time certified athletic trainer on staff for the last several years. Jessica Hester has done an amazing job with our student-athletes when it comes to preventing and dealing with injuries. Her work ethic embodies what we want from our student-athletes. We thank Jessica for the countless hours she serves our school, athletes and coaches in her role as our athletic trainer. I hope she knows how much we appreciate her. We are also fortunate to have an awesome volleyball coach that also does an outstanding job in the weight room with our student-athletes. Nicole Smith, Head Volleyball Coach and wife of Head Football Coach Rusty Smith, spends countless hours preparing and leading our workouts. She has an extensive background in this area and is a master in the weight room environment. Thanks to Nicole for the many hours of work she puts in to prepare our student-athletes for the rigors of competition.
Every school has amazing student athletes, that may or may not be a super star. Can you share a couple of success stories of your athletes that happen outside of their sport?
LM: I could give you many examples of this with individuals and TEAMS but will try to condense it to just a few. Some of the first things that come to mind are:
Maddie Van Mason, she was on our state semifinalists girls soccer TEAM and region semifinalist girls doubles tennis TEAM. Maddie Van was the valedictorian of our recently graduating senior class. She embodies the excellence we want all of our Student athletes striving for in the classroom. Maddie Van, along with most of our other students, has been on countless mission trips around the world to spread God's Good News. Maddie Van will make a great impact on Mississippi State's campus over the next several years.
Cole Scott, was an all-region football performer, all district and 1,000 point career basketball performer, successful member or our boys tennis TEAM, and state runner-up in the Decathlon and state qualifier in several other track events. Cole managed to do all of this while maintaining a very high GPA, taking medical mission trips with his parents, and other mission trips with our school. Cole has been a selfless leader and attacks everything he does with passion, discipline and excellence. Cole will do great things at Lipscomb and in life.
So many times kids have a better perspective and attitude on things than we do as adults. Carson Anderson blessed all of us at GCA this year in how he battled his cancer diagnosis. There have been several great articles written about Carson and our soccer TEAM's state championship this season.
What a privilege it has been for all of us at GCA to learn from Carson up close and see the faith and toughness he has attacked cancer with. He inspired our soccer TEAM to play for a greater purpose than for themselves. Carson is definitely a leader when he is on the soccer field, but, during those times he couldn't be on the field he was a leader off of the field. One of the best experiences I have ever witnessed was Carson being on the field for our state championship win over a very good Gatlinburg-Pitman TEAM.
There are so many more examples of great things our kids are doing in our community and around the world but hopefully these will suffice in getting the message out on what great kids we have here at GCA and the many things they are doing outside of sports to make this world a better place.
Are there any changes that you can share for the upcoming 2019-2020 sports season? As in any additional sports being added? Any new supportive programs being implemented to help the students?
We have been very fortunate in our schools brief history to win state championships, multiple region championships, and many district championships in the Division I A division of the TSSAA. We are transitioning into Division II (Private School Division) in the 2019-20 school year. We feel several of our programs will immediately have a chance to be very successful in this difficult division. We also realize we have some ground to make up in some of our other programs. We are excited about the challenges and new rivalries this change will create. We have been welcomed with open arms by all of the Division II athletic directors and coaches. We are looking forward to competing with them and helping them in any way that we can.
This will be the inaugural year for GCA to have a few of our student-athletes playing hockey. We will have 4-5 young men that will compete alongside Pope John Paul II and CPA students on a co-op hockey TEAM. We have a few students that play travel hockey and they are excited to represent our school in hockey.
We are excited to have Aaron Morrison helping out in our athletic department and other areas of our school on a part-time basis in the 2019-20 school year. Aaron was part of our boys basketball staff this past season and will continue in this role along with several new responsibilities. Aaron and his wife, Somer, are great additions to GCA. Aaron will help spearhead our new athletics website and be involved with social media, game readiness activities, and many other pertinent areas of the athletic department.