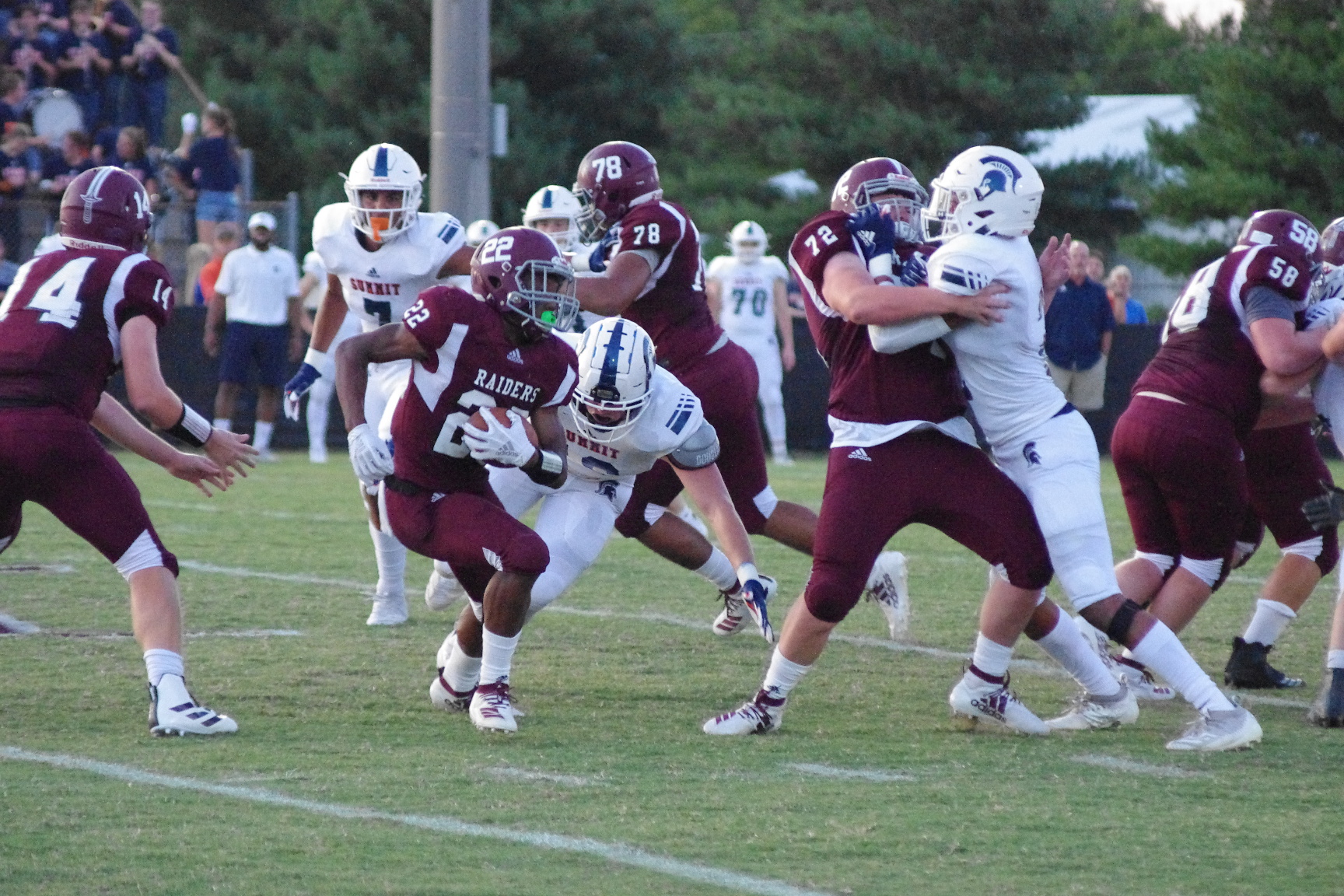 PHOTO: Raiders Running Back Landen Secrest had a combined 67 yards rushing yards during Friday's football game. / Photo by Alexander Willis
STORY, PHOTOS AND VIDEO BY ALEXANDER WILLIS
In what initially appeared to be a close game, the Summit Spartans eventually came out on top against the Spring Hill Raiders Friday night with a score of 35-7, dominating the field for the entirety of the second half. This also marks the first time the Spartans have defeated both Spring Hill and Independence High Schools in the same season. 
Held at Spring Hill High School off of Main Street, the Spartans were quick to score the first touchdown, with running back Tre Hunter running the ball through the middle during the first quarter. The Raiders were quick to respond, however, scoring a touchdown within minutes in response, with quarterback Luka Boylan also running the ball up the middle.
Once the game entered the second quarter, however, the Spartans were quick to gain – and keep the lead. Spartans running back Ashton Lebel returned a 26 yard pass to the end zone in the second quarter, putting the Raiders behind again with a score of 7 – 14 at halftime. 
Wade would continue to put more points on the board for the Spartans, scoring another touchdown in the third quarter with a six yard run through the middle. Wideout George Odimegwu would also score for the Spartans during the third quarter, running a pass into the end zone for a 40 yard touchdown.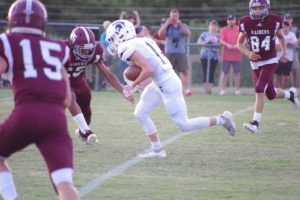 Wade would get one last touchdown in during the fourth quarter, running the ball through the middle again for a two yard touchdown.
Ultimately, the Raiders struggled offensively throughout the game, throwing five interceptions and suffering five turnovers, compared to the Spartans' one thrown interception and just two turnovers.
After the game, Raiders head coach Ben Martin said despite some errors, he was still proud of his players' efforts.
"I was proud of the first half performance… I think the war of attrition got us in the second half," Martin said. "We were missing three offensive linemen tonight, then we lost another who was our center, and so we're kind of putting band-aids where we could, and then the second half we wore down. I [still] think our kids came out and competed hard."
Head coach for the Spartans, Brian Coleman, said his player's performance in the first half was "ugly," but that he was proud to see them push through as the game wore on.
"I guess it was the lull after a big game win last week, [we] just came out flat – thank goodness we recovered in the second half," Coleman said. "We're proud of the guys, this is the first time that we've ever beaten Spring Hill and Independence in the same season, so we are excited about that – we'll take that as a positive for the night."