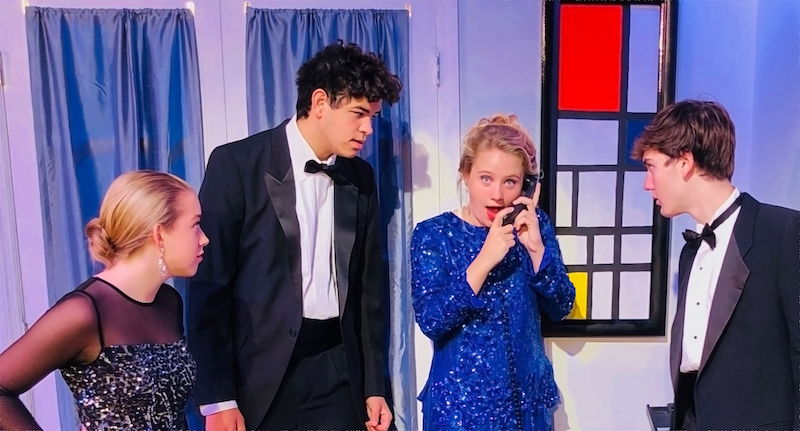 PHOTO: Starring "Rumors" are (from left) Ellen Kesler, Gavin Connors, Anna Baker and Hudson Chaney. / Photo courtesy of BGA
STAFF REPORTS
Battle Ground Academy's theater department will present "Rumors" by Neil Simon as its fall play with performances Thursday and Saturday, Oct. 10 and 12, at 7 p.m. and Sunday, Oct. 13 at 2 p.m. The play is open to the public and all performances will take place at the Harlin Student Center on BGA's Glen Echo campus. General admission tickets are $5 and reserved tickets are $8.
"Rumors" is a Simon classic. It turns what should have been a night of friends celebrating the 10th anniversary of New Yorkers Charley and Myra Brock into a comedic evening gone awry.
"The process of putting this show together has been an absolute blast from start to finish," said Jenny Wallace, BGA's Upper School drama director. "These types of comedies are among my favorite to direct, and this one was especially fun due to the top-notch cast, which includes BGA theater veterans and some talented new faces as well. If you enjoy a madcap evening full of laughs, you won't want to miss this one."
The cast features Anna Baker, Gavin Connors, Ellen Kesler, Hudson Chaney, George Gatterer, Georgia Link, Ava Tashie, Christian Windham, Sam Hopkins and Jahna Battle. The crew includes Emma Cloud, Jerry Song, Julia Weber, Sophie Bruff, Faith Newman, Briana DeLaughter and Gabrielle Gillespie.