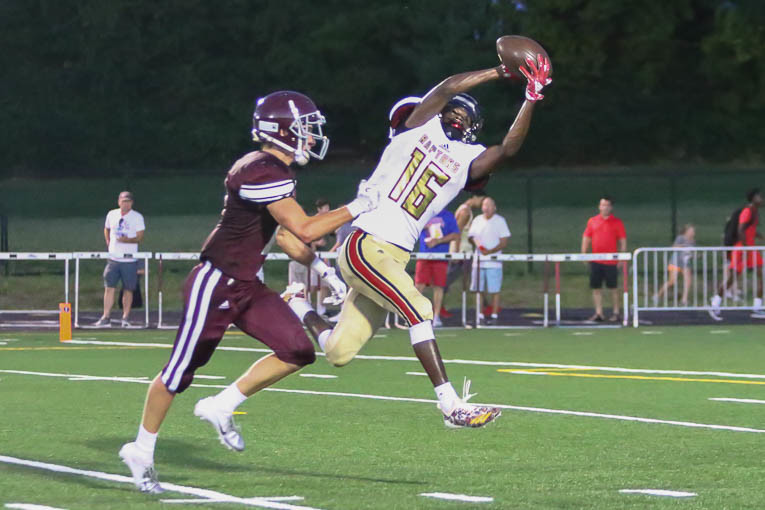 STORY BY CORY WOODROOF | PHOTO BY STEVE WHEELER 
Our Game of the Week story is brought to you by Vanderbilt Orthopaedics.
The Ravenwood Raptors have a pretty good chance of going undefeated through the regular season this year, maybe even into the playoffs.
The Franklin Rebels are trying to get back into the playoffs and etch their place in an always-crowded Region 6-6A.
While the Raptors will be the clear favorites going into their home stand against the Rebels Friday night, don't automatically think this is going to be an offensive bonanza.
The Franklin defense was one of the stoutest in the state last season, holding opponents most weeks under 20 points.
Ravenwood's offense could go off at any moment, led by excellent senior quarterback Brian Garcia, running back Tony Rice and receiver Andrew Mason, but in a very legitimate sense, going up against Franklin's iron wall could be a nice test for them early in the season.
These types of tests are good for the Raptors, who carry the burden of playing with the house money.
The team has been touted up as one of the clear favorites to perhaps take the Class 6A title at the end of the season, though the team is trying not to look too far ahead.
"What are we going to do today to get better and only focus on that day and go day by day," Ravenwood and future Duke tackle Graham Barton said before the season. "Were not worried about December right now, were not worried about playoffs, we're worried about week one … We're going to try to keep that mindset all year and stay levelheaded."
It's a smart approach, if only because of how treacherous Region 6-6A can be.
The Raptors' perennial archrival Brentwood looks to be even better than last year this season, with two gigantic wins against MBA and Cane Ridge already in the books. This season's Battle of the Woods at BHS could be the best game on the Williamson County football schedule and in the state this year. The Raptors are, by no means, a lock to take that one.
Count in Independence as a hassle, who is seeing senior QB Ethan Cash playing really well and is still waiting for senior WR Chayce Bishop to erupt. Ravenwood topped Centennial already this year by a wide margin, but they got a convincing win against Smyrna last week.
Then, there's Franklin.
The Rebels started out the year with a big win on the road against Siegel before getting trounced by Riverdale the week after. Last year's Rebels team topped Riverdale 24-7, making Week Two's slip-up a curious outcome for what it portends for the future.
The team has been trying out Guy Lipscomb at quarterback, who is still figuring out the ropes in the role. The offense losing its battering ram in Matt Gaca to graduation and Power-5 receiver Chancellor Bright to a transfer makes things harder for the team to score points, but they showed against Siegel that it's certainly possible for this team to find the bank.
The Rebels will need to lean on its defense, which let up only 15 points in Week One but an alarming 34 in Week Two, to slow down Ravenwood as much as possible.
Ravenwood's stingy defense, led by the best pass rushing trio in the county (elite prospect Reggie Grimes II, electric Bryan Rice, Ole Miss commit Luke Shouse), will present no shortage of headaches for a growing Rebels offense.
But Franklin head coach is taking the same approach of his opponent: he's not trying to look too hard at the schedule as he is in his own locker room.
"Ravenwood, they're a really strong squad this year but we can't worry about them," Webb told us after the loss last week. "Once we move past this game—which is right now—we are going to work on fixing Franklin."
It'll be a fascinating matchup for many reasons. For starts, if Ravenwood puts the hurt on another Region 6-6A team, it makes them that much more formidable for the region title. It also gets them a 3-0 start and a little wiggle room for a midseason hiccup if one occurs.
For Franklin, it's a chance to prove your worth against one of the best football teams in the state. A win here would undoubtedly be an upset, and a major feather in the cap of Webb's program. It's not at all impossible for this to happen. After all, last year's Ravenwood/Franklin game came down to the wire.
We'll see who does what as the region clashes continue to escalate.
PREDICTION: Ravenwood 24, Franklin 13
It's not that Franklin is going to get thrashed here. The Rebels' young, morphing offense might look better later in the year, but it's going to be tough sledding for Franklin against such an accomplished group of defenders as Ravenwood has.
The Raptors won't go on a scoring frenzy like they did against Centennial; this is Franklin, after all. But they should be in the driver's seat here. The home crowd will help. It'll be a good game for a while until Ravenwood makes a big play or two at the end to seal the deal.