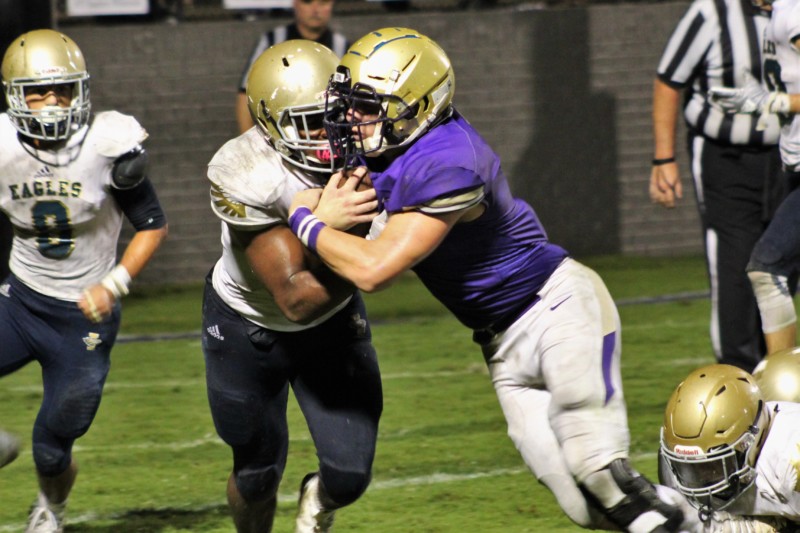 Our Game of the Week story is brought to you by Vanderbilt Orthopaedics. 
STORY BY CORY WOODROOF | PHOTO BY RUSSELL VANNOZZI 
The difficult part about starting the season 0-1 is that it puts you that much closet to 0-2. In high school football, that's a fifth of a season of no wins, and gives you just a bit less confidence going into Week Three and the rest of the season.
The Independence Eagles and Christ Presbyterian Academy Lions are a fascinating reflection of each other. They're both teams who are having to play a bit of the reload game, one more seriously than the other.
CPA won the D-II AA state title last December and completed a perfect season. They were the benefit of a surplus of senior leadership and college-bound talent, with guys like two-way star Kane Patterson (now with Clemson), quarterback Ryan Eledge (now at North Alabama), receiver Noah Henderson (now with Charlotte) and tight end/linebacker Bryce McCormick (now at Furman) leading the charge.
The team even took down Lausanne and Eric Gray in his senior season to make it to Cookville. It was inspired football to the maximum, and came with the premium of having so much experience.
"We've had a mature team of 31 seniors, and they've handled it the right way," CPA head coach Ingle Martin said last year before the team's big state win.
CPA has graduated all 31 seniors on that state title team, with not many recognizable faces left that were key contributors. They'll lean on youth as the season gets going, but that youth learned a tough lesson in a 30-6 loss to ECS on the road last Friday.
You may not know guys like Cade Law (CPA's new sophomore QB who's a dual-threat), junior and senior running backs Will Hays and Andrew Whitley (the team's lead rushers last week) and leading junior receiver Maverick Rodriguez. Whitley also seems like this year's Patterson, as he led the team in tackles.
We may not know a lot about this new Lions team, but we're certainly going to learn a lot when they go head-to-head with one of WillCo's typical contenders.
As for Independence, the team has found itself without its offensive engine.
They'll have no trouble with senior QB Ethan Cash getting his yards, as the Indy system always favors a signal caller with a big arm who can get the ball to the receivers in the route tree. But he's lost his two best guys in T.J. Sheffield (off to Purdue) and Isaiah Collier to graduation.
Sheffield was the lifeblood of the Eagles during his time there, and one of the state's best wide receivers. You don't replace a guy like that, though getting Chayce Bishop midseason in a transfer last year has certainly softened the blow. Bishop, son of former Tennessee Titans safety Blaine, is now the face of the Indy offensive arsenal.
Running back Caedon Williams, who hit the 100-yard mark last week against Summit, is carrying some of that weight, too, as Indy acclimates to a balanced offensive attack.
The Eagles have an Ivy League commit on its defensive line in Chase Robertson, too.
The team's upset loss to Summit, who looks quite good this year, was likely a wake-up call for the Eagles. They flashed the talent we all thought'd they'd have this year, but also made some costly errors at times that sunk their ship in what was otherwise a fairly-even game.
"We've got to learn how to play four quarters," Indy head coach Scott Blade said last Friday of the team's loss, mentioning that containing the quarterback nad not turning the ball over as specific keys. But he also recognizes the youth the Indy team is fielding.
"This is their first time on the big stage, in a rivalry game," Blade said. "We didn't necessarily respond in the way I was hoping for. We've got a long season ahead of us. We've got to learn how to fight through that stuff and grow up. Otherwise, it's going to be a real long season."
The tough thing for Indy this year as they go forward will be with balancing the potential for Cash in his senior season paired with Bishop and replacing the one-two punch of Sheffield and Collier. Collier was always the guy who people would forget when double-teaming Sheffield, and his electric speed would help the Eagles' offense soar at any given moment.
Losing two home-run hitters in the same season is hard, but Indy will have to do what they can as they prepare for a hostile road environment at CPA.
Indy's got the experience edge in this one and could avenge their 55-37 loss from last season. CPA could get a major confidence booster for its squad if they can take down a more seasoned roster on home turf.
Game Prediction: Independence 35, CPA 21 
Independence gets back on track as Cash and Bishop light up a more inexperienced secondary. Indy struggled with George Odimegwu and Summit's passing attack last week, which makes you wonder if CPA could see some new faces like Law and Rodriguez gain some confidence in the air.
But, in this prediction, the Eagles get revenge and a good win against a D-II program, and CPA continues to work out the kinks of what could shape up to be a transitional season for its young roster.