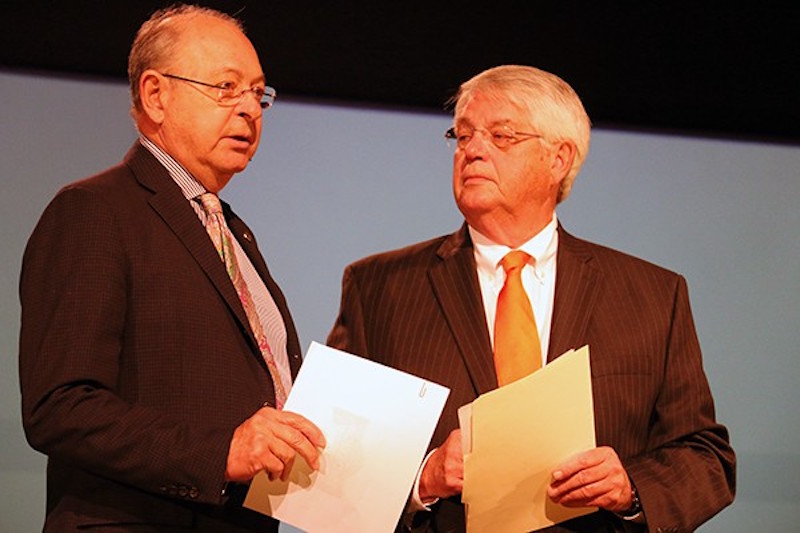 PHOTO: Franklin Mayor Ken Moore (left) and Williamson County Mayor Rogers Anderson will lead a discussion titled "Community Character & Williamson County's Future" at Tuesday's Breakfast with the Mayors. / File photo
By JOHN McBRYDE
At Franklin Tomorrow's Breakfast with the Mayors on Tuesday, Williamson County Mayor Rogers Anderson and Franklin Mayor Ken Moore will lead the morning's discussion titled "Community Character & Williamson County's Future."
The summer installment of the breakfast will be held Tuesday, July 30, at Rolling Hills Community Church in Franklin.
Anderson and Moore will be joined by Mike Matteson, Williamson County planning director; Kelly Dannenfelser, assistant planning director for the city of Franklin; and Liz McLaurin, president & CEO of the Land Trust of Tennessee.
"At a time when both Williamson County and Franklin city governments are considering documents which could have lasting impact on the character of our community, we felt having these presentations and discussions at Breakfast with the Mayors would give the exposure to a wide aspect of the community," Mindy Tate, executive director of Franklin Tomorrow, said. "Both the city and county offer opportunities for people to comment on the plans under consideration, so we won't be taking questions from the audience."
Breakfast with the Mayors is presented in partnership with Pinnacle Financial Partners and Provision CARES Proton Therapy, as well as a host of other partners. Breakfast from Puckett's Gro. & Restaurant and Community Coffee will begin at 7 a.m., with the program starting at 7:45.
To learn more or RSVP for the event, click here.
Thanks to its generous partners, Breakfast with the Mayors is free to attend. Its 2019 supporters at this time include Pinnacle Financial Partners, Provision CARES Proton Therapy Nashville, Williamson County Association of Realtors, Williamson Medical Center, Patterson, Hardee, & Ballentine, Hazen and Sawyer, and Puckett's Grocery & Restaurant. Additionally, Barge Design Solutions is a partner in presenting the July 30 session.
Rolling Hills Community Church is located at 1810 Columbia Ave.