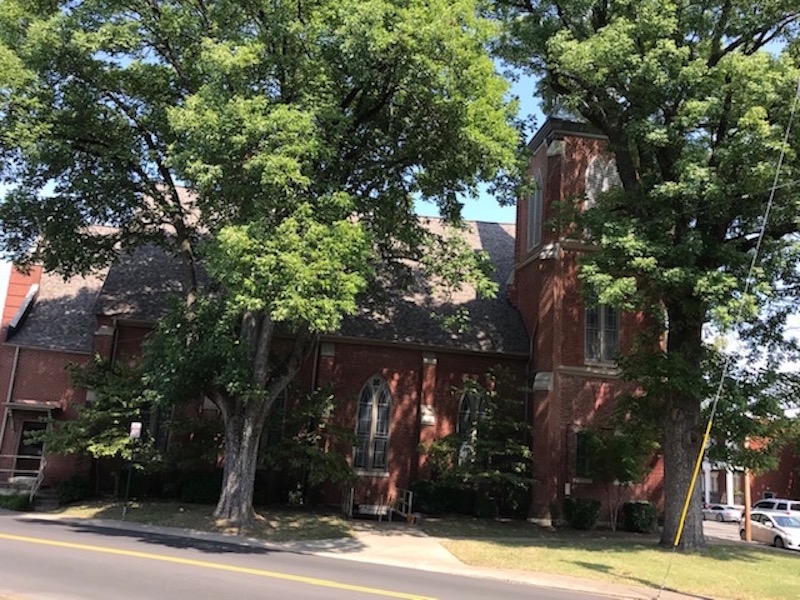 Two ancient ash trees on the small campus of the Franklin First United Methodist church in downtown Franklin will be getting treatments Wednesday against the invasive Emerald Ash Borer (EAB). / Photo by John McBryde 
By JOHN McBRYDE
A Massachusetts-based company that focuses on plant health care and is leading the charge against an invasive beetle that destroys ash trees will be doing a preventative demonstration Wednesday morning on two prominent ash trees in downtown Franklin.
Arborjet Inc., which developed the technology in 2000 to effectively manage and control exotic and native insects and diseases threatening natural and urban forests, will be giving trunk injection treatments to a couple of large ash trees on the downtown campus of the historic Franklin First United Methodist Church.
The environmentally sound treatments are administered to protect against the highly invasive Emerald Ash Borer (EAB). EAB is a bright metallic green beetle that feeds and breeds primarily on ash trees. A native of Asia, the insect has killed millions of trees in the U.S. and Canada since its discovery in 2002, and is regarded as one of the most destructive forest pests in North America.
The public is invited to attend and watch a demonstration of the treatment process, and to learn more about the options available to both homeowners and municipalities to protect and save their ash trees. The treatment is at 10 a.m. at the church located at 148 Fifth Ave. S. in Franklin.
Franklin company Grassland Horticulture will be working with Arborjet on this project.
The trees on the Franklin First UMC campus, one of which is 250 years old and the other around 230, are "showing signs of EAB, and we're just going to do everything we can to save them," said JT Cunningham, owner of Grassland Horticulture.
He added that ash trees that are not treated will be dead in just a few years.
"I want to be clear with you," Cunningham said. "Any untreated ash tree in Middle Tennessee is going to die. Every single ash tree, whether it's in somebody's yard, on the side of a church, in a forest or on the side of the road, is going to die. It's a 100 percent mortality rate."
Arborjet is donating the service as part of its "Saving America's Iconic Trees" program. It's the company's latest initiative to ensure the health and longevity of the country's trees. The campaign targets America's most beloved trees, often located in public parks and gardens and other historic sites, offering complementary treatment to prevent insects, disease and poor health.
More: Invasive pest could devastate 13% of Middle Tennessee's tree canopy in next three years