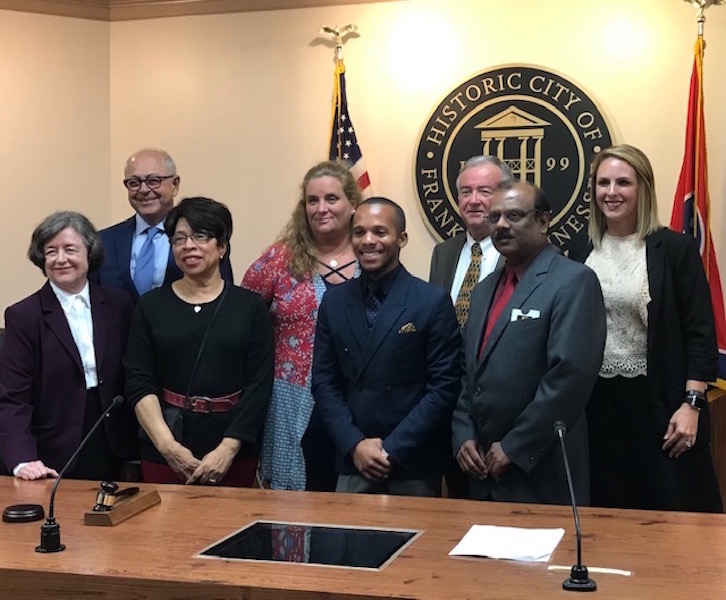 PHOTO: Participants in Monday night's candidates forum were (from left) Ann Petersen, Mayor Ken Moore, Pearl Bransford, Brandy Blanton, Howard Garrett, Clyde Barnhill, Bhavani Muvvala and Michelle Sutton. / Photo by John McBryde
By JOHN McBRYDE
Though candidates in the city of Franklin's at-large alderman race came down mostly on the same path on several of the topics from Monday night's candidates forum, some did go separate ways on issues such as gentrification, attainable and workforce housing and whether downtown Franklin needs another public parking garage.
Aldermen Brandy Blanton, Pearl Bransford and Clyde Barnhill faced off against challengers Michelle Sutton, Bhavani Muvvala and Howard Garrett during a two-hour forum at Franklin's City Hall, taking a total of 13 questions from representatives from the Franklin Home Page, the Williamson Herald, Franklin Tomorrow, Williamson Inc. and the Williamson County Association of Realtors.
Franklin Mayor Ken Moore and alderman Ann Petersen each gave opening and closing statements, but didn't take part in the forum since both are running unopposed in the Franklin municipal election scheduled for Oct. 22.
The six candidates who participated seemed to generally line up with each other on matters such as connectivity and greenways, Franklin's role in the regional transportation discussion and the importance of business development in the economic growth of the community.
The question of gentrification, however, may have been the hot-button topic of the night.
"I think gentrification is a major issue in the Natchez community," said Garrett, 27, who is running against Barnhill in the Alderman A group. "As I walk the neighborhood I see historical houses, and then I see a [$500,000] house next door. If you're a resident there, that does something to your pride. I think as a city, we need to be more responsible in not allowing developers go into those cities and destroy the history and the character of that city."
Barnhill took the opposite approach, suggesting that not allowing gentrification prohibits homeowners from selling their property as they see fit.
"Basically, that's a reach of government saying you cannot sell your property for whatever it's worth," he said. "You cannot participate in the appreciation that you've obtained over the years. It's an interference with the free-market enterprise.
"I don't know what we expect from government, and I'm not sure what we think is good for this, but if somebody wants to sell their house, … you've got to have some freedom within your ability to control your own destiny."
Blanton agreed with Garrett on the significance of the issue, "especially in the Natchez community," she said. "It's unfortunate because a lot of these families have been there for decades and some multiple decades and generations. They see the opportunity to realize a familial cash inheritance. Problem is, there is not anywhere to go in our community."
Which, of course, leads to the key topic of affordable or attainable housing.
"What it boils down to is that not anybody can afford to move into this community, and that's a sad thing," Blanton said.
Sutton, Blanton's opponent in the Alderman B group, said while it's not government's role to provide for affordable housing, the public sector can play an important part.
"As an advocate for the free market, I don't believe that government should be using taxpayer dollars to fund housing," she said. "I do believe government should be of assistance in waiving some of the fees or shortening the process when developers commit to building at price points that are more financially attainable for housing. We should also consider what incentives could be offered to developers to build more attainable-priced housing."
The entire candidates forum can be viewed on Franklin Tomorrow's Facebook page.
Early voting for this election has begun and will run through Thursday, Oct. 17, at the Williamson County Administrative Complex on West Main Street in Franklin. Hours are 8 a.m. to 4:30 p.m. weekdays and 8 a.m.-noon Saturdays.
Read Franklin Home Page's Q&A's with all of the candidates here: Franklin Election 2019.