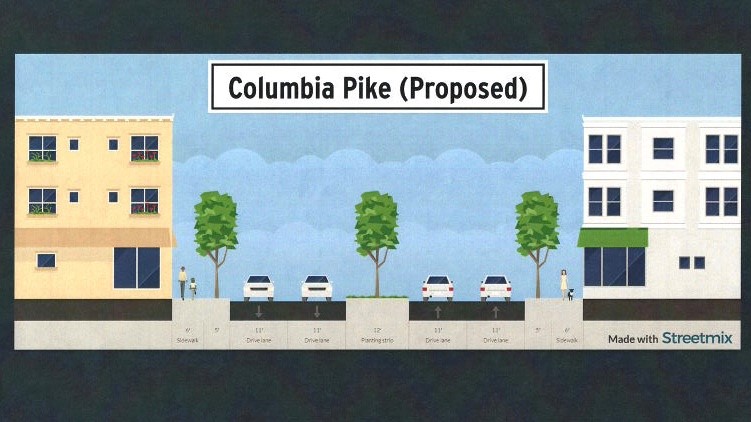 PHOTO: Design Documents from Barge Design Solutions show the proposed widening of Columbia Pike. / Photo courtesy of Barge Design Solutions
By ALEXANDER WILLIS
The Thompson's Station Planning Commission voted 4 – 1 Tuesday night to adopt its new Major Thoroughfare Plan, putting the Columbia Pike widening project on the forefront of the town's priority list.
Columbia Pike, which is the portion of U.S. 31 that stretches through Thompson's Station, currently sees around 30,000 drivers daily. At just two lanes for the majority of the road, this has led to significant congestion problems on a regular basis.
In comes Barge Design Solutions, an engineering firm that the town had commissioned to develop a new Major Thoroughfare Plan, which is essentially a list of transportation improvement recommendations based on current and projected road use and population statistics.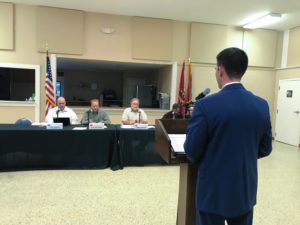 Barge Design Solutions had held a series of community-input meetings over the summer, taking feedback from residents regarding transportation issues, desires and concerns. Through the community's feedback, the firm eventually developed its final draft of the Major Thoroughfare Plan, focusing on three key aspects; capacity, safety and connectivity.
While the plan includes multiple transportation improvement recommendations, perhaps the most notable is the widening of Columbia Pike from two to four lanes. Project Engineer Jonathan Smith with Barge Design Solutions previously summarized the project at one of the meetings back in June.
"We are proposing widening Columbia [Pike]," Smith said . "What we are proposing to do with this is a median dividing four-lane section, so you'll have two lanes in each direction and a grass or planted median going down the pike. The benefit of that is it gives you, really the functionality of what people would think of as a five-lane, [while] keeping some sort of rural type character with that landscaping… we're trying to have that balance."
While the majority of the commission were in favor of adopting the new plan, Commissioner Kries White ultimately voted against the adoption, arguing a four lane road didn't match his vision of Thompson's Station.
"I think we're building great capacity for Columbia, Spring Hill and further south, which they should appreciate, but for where the majority of our people live, I don't think we're doing ourselves any favors," White said. "This sounds hypercritical, and I don't mean to be, and I really appreciate the work you've done, I just… it doesn't match my vision of what Thompson's Station is, or should be."
White later told the Home Page that he didn't feel the plan fully addressed its three key points; capacity, safety and connectivity.
"Capacity… we're an east/west town, where our growth is, enlarging [U.S. 31] doesn't solve it," White said. "Safety – in the report is says that you do lose safety by increasing lanes, so that's not a good thing. The idea of having a five foot bike lane right by a divided four lane is kind of frightening to me. And then connectivity, which is a wash because the more different ways you connect in to a major thoroughfare, the more you back up traffic."
Commissioner Bob Whitmer said he shared in some of White's concerns, but that ultimately, he felt – if done right – that a four lane road could fit the rural aesthetics of Thompson's Station, and that the expansion could further help grow the community and encourage commercial development.
"Kries, I share your concerns, but I'm kind of moving in a different direction," Whitmer said. "I'm looking at what you proposed for [U.S. 31], and I'm seeing bike lanes, I'm seeing a median, I'm seeing sidewalks, I'm seeing low curbs, which give it that rural character. I still feel like we can hit on Thompson's Station's vision by having a four lane road – if it's done properly. I think we can adopt this plan, and I think we can still achieve our vision of Thompson's Station."
While still supportive of adopting the plan, Whitmer also expressed concerns over how the vote may be perceived by town residents.
"I think if this is approved, what we're going to hear in the press is Thompson's [Station] just approved widening Columbia Pike, and people will envision that to be a super highway to 840 – but that's not the case," Whitmer said. "I think if it's done right, you're going to see a road that will retain the rural character that we're looking for."