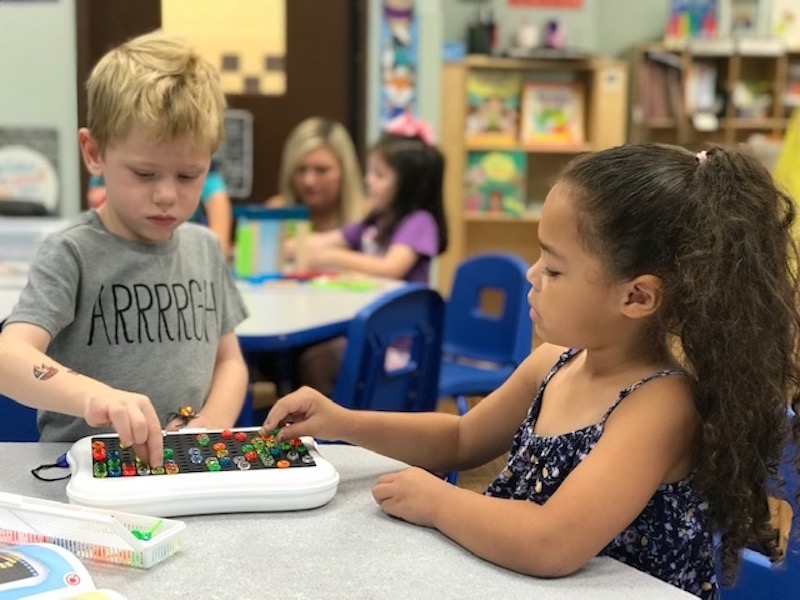 PHOTO: Luke Schreurs and Teagan McKenzie play with one of the toys being tested throughout this week at the Goddard School in Berry Farms. / Photos by John McBryde
By JOHN McBRYDE
At the Goddard School in Berry Farms this week, children have been doing a little more than learning and playing and getting prepared for the rest of their academic lives.
They have also had jobs. Specifically, students at this Franklin location have been joining those from 49 other Goddard Schools across the country in testing some of the leading toy brands that are targeted to preschoolers.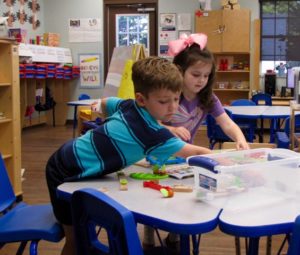 "We were one of the 50 schools chosen to test the toys," said Tonya Livesay, director of the Goddard School located on Moss Lane in Berry Farms. "We were excited to be one of the chosen schools."
This is the second year this particular Goddard School has participated in the "preschooler-approved toy test." Now in its 12thyear, the testing engages children from infants to 6 years old to play with interactive toys for one week each year (Sept. 16-20 this year), while teachers observe and document how the toy rates among the judging criteria (interactivity, skill development, creative inspiration and more).
With the help of parents, the preschoolers will then cast their votes to determine the top 10 preschooler-approved toys,which will be announced just in time for the holidays on Nov. 15. Locally, 100 of the winning toys will be donated to Toys for Tots.
Notable toy brands that are being tested include V-Tech, Leap Frog, Play Monster, Manhattan Toy Company and many more.
The Goddard School was founded more than 30 years ago in King of Prussia, Pa. It uses the most current, academically endorsed methods to ensure that children from six weeks to 6 years old have fun while learning the skills they need for long-term success in school and in life.
In addition to the school in Berry Farms, Goddard also has a Franklin location on Moher Boulevard in Cool Springs.