Madison Clutsam
Freshman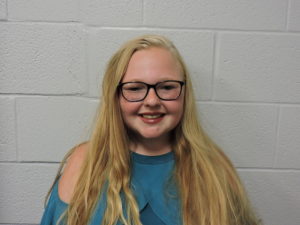 Madison Clutsam, daughter of Kim and Robert Clutsam, is a freshman at Renaissance High School and this week's Student of the Week.
She is an artistic student and enjoys painting, drawing, and creating her own style.
Of her accomplishments, she said the one she is most proud of is being accepted into Renaissance High School.
Her favorite class at RNHS is art. She said, "I've always enjoyed art and really thought of it as a way to unwind and let my imagination go wild."
Clutsam said her biggest role model is her mother, Kim. "She's always supported me in everything I do and helped me through the tough times."
RNHS English teacher Mrs. Green said of Clutsam, "Outgoing, friendly, positive… already showing leadership in a big way. A delightful freshman addition to our RNHS community!"
After graduating from RNHS, she plans to attend SCAD, or Savannah College of Art and Design, for college.