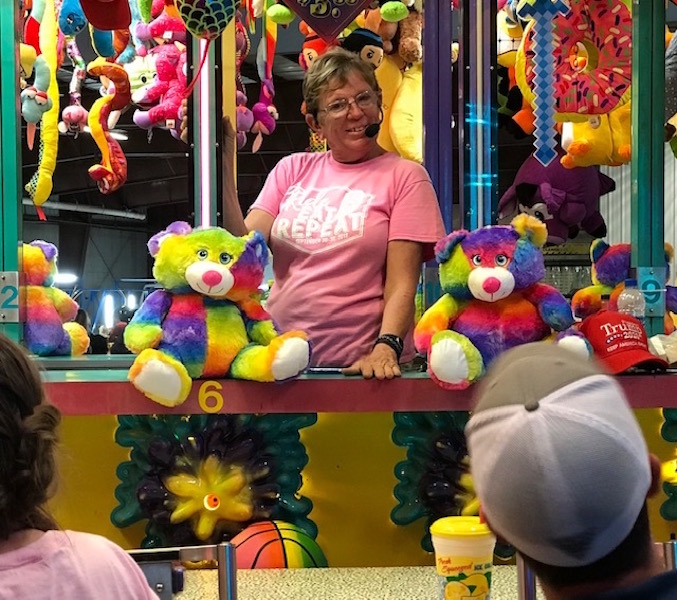 Photo: The Williamson County Fair's midway features rides and a big variety of games where you can win stuffed animals and other prizes. / Photo by John McBryde
By JOHN McBRYDE
Only two days remain in the 15th annual Williamson County Fair at the county's Ag Expo Park, so be sure to schedule a visit if you haven't been already. And if you do go, you'll still have time to take in other activities this weekend. See below for a sampling.
Williamson County Fair
Where: Williamson County Ag Expo Park
When: Friday, 6-10 p.m., Saturday, 10 a.m. to 10 p.m.
Built around the three main components of agriculture, education and entertainment, the 15th annual Fair is sure to please everyone. Youngsters can learn about where their food comes from while also enjoying plenty of fun activities, and older youth can spend time at the midway that stays open until midnight on the final Friday and Saturday.
National S'mores Day Hike
Where: Owl's Hill
When: Saturday, 10 a.m.
This is a first-time event at the nature sanctuary located in Brentwood and not far from the Grassland community. After getting their heart pumping from hiking the wooded trails, guests will retreat to the pavilion for s'mores. Create delicious s'mores from a variety of chocolates, graham crackers, marshmallows and toppings. Fun for the whole family! Admission is $8 per hiker, and children 2 and under are admitted free.
 2019 Harvest Party
Where: Arrington Vineyards
When: Saturday, 7 p.m.
Williamson County's favorite winery will feature a day of wine, music and more, with a concert in the evening featuring popular country recording artist Kix Brooks. Admission is free with opportunities to donate and to make purchases benefiting Monroe Carell Jr. Children's Hospital throughout the day. Preferred seating is $30.