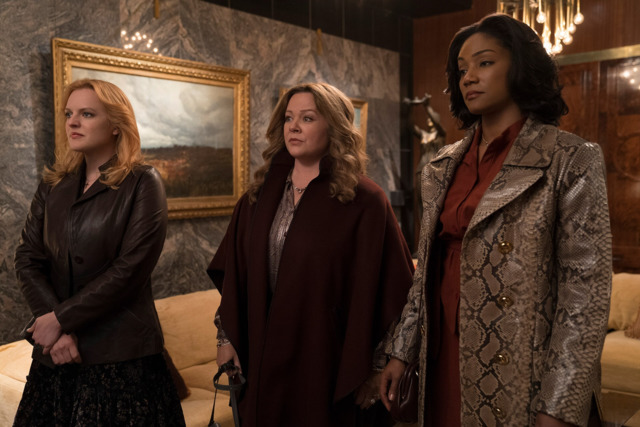 By CORY WOODROOF
It's never a good sign when a studio pulls your Thursday night showings to avoid any bad word of mouth.  
That fate befell The Kitchen, a women-led retelling of the Goodfellas gangster template, as Warner Bros. opted to wipe almost all early showings at the last minute. It's a fair decision. Seeing the highly touted DC graphic novel adaptation flounder as it does, with so much potential on the table, makes us think of another legendary movie gangster's famous retorts. The end results are displeasing to the highest degree. 
In a time when studios are finally putting more classic film stories into the hands of those who have never gotten to be at the helm, The Kitchen could've joined 2018's soaring Widows in mid-budget crime cinema, wherein women run the seedy basement conversations, dimly lit alleyway brouhahas and elegant table meetings that have been male-dominated in gangster movies for decades.  
The Kitchen is fully aware of how the deck is typically stacked against women in these films: They're oppressed by dullards in cheap suits in a way that insults, demeans and panders in equal measure. It would've been downright cathartic to get another great film in which the table flips and a lot of these bozos get what's coming to them as the women take charge of the family business.
That's The Kitchen's initial focus, as Melissa McCarthy, Tiffany Haddish and Elizabeth Moss take charge of "protection fees" in their neighborhood when their husbands all go to prison over a botched robbery. They come in guns blazing, but also burdened with lacking dialogue and a story so convoluted you might have to consult the graphic novel to figure out where any of this came from.  
Straight Outta Compton co-writer Andrea Berloff directs for the first time, in addition to penning the script, and sadly misses so much of what made Comptonsuch a lively journey into social complexities. Everything about The Kitchen's script feels sanded down and traced over, though Berloff still shows plenty of potential as a director. Here's hoping she's given another chance to show that.  
But The Kitchen is hard to follow. Plot twists strike out of nowhere, and seem to serve no other purpose than to complicate the story; some characters meet a bitter end with no rhyme or reason. It's not at all cohesive. It's dispiriting to see folks like McCarthy, Haddish, Moss and the film's roster of superb character actors (Margo Martindale! Domhnall Gleason! James Badge Dale! Bill Camp!) struggle with the story's limited resources. 
Christopher Tellefsen edits the film into a pretzel, which is bizarre considering he's very good at his job and helped piece together Widows, one of 2018's best-cut efforts. We may never know what caught fire here to burn The Kitchen down, but its editing tells a grim story of a film that was just too confusing and uninspired to piece together correctly.  
The Kitchen certainly isn't the 20-car-pileup-that somehow-includes-a-spaceship that 2018's mafia disasterpiece Gotti was, nor is it the absolute worst thing you'll see in 2019. It's just a disappointing rehash of clichés we know by heart — a textbook example of how not to plot, and a missed opportunity to do something different in a genre that continues to need a social shakeup.