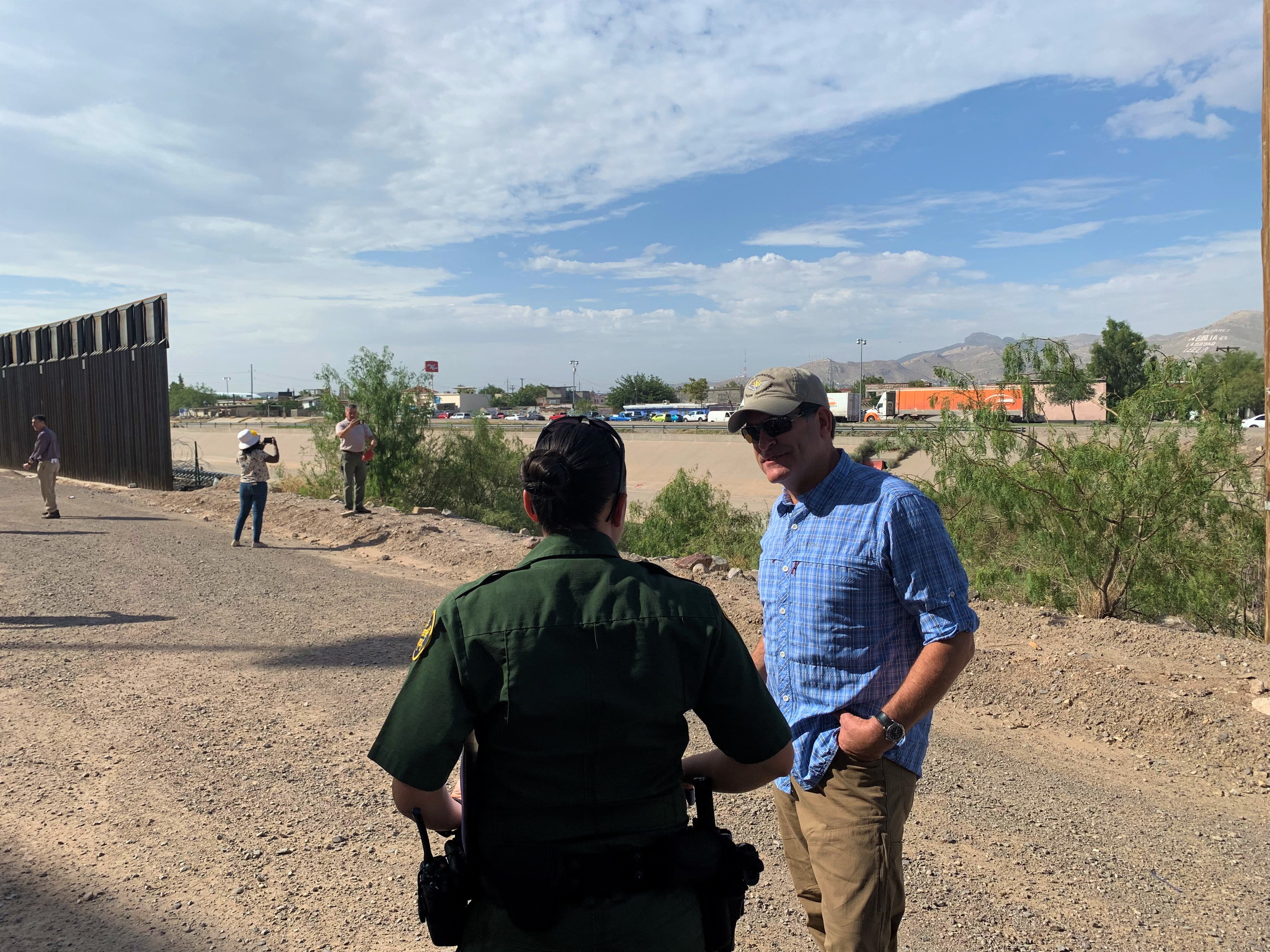 PHOTO: Mark Green tours sections of the U.S. border alongside border patrol agents. / Courtesy photo
BY ALEXANDER WILLIS
Congressman Mark Green toured the United States' southern border this week along with nine other members of Congress, where the representatives were shown Immigration and Customs Enforcement (ICE) detention centers, border patrol stations, as well as portions of currently in-place border walls. While Green said the trip was made as an opportunity "to get a glimpse of the situation at the border," the trip was also made in part to follow up on recent claims of cruel conditions at detention centers, many of which Green called "blatantly false."
In June, New York Congressman Alexandria Ocasio-Cortez (AOC) toured a detention center in Flint, Texas, where she claimed detainees were "being told by CBP (Customs and Border Protection) officers to drink out of the toilet."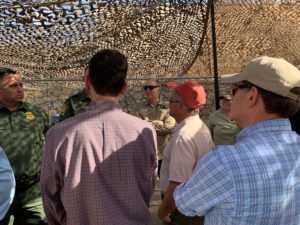 While toilets used in detention centers include a built-in sink, AOC claimed that the sink portion was not functioning. After touring that same facility, Green said he was told by CBP agents that AOC's claim may have been due to a language barrier.
"I went into the cell where the woman was supposedly drinking out of the toilet, and there's a sink and there's a toilet, and the sink has potable water and I was drinking out of it," Green said. "I talked to the CBP agents, and they basically said, apparently AOC can't speak Guatemalan Spanish because the woman said they get their water out of the bathroom."
A strong critic of conditions for detention center detainees, AOC has previously called the facilities a Republican "torture project," as well as labeling them "concentration camps" before invoking the phrase "never again," a phrase typically associated with the Holocaust.
Green was strongly critical of AOC's rhetoric, calling it "terrible" and "offensive."
"I think it's horrible," Green said. "It's terrible, it's offensive, it's not constructive in that none of the things that she said that were wrong were [actually] wrong, so they were blatantly false number one. Obviously she didn't know [what] she was talking about, and of course the press did nothing but explode it because anything that's negative about this president, they're going to do anything they can to blast it out there. They don't care about the truth. The truth is irrelevant to them, it's all about taking this guy down."
Regarding the detention centers themselves, Green said all the ones he had visited over the past few days were "very adequate," and "very clean."
"I got a first-hand glimpse of it; very clean facilities, they're very adequate," Green said. "In fact, in the ICE detention facility, they're using the same dietitian that they use at Fort Bliss, Texas, and the menu is the same as the menu that our soldiers get. They have very nice facilities, there's snack food for the kids all day long, they get three meals a day, the sleeping conditions are great now because the surge is down because of the president's tariffs… the facilities are fantastic. They're very nice – way better than anything I ever had in Iraq, I can tell you."
Another highly discussed issue regarding illegal immigration is the separation of families.
"None of them are being separated," Green said, regarding families detained at the border. "They were separated during the Obama administration, and all those images of kids in cages were from 2015 when Barack Obama was in charge. They're not separating children, I was there."
Green's tour comes in the wake of the U.S. Senate approving $4.6 billion in emergency funding towards addressing the southern border crisis, a move that will likely see ICE and IBP receive substantial increases in funding. Despite the approval, the legislation is attached with certain restrictions, restrictions that prohibit funding from going towards a border wall, detention beds, and other miscellaneous items.
"We are concerned about illegal immigration," Green said. "That is harming Americans, but drugs, MS-13, those are [a] far greater harm, and that's what those guys are there [for], doing everything they can to protect Americans. The CBP, the ICE agents and all those guys, they are super professional, they're committed to this country… they're doing a fantastic job with the resources they got."