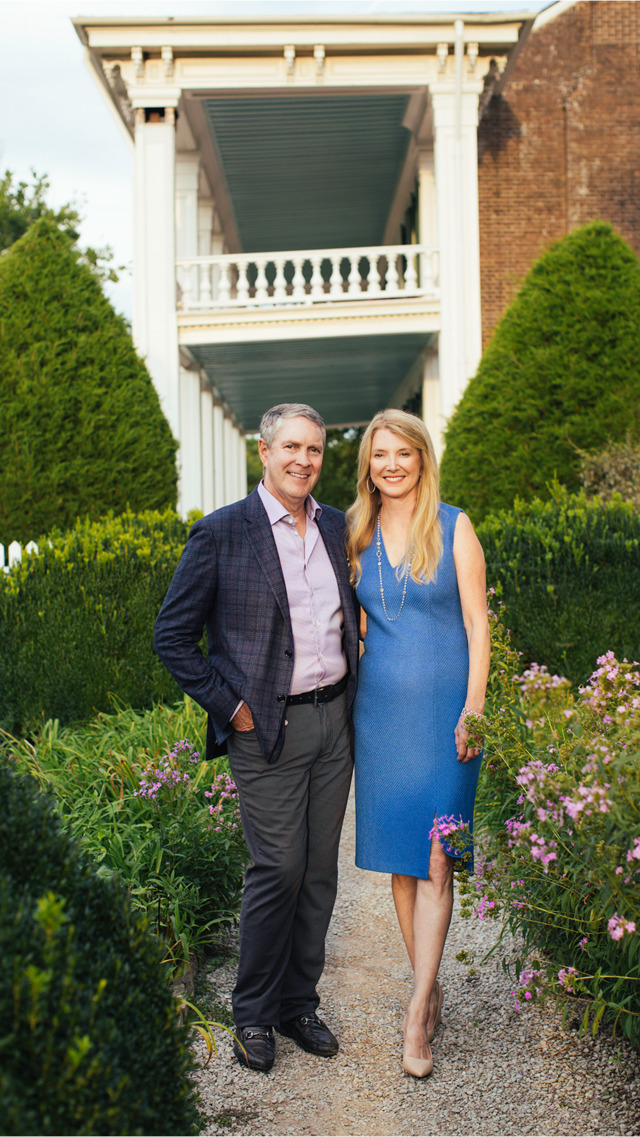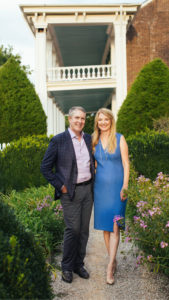 By HOLLY HOFFMAN
This story first appeared in our sister publication Nfocus.
Whether it's saving passed down stories or ancient artifacts, Tracy and Bill Frist are committed to preserving history — including its wisdom and lessons — for future generations. At Old Town, their historic Williamson County home, they are repatriating items removed in the 1800s, uncovering archeological remains from 1,000 years ago and safeguarding the Old Town Bridge, one of the oldest remaining in the state, with its own spot on the National Register of Historic Places.
The enthusiasm for history, community and tradition Tracy and Bill share with the Heritage Foundation of Williamson County is the reason they are honored to co-chair the 46th annual Heritage Ball. Their plans are sure to please the 800-plus crowd when the black-tie gala takes place on Saturday, Oct. 5, at Eastern Flank Battlefield Park.
In addition to Old Town and the ball, the Frists serve on nonprofit boards with missions similar to theirs and can often be found riding their horses in their free time. As busy as they are, Tracy and Bill took time to answer a few questions for us.
Name: Bill Frist
Profession/Title: Surgeon, former Senate majority leader
Hometown: Nashville, Tennessee
Zip code: 37069
Number of years in Nashville: 67
Age you first flew a plane: 16
Name: Tracy Frist
Profession/Title: Farmer, teacher, writer
Hometown: Longshop, Virginia
Zip code: 37069
Number of years in Nashville: 5
Age you first rode a horse: First Shetland pony, age 5; first cutting horse, age 12

What is one of your favorite things about the Heritage Ball? The community.Together, our passion is teamwork aligned behind conservation and preservation.
What's the most fascinating thing you've learned or discovered at Old Town? The ancient "old town" or village comprised of temple mounds and thousands of people that lived for multiple generations on our land starting around 1050 A.D.The sense of time and space at Old Town possesses a feminine strength through history, from the female effigies of a thousand years ago to the contemporary women who have cultivated the property and perpetuated the legacy of Old Town.
When you have out-of-town guests visiting, where do you take them? One: an immersive walk through time, sloshing down the middle of Old Town's creek to see the [Old Town] Bridge from the bottom up. Two: The Bluebird Cafe.
If you were throwing a last-minute dinner party, who would you call and why? Steve and Denise Smith, Terry and Laura Cook, Mary Virginia and Chet Frist — because they all live their lives balanced by doing good and appreciating nature.
Favorite spot for a meal? Picnic at the creek at Old Town with fresh tomato pie from Catering & Events by Suzette
What's your favorite locally made product? Tamales at The Franklin Farmers Market and strawberry jam from Loveless Cafe
As a kid, what did you want to be when you grew up? A farmer, a teacher and a writer (Tracy); a doctor (Bill)
What trait do you admire most in others? Honesty
What is the most interesting place you've traveled to? The deeply moving Black Hills of the Dakotas. The spirituality and wildness of the West sing to our hearts.
What's your favorite local event? The Heritage Foundation of Williamson County's annual Dickens of a Christmas festival
What's one thing you hope never changes about Franklin? The rich, full spirit of its people with their respectful sense of time and place