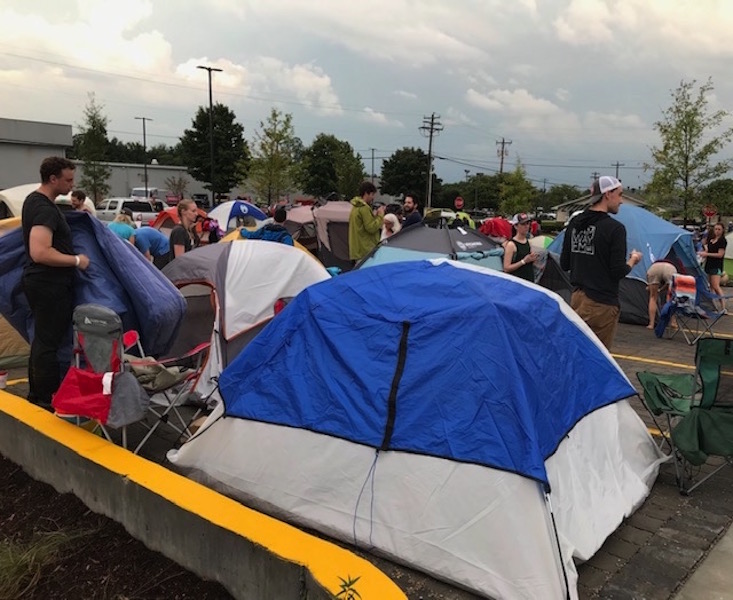 PHOTO: After the storms had moved out of the area, tents starting going up in the parking lot of the new Chick-fil-A in Franklin as 100 customers participated in the First 100 Campout promotion. / Photos by John McBryde
By JOHN McBRYDE
They were soaked by rain and threatened by lightning. They were facing a night of sleeping on asphalt and a wake-up call before the break of dawn.
So what made all the participants in the Chick-fil-A First 100 Campout carry on like this was some kind of festival where they were having the best time ever?
"It's just so much fun," said Kate Barker of Brentwood, one of the 100 people chosen to spend the night in the parking lot of Franklin's newest Chick-fil-A. "You get free Chick-fil-A for a year, plus I love camping and you get to do it with a huge crowd. It's a great way to get to know people. It's fun."
The Chick-fil-A restaurants have been holding these promotions for 15 years, whereby 100 customers age 18 and older are treated to free Chick-fil-A meals for a year. They must arrive the evening before opening day, and if they're awarded a winning number, they camp out in the parking lot through the whole night.
Those arriving Tuesday evening at the new Chick-fil-A on Murfreesboro Road were met with torrential rains and cracks of lightning and thunder, but were soon ushered inside the building to wait to see if their number was called.
By the time all had made it inside, there were 232 customers waiting to see if they would be chosen. A representative for Chick-fil-A said this was the largest crowd she had seen in the many similar promotions she had worked with the company.
Though many of the customers endured wet clothes from the earlier downpour, nearly all were happily setting up their camps and meeting their neighbors for the night.
"It just sounded like a fun activity to do on a Tuesday night," said Kelsey Lowe of Franklin, who was staying overnight with her friend Emily Rusinko. "I don't have to work tomorrow, so it worked out well for me. I've seen these done at other places, and always thought they looked fun.
"I'm glad to have Emily to help me brave the elements," Lowe added. "We'll be fine at this point. The main thing is getting your number called, so we're good."
Joseph Mills, also of Franklin, already had his tent set up as he was waiting to see if his wife's number would be called. She would be camping regardless, either as a guest or as one of the winners.
"The main motivation is we both work from home, so we like getting out and doing things and breaking up the monotony a little bit," he said. "So this was a good chance to do that and have a little adventure. The rain didn't chase us away, so it worked out."
The awarding will take place around 5:30 a.m. Wednesday. The Chick-fil-A Cow will lead a conga line of participants through the restaurant, to the excitement and cheers of team members who will be clapping, and banging on pots and pans.