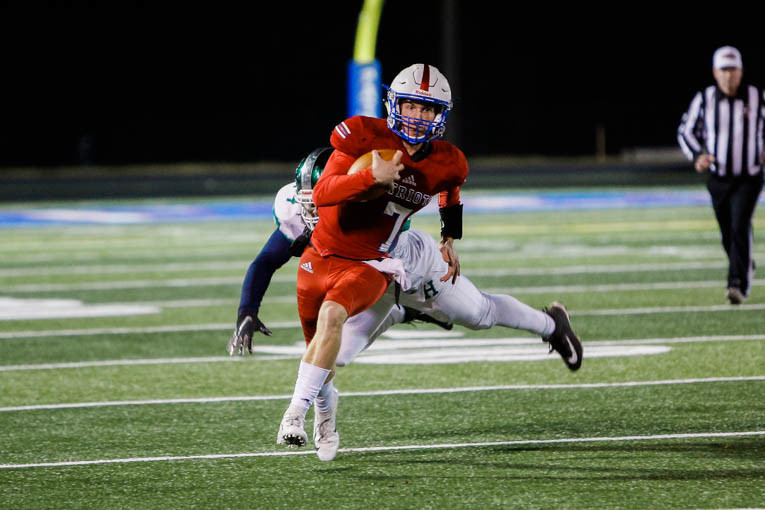 STORY BY LOGAN BUTTS | PHOTO BY DEB SCALLY
It took three consecutive plays with no time left on the clock, but the Page Patriots remained undefeated on Friday night by beating region rival Shelbyville Central 34-29 after a chaotic ending.
Previously unbeaten Shelbyville (2-1) had three chances to score the game-winning touchdown, but the Patriots (3-0) kept the Golden Eagles from scoring.
"I hate that it ended that way, with questions and stuff, but that's just part of football," Page head coach Charles Rathbone said. "I was just kind of like 'what happened'. You can't really see that far corner from where we're at."
Shelbyville actually reached the end zone on their first attempt, a sideways flea-flicker that was called back as time expired for an ineligible man down the field.
Once the fans and players were cleared from the field following the confusion, the second Golden Eagles attempt, a half-back pass, fell short. But the Patriots were called for pass interference, extending the game.
"I was just praying that our defense stood tall," Page quarterback Cade Walker said. "For what happened, I thought they reacted well. They showed no emotion after the flag in the back."
On the third and final attempt, Page stopped the Shelbyville ball carrier inside the one yard line to secure the hard-earned win.
"I hate it for their guys," Rathbone said. "They're a class group. Coach Palmer, I consider him a dear friend. Gary Smith is a heck of a player. Those guys played their hearts out. I hate for either team to lose that way, but I'm glad we're out on top and I give a lot of respect to those guys."
Page put themselves atop for good with 2:24 remaining in the contest as senior running back Bubba Johnson fought his way into the end zone. It was Johnson's third score of the night.
"Bubba always plays well, I thought him and Cade Walker breaking tackles and getting in and out of trouble all game, you can't say enough about those two. Both are great ball players," Rathbone said.
Shelbyville struck first, breaking the scoreless deadlock six minutes into the game thanks to a rushing touchdown from Demarcus Smalls. The Golden Eagles converted a two-point conversion for the early 8-0 lead.
Walker earned the Patriots first score as the senior scampered into the end zone near the end of the first quarter.
Page capitalized on a Shelbyville turnover early in the second quarter. Walker found fellow senior Miles Bonn in the end zone to take a 14-8 lead.
"Miles Bonn, a little undersized but he's a great receiver," Rathbone said. "He doesn't drop anything. He makes plays, and he makes people miss."
Page extended their lead to 21-8 midway through the second quarter thanks to Johnson's first score of the night, a one-years dive to pay dirt.
"See the thing is, if I think, I mess up. If I don't think, it happens. It's just instinct," Johnson said. "They were bringing it in the box. They were setting it up. I wasn't getting anything early, so I decided to hit my cutbacks, and it was open. I had some big third down catches that kept us in field position, and the guys capitalized."
The Golden Eagles were able to make up ground quickly in the waning minutes of the first half by scoring back-to-back touchdowns to pull ahead 22-21 before halftime.
Sophomore quarterback Cade Cunningham tossed to Slayde Simmons on the first score, while Devyn DeFilipo-Bryson ran in the second.
Smalls found the end zone for a second time to widen the Shelbyville lead to 29-21 at the 7:06 mark of the third quarter.
Johnson bruised his way into the end zone for another one-yard jaunt late in the third, cutting the Shelbyville lead to 29-28.
The teams traded interceptions in the fourth, with senior Brady Buckley's pick leading to Page's game-winner.
"I have to give it to my o-line," Walker said. "Their defensive front is huge, probably the best we'll play all year. Gary Smith is probably the best we'll play all year. They blocked great and allowed me a few lanes to get down field."
"They carried us," Rathbone said. "Up until this point, Hayes Barnett has also been carrying us a lot, but Cade is one of the best quarterbacks in the state, if not the best quarterback in the state.
The Patriots will take on Lipscomb Academy next week at home with kickoff set for 7 p.m.