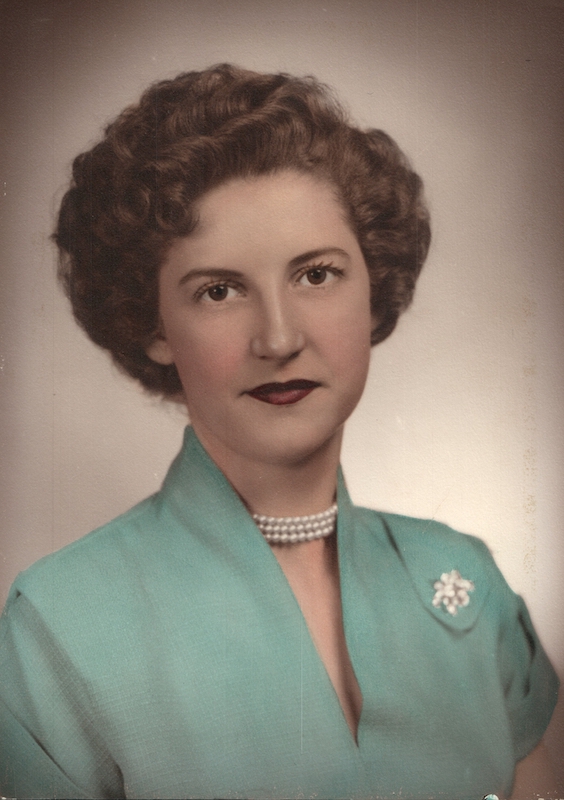 Mrs. Wanda Faye Moss Pruter, age 89, of Columbia, Tennessee, passed away on Saturday, Aug. 31, 2019, at The Reserve Assisted Living Facility in Spring Hill, Tennessee.
Funeral services for Mrs. Pruter will be conducted 2 p.m. Friday, Sept. 6, 2019 at Spring Hill Memorial Funeral Home.  Visitation will be 5-8 p.m. Thursday and 12-2 p.m. Friday at the funeral home.  Interment in Williamson Memorial Gardens.
Faye was born Dec. 21, 1929, at home in the Big Bottom area along the Cumberland River in Jackson County, Tennessee.  She was the third child out of 12 children born to the late Walter Ryman Moss, Sr., and the late Maudie Lee Pitcock Moss.
Faye was a country girl, raised on a farm, and was used to doing chores on the farm for both her mom and dad since her brothers were born later on.  When she was a young teenager, she and a couple of her sisters received some musical instruments for Christmas, which they learned to play, and would entertain family and friends on their front porch when the day's work was done.  They became good enough to go to the WHUB radio station in Cookeville and play their music on the radio, even making some records.  Faye graduated from Jackson County High School in 1949 and left the country to go to Nashville, Tennessee, to get a job.  Working at Washington Manufacturing Company in the Order Department, she was also on the company basketball team and was a star player. It was during her time there that she met the love of her life, Enrico Pruter.  She and "Coe" were married on April 3, 1954, and moved to Columbia, Tennessee, where he was stationed as a wildlife officer with the Tennessee Wildlife Resources Agency in Maury County, and raised their family there.  In the early 1960's Faye went to work in the Bookkeeping Department at the Middle Tennessee Bank and stayed there for 30+ years.  Among her many duties, she trained numerous young people that came to the bank for a summer job.  All those young people liked and respected her for her honesty, fairness, and work ethic, and remained friends years later.  Faye loved her children and grandchildren and was thrilled to be able to know her great-grandchildren.  A card sender, she was well known for sending cards in the mail for all occasions and the recipients looked forward to getting her little notes.
Faye leaves to cherish her memory: her children, Kathy (Don) Gibson, of Columbia, Tennessee, Karen (Weldon) Floyd, of Spring Hill, Tennessee, and Steven (Jill) Pruter of Franklin, Tennessee; grandchildren,  Brent (Holly) Gibson of Pulaski, Tennessee, Valin Floyd and Natalie Floyd of Spring Hill, Tennessee, Christopher Pruter of Franklin, Tennessee, and Allison Pruter of Boston, Massachusetts; great-grandchildren, Emma Claire Gibson and Luke Thomas Gibson of Pulaski, Tennessee; sisters, Reba Miller of San Diego, California, Louise Drumright of Hendersonville, Tennessee, and Betty Ann Richardson of Mt. Juliet, Tennessee; brother, Bill F. Moss of Hermitage, Tennessee; and several nieces, nephews, grand-nieces and grand-nephews.
Besides her beloved husband of 56 years, Enrico Pruter, and her parents, she was preceded in death by her sisters, Hazel Ellis and Joyce Stockettl; and brothers, Cordell Moss, Charlie R. Moss, Walter Ryman (Gee) Moss Jr., and James (Tinker) Moss.
Pallbearers will be Don Gibson, Brent Gibson, Steve Pruter, Christopher Pruter, Weldon Floyd, Patrick Pruter and Bobby Fox.
Honorary pallbearers are Ronnie and Katy Brown, Chris Brown, Corey Brown, Bobby Davenport, Shirley Fox, Bob Sweeney and Bill Ammons.
SPRING HILL MEMORIAL PARK, FUNERAL HOME AND CREMATION SERVICES, 5239 Main Street, Spring Hill, TN 37174.  931-486-0059,  www.springhill-memorial.com.