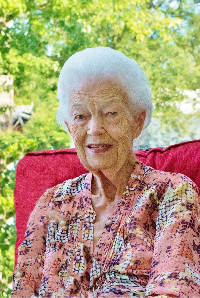 Eleanor Morgan Noland, age 93, of Franklin, Tennessee passed away Sept. 5, 2019. 
Eleanor grew up in the Grassland Community, graduated from Franklin School, attended Peabody College and graduated from The Southern Academy of Clinical Technology. After marrying Norman Noland and moving to the Rudderville Community, she taught school there for two years, worked as a Medical Laboratory Technologist for 35 years and retired from Baptist Hospital.  She was a member and served in the Methodist Church for many years.  Her greatest joy was experiencing the love of God and family.  
She is preceded in death by husband, Norman Davis Noland; parents, Robert W. and Eliza Bell Leigh Morgan; and brother, Robert Morgan Jr.  She is survived by: daughter, Donna (David) Lane; son, Mike (Kim) Noland; grandchildren, Angie Lillard, Jenna Fricke, Brandon (Amanda) Noland, Matthew (Amanda Johnson) and Lucas (Charley) Noland, DJ Lane; seven great grandchildren; sister, Ann Tormey; sister in-laws, Jane Hawkins and Marjorie Morgan and several nieces and nephews.  
Funeral services will be conducted 2 p.m. Sunday, Sept. 8, 2019 at Williamson Memorial Funeral Home.  Interment Williamson Memorial Gardens.  Family and friends will serve as pallbearers.  Honorary pallbearers will be Thomas and Ricky Hawkins, Billy Knight, David Ward, Kay Elliott, Pat Pigg, Joan Veach, Aubrey Sandford and Allen "Scooty" White.  Memorials may be made to the Nashville Rescue Mission or charity of your choice.  Visitation will be 4-8 p.m. Saturday and one hour prior to the service on Sunday at WILLIAMSON MEMORIAL FUNERAL HOME, 615 794-2289, williamsonmemorial.com.