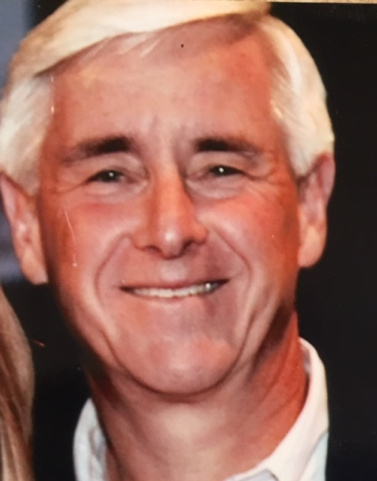 Charles "Chip" Franklin Wochomurka III, of The Villages, Florida and formerly of Franklin, Tennessee, passed away on Sunday July 28, 2019.
Friends and family would often say there was never a dull moment when Chip was around. He made strangers into friends, was constantly moving from one thing to the next with a can-do attitude, and always was willing to stop long enough to laugh or be laughed at. This light-heartedness made him a joy to be around and allowed him to share his passions with others.  Among those were his love of sailing that included trips to Lake Michigan with friends as well as time with family and grandchildren on his own boat, the "Woch-On-Water." Chip treasured family vacations to Charleston, South Carolina. He was often the center of attention with light-hearted joking from his family and friends who just couldn't help but laugh at the unique qualities that made Chip, well, Chip.
A graduate of The Taft School and Brown University, Chip began his professional career back home with his father in the family's button business. He went on to work for more than 20 years at Cummins Engine Company in various roles spanning several states. Later in life, he moved on to Tivity Health where his passion for his work and serving others was clear to all around him.
Sports were a big part of Chip's life. His was often the loudest and most supportive voice in the stands as his three boys were on the field or in the pool.  He also rarely missed an opportunity to watch his own favorite teams, including the Boston Red Sox, Tennessee Volunteers and Nashville Predators. In fact, it was during many of these games that he would turn to his strong Catholic faith for a little "extra" help.  While that may not have always worked, it did not deter Chip from being an active member in parishes from South Carolina, Indiana, Tennessee and Florida. His time spent giving back to, and with, the church was among his most rewarding and talked about experiences.
Those that read this will know that Chip was passionate about many things in his life, but none more so than Jayne—his wife of 41 years. Before his diagnosis, he helped Jayne fight her own cancer battle with remarkable fortitude, optimism and love.  To watch them both persevere and laugh together was truly seeing God's love in action.  Though Chip's fight has ended, his fighting spirit lives on in Jayne and the family he leaves behind.
Chip's survivors include his wife Jayne; sons Brad (Amanda), Ryan (Leigh), and CJ; grandchildren Anna, Hayes, Blake, Hallie and Clark Wochomurka; brother Alan Wochomurka; sister Elizabeth (Mark) Baugh; and many nieces and nephews.
Chip is preceded in death by his parents Charles F. Wochomurka and Lois (Merritt) Wochomurka.
A memorial service will be held on Saturday, Aug. 17 at noon at St. Vincent de Paul Catholic Church, 5323 East County Road 462, Wildwood, FL 34785 with a Celebration of Life following at The Eisenhower Recreation Center, 3560 Buena Vista Blvd., The Villages, FL 32163. For his memorial service Chip requested that everyone dress casually in Chip's favorite team colors: red, white and blue for the Red Sox, or orange and white for the Tennessee Volunteers.
As an expression of sympathy, memorial contributions may be sent to Health eVillages, 200 Donald Lynch Blvd., Suite 383, Marlborough, MA 01752, www.healthevillages.org; St. de Paul Catholic Church building campaign, 5323 East Co. Road 462, Wildwood, FL 34785; or Holy Family Catholic Church, 8450 Crockett Road, Brentwood, TN 37027.
And if nothing else, Chip would have wished for everyone reading this to raise a glass of their favorite Italian red wine or ice cold beer and toast the memory of a loved one lost that truly was one of a kind.