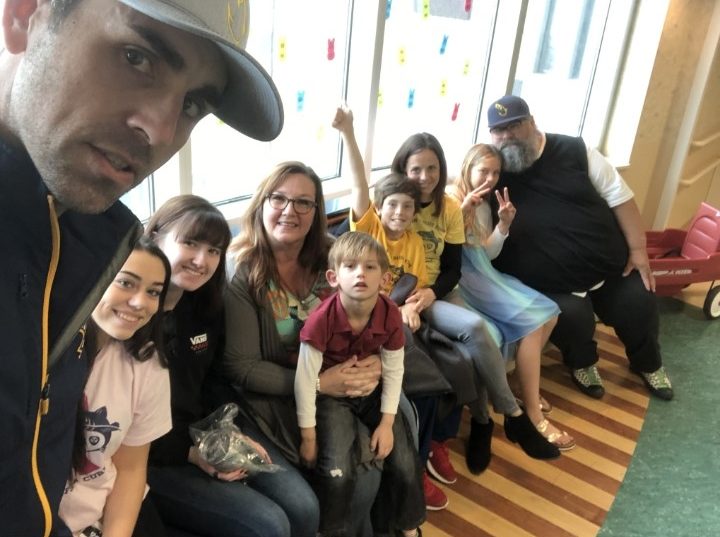 By CORY WOODROOF 
All it took was slinging a catfish onto enemy ice for Nolensville's Jake Waddell to spark a groundswell of charity.
Everyone who followed the Nashville Predators' 2017 playoff run remembers Waddell, who took the team's catfish tradition with him to Pittsburgh for Game One of the Stanley Cup Finals.
He was promptly removed from the arena after tossing down a fish onto the Penguins' ice and faced later-dropped misdemeanor charges for his pro-Preds stunt. He returned "Catfish Jake," a local hero and one of the main names associated in the Preds' playoff streak and Cup appearance.
"Right after I did it, I couldn't use my phone," Waddell said as he recalled the moment the magnitude of his act hit him. "Basically on the whole ride home, I couldn't use my phone because there were so many phone calls, text messages and Twitter things popping up."
Two years removed from being the talk of the frozen pond, Waddell reflects on life post-fish throw.
"It's great, man, I can't complain at all," Waddell said. "Since the catfish thing, there have been a few wild rides, some fun stuff to do. Got to meet some cool people. But, mainly, we got to turn it around and use it for something good."
That something good is the Catfish Jake Foundation.
During his post-Pittsburgh Catfish Jake run, Nolensville's Nesting Project contacted Waddell about signing catfish-inspired t-shirts to benefit the charity. At first, he was a little taken aback by the request, but was game to pitch in and help.
"I was like, 'why in the world would somebody want me to sign a t-shirt,'" he said with a laugh. "I'm just an idiot that threw a catfish. But it was one of those things where, heck yeah, if it will help raise money, sure."
He remembers being even more taken aback to see people lining up at the door to get their own signed shirt before the Nesting Project opened.
"It blew my mind," he said. "Like, what in the world?"
To see his impact bring people together made a light bulb go off in Waddell's head.
He and his wife, Becky, huddled together and decided to strike while the "Catfish Jake" iron was hot.
"[We thought], 'How big could we make this to help as many people as possible?'," he said.
The Waddells' experience with their youngest son Brooks drove them to want to help those who were in the situation they were once in as a family.
When he was born, Brooks Waddell was shown to have a congenital heart defect called Tetralogy of Fallot, which required surgery and time spent in the hospital.
It was during that time the elder Waddell and his family learned the ins-and-outs of life with a "heart baby" and about the realities that all families face when one of their children receives long-term medical care.
"A lot of people understand medical bills pile up, but a lot of people don't understand that medical bills can be negotiated, paid over time, things like that," he said. "They have to help you. They can't not treat you.
"What people don't understand is, if you've never been through it, is [some people] have to live at the hospital for days, months. You have to eat out almost every meal. You have to have child care for your other kids. You have to pay your [other] bills; your bills don't wait."
The Waddells wanted to address the needs not normally met.
"So our thought process was, instead of trying to attack medical bills, let's raise some money, give these people some gift cards…like $500 gift cards," he said. "Go up there to the heart babies' families and just meet them, talk to them, let them know who we are, that we've been through the same thing they've been through and pass along the blessings that we've been blessed with through the foundation to them."
Waddell said he also uses the foundation to address the needs that come with drug addiction, a disease that affected his late mother, and a music scholarship established to commemorate a late friend and musician, Jamie Simmons. He also wants there to be emergency funds around for anyone in crisis in the community.
"We're all here to help each other if we can," he said of the charity's main focus. "That's what the goal is."
Two recent stories stick out to Waddell as to how he's seen the charity move its wheels.
He came across one family late one night recently in his rounds at Vanderbilt who had a 1o-month old child who needed a full heart transplant. They had an older son with a condition the same as Brooks, which made the instant connection between Waddell and them even stronger.
They were able to furnish $1,000 in gift cards there on the spot to aid the family during their child's stay. Waddell said he kept up with the family through email and later learned that the baby sadly passed due to his condition.
The family was in a bind financially, though, and could not afford to move their child from Vanderbilt back to Knoxville, their place of residence. Thanks to the connection, Waddell's charity was able to fund the transportation and funeral costs to give the child a proper burial.
"A lot of [life] isn't going to be easy, and that's when people really need the stuff most," he said. "It's great to be happy and celebrate with people when everybody's happy, but people really need love and support and comfort the most [in times of sorrow]."
He recalls another story with a family from Dickson Springs who has a child with numerous ailments, including Tetralogy of Fallot and a lung issue that made their home with an older HVAC system (one that uses a wood-burning stove to generate heat) uninhabitable for him. His condition requires he breathe the cleanest, purest air possible.
The doctors told the family they'd have to replace the house's HVAC system to accommodate their son's health. Until then, he'd have to stay at Vanderbilt until the change was made. Though the family didn't initially inquire, Waddell's organization was able to pool together resources, and he delivered a $6,000 check to the family to replace the unit just the other day.
"Whenever their son is ready to go home, they can take him home," Waddell said. "These are the stories that [the charity organization] was started for, and all of that is people everywhere, around here and even people far away, donating, and being willing [to help]."
Waddell cited local company Maynard's sponsorship of the foundations' upcoming golf tournament as instrumental in getting that sum of money delivered to that family.
"There's a lot of good that's still left in this world," he said. "That's the great thing about this is you get to see a lot of it."
At first glance, it seems like a pro hockey tradition involving a bottom-feeding fish wouldn't necessarily lead to such substantial change for so many people in need.
Waddell recognizes his "Catfish Jake" moment is the hook for the causes, but he said he feels that he's just one fish in a bigger, benevolent lake who tried to make a difference when the window opened itself.
"It takes so many people to do this," Waddell said of his foundation's efforts, invoking the "instrument of crime" moniker given to the fish he threw down on the Penguins' home ice two years ago.
"I'm an instrument that God's just using. You know, he's used fish a lot of times before. For whatever reason, he did it in a funny way in this way, and I think this is him doing what he can through something silly."
Kickoff party and golf tournament ahead 
Next week, the Catfish Jake Foundation will host their kickoff party and golf scramble.
Sunday, Aug. 4, will see the kickoff event and silent auction hosted at Brothers' Burger Joint in Nolensville from 6:00 to 10:00 p.m.
Country musician Craig Campbell will be stopping by to play a few songs, along with other surprise guests.
There will also be updates to be shared about the work the foundation has been doing.
Cost is $15 to attend, and those interested can register at the event's web page.
If you were wondering, catfish very much is on the menu.
There will also be the second Instrument of Crime Cup, a four-man golf scramble with a 1:00 p.m. tee time on Monday, Aug. 5. Those attending the tournament can attend Sunday's kickoff at no cost.
32 teams are expected to participate at the Nashville Golf and Athletic Club in Brentwood.
Predators forward Austin Watson will be participating in the day's golfing.
More information on the scramble and registration is ready on that event's web page as well.