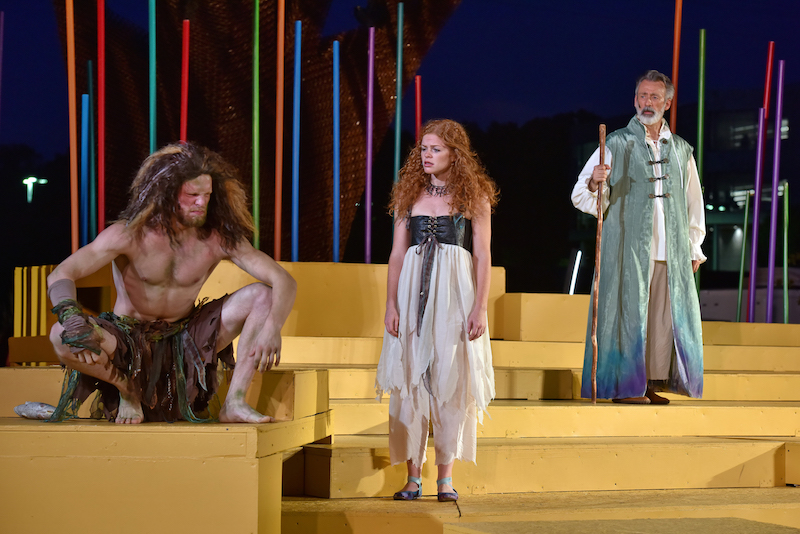 PHOTO: The Nashville Shakespeare Festival is bringing its production of "The Tempest" to Franklin Sept. 26-29 at the Williamson County Performing Arts Center. / Photo courtesy of Rick Malkin
STAFF REPORTS
After a six-week run at its new location in Nashville, the Nashville Shakespeare Festival is bringing its production of "The Tempest" to the Williamson County Performing Arts Center at Academy Park in Franklin later this month.
This is the fourth consecutive year the Festival has performed in Williamson County. This year's performance runs Thursday through Sunday, Sept. 26-29, at 112 Everbright Ave. Last year's production of  "A Midsummer Night's Dream" drew nearly 2,500 people to Academy Park over the four-day run.
"The Tempest," one of Shakespeare's most famous romance plays, is set on an enchanted island ruled by the wizard Prospero and inhabited by spirits. Directed by NSF artistic director Denice Hicks and featuring Mark Cabus as Prospero leading a cast of 24 actors, "The Tempest" is a magical play about love, betrayal and forgiveness that will delight the whole family. 
Set designer Andy Bleiler, costume designer Lynda Cameron-Bayer and props designer Patricia Convertino have created the magical world of the play. Local composer Rollie Mains wrote the score and plays it live alongside musicians Luke Easterling and Jack Kingsley and Tosha Marie choreographed the lively and colorful dances performed by the spirits of Caliban's Island. 
The pre-show concert series will feature Franklin-based performers such as the Belles of Franklin and Sweet Home Symphony. There will also be local food trucks and free "Talking Shakespeare" guest lectures nightly.  The schedule is as follows:
6 p.m., Talking Shakespeare with guest scholars
6 p.m., Vendors open
6 p.m., Preshow Concert Series
7 p.m. "The Tempest" performance
This is a family-friendly festival and dogs on a leash are welcome.  While the Festival is always free, a $10 donation is encouraged. Audience may come with their own blanket or chairs or reserve chairs ahead of time with "Noble" seating available for $30. 
Special Royal Packages, which include VIP parking, comfortable reserved seating, and dinner catered by Frothy Monkey, are $75 each and support educational outreach programming. Go to ticketsnashville.com to purchase. 
More information is available at https://www.nashvilleshakes.org/franklin-shakes
The Nashville Shakespeare Festival's programs are funded in part by the Tennessee Arts Commission and Metro Arts. Shakespeare at Academy Park is made possible in part by Williamson County Parks and Recreation.