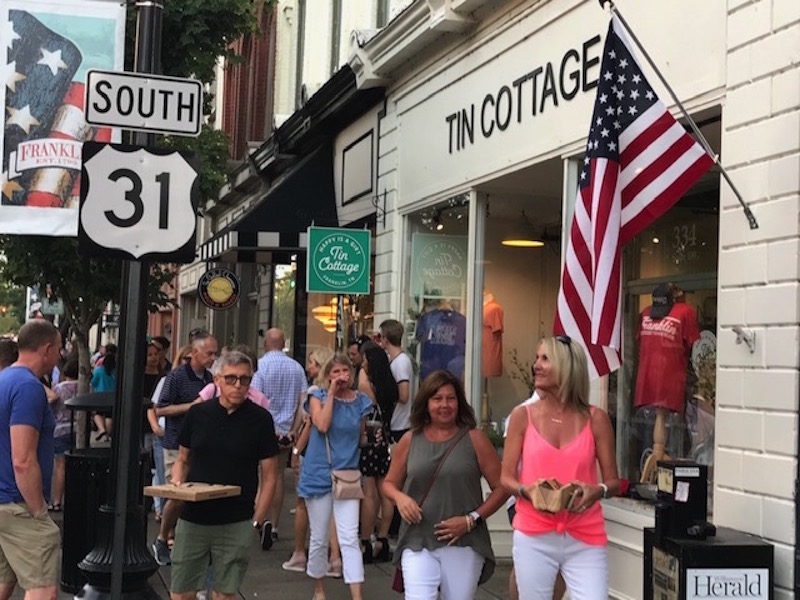 PHOTO: One of the reasons Franklin rated so high for quality of life in a recent survey is the number of ways residents and visitors can be entertained, including the monthly Franklin Art Scene. / Photo by John McBryde
Two officials from the city of Franklin will be guest speakers at Monday's FrankTalks lecture to share information recently gathered from a national survey on life in Franklin.
This month's Franklin Tomorrow event will take place at Spark: Lipscomb's Idea Center located at 3252 Aspen Grove Drive in Franklin. Networking starts at 9 a.m. and the program runs from 9:30-11.
Eric Stuckey, Franklin's city administrator, and Michael Walters Young, budget and analytics manager in Finance, will present much of the positives that came out of the National Citizen's Survey that was released in late May. For example, 97% of residents rated the quality of life in Franklin as excellent or good, and 99% rated Franklin as an excellent or a good place to live.
More: Franklin citizen survey shows plenty of positives, reveals some glaring challenges
But there were red flags as well, especially in many of the comments shared by survey respondents. Several contradicted the high marks that were scored on the survey.
"The assessment I would give is, people really love this community," Stuckey said during a May 28 work session for the Franklin Mayor and Board of Alderman. "They're proud of it, they love living here and appreciate the quality of life.
"But they are also concerned that the magnitude of growth, the intensity and pace of growth, could harm that quality they love so much. I think that's an important message… I think it is encouraging but it's also well worth our time to look through and ponder and think about those open-ended responses, because that's what's on top of mind for a lot of our citizens."
The survey, which was done in partnership with the National Research Center and had a response rate of 29%, was taken among 2,800 randomly selected residents from February through early April this year. In addition, the survey was opened to all Franklin residents online for three weeks between March 12 and April 2.