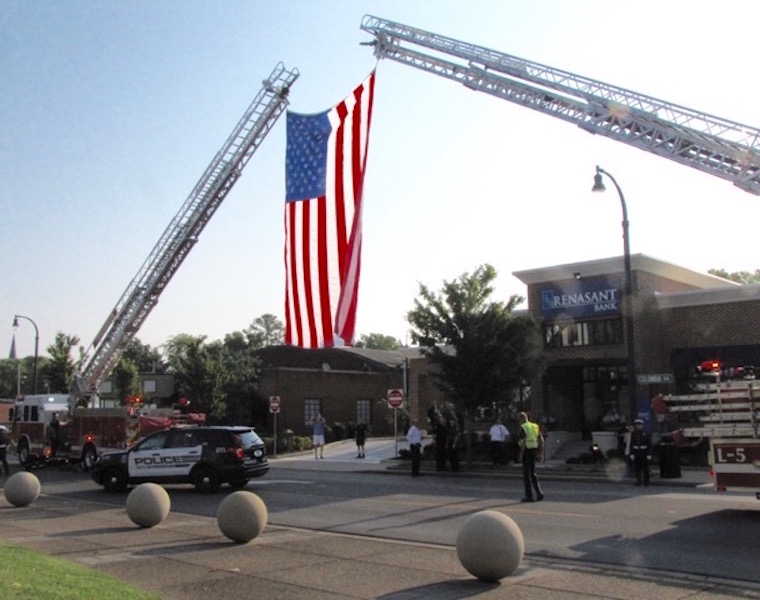 By JOHN McBRYDE
City and state officials joined with members of the Franklin Police and Fire departments and several dozen citizens Wednesday morning to once again remember the tragic events that unfolded on Sept. 11, 2001, when nearly 3,000 people were killed by terrorist attacks in New York City, Pennsylvania and Washington, D.C.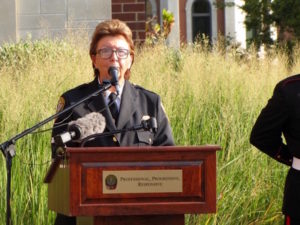 The somber ceremony was held at about the time planes flew into the Twin Towers and ensuing ones crashed into a field in Shanksville, Pa., and into the Pentagon 18 years ago. Several speakers reflected on that day, urging all to never forget.
"The images of 18 years ago are forever etched in our minds," Franklin Chief of Police Deb Faulkner said in the heat of a morning sun in front of Franklin Police headquarters on Columbia Pike. "It's important that we take a moment to remember the thousands of people that lost their lives that day and the heroes that tried to save them. We remember the Twin Towers, the field in Shanksville, Pa., and the Pentagon. We also remember the men and women who left for war following this brazen attack on our country. These tragic events changed our lives forever."
Also speaking at the event were Franklin Mayor Ken Moore, City Administrator Eric Stuckey, Franklin Assistant Fire Chief Glenn Johnson and Pastor Marty Curley of Generations Church in downtown Franklin. Moore spoke to how important it is that the day is remembered by future generations, and to recognize how the tragedy still resonates.
"We're still experiencing the effects of that day, 18 years later, in our firefighters and policemen through illnesses, death, disability and just the devastation that families have experienced from loss of their loved ones," he said.
Stuckey said he had a chance to visit the 9/11 Memorial Museum in New York City this summer.
"You really can't put into words that experience," he told the audience. "There's a quote prominently placed at that memorial from the ancient Roman poet Virgil: 'No day shall erase you from the memory of time.' That's why we're here today. We remember those locations, those 2,996 victims that died in a sudden and senseless attack.
"We remember the response form countless first responders and volunteers. We also remember the response of a grieving nation and the reminder we had through that time and that we hopefully can recapture today, that there is much more that brings us together, so much that we share as a nation and as a people. We also remember that hate will not and shall not have the final word. Love and light will."
After the ceremony ended, Faulkner explained where she was on that fateful day 18 years ago. She was assistant chief for the Metro Nashville Police Department, and had come to work early that morning to prepare for a Civil Service meeting. As she and others in the office heard news reports of the events unfolding, it became clear they couldn't focus on the meeting and it was, therefore, canceled.
"We went back and started regrouping, and it totally changed the police profession that day," Faulkner said.
"It doesn't get easier, it doesn't get less important," she added, referring to the annual ceremonies. "I think it intensifies, especially based on the state of the world and things that are going on. People are more mindful of their surroundings, they're much more mindful of the significance of what we do and what the fire department does.
"It's an incredibly important day, and the crowd that showed up this morning is exhibit A — a lot of people care."
Here a few scenes from the ceremony.