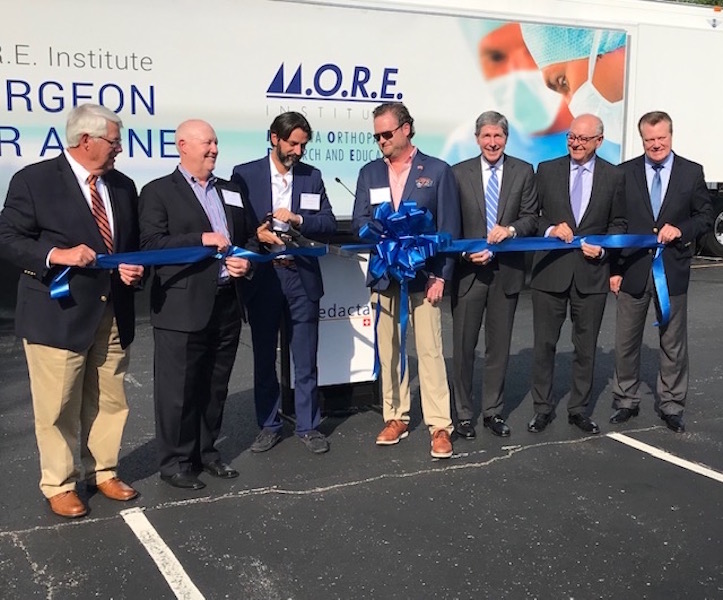 PHOTO: Joining in for the ribbon cutting for Medacta's new North American headquarters were (from left) Williamson County Mayor Rogers Anderson; Eric Dremel, president of Medacta USA; Francesco Siccardi, CEO of Medacta International; Matthew Goudy, Medacta USA general manager; Bob Rolfe, commissioner of the Tennessee Department of Economic and Community Development; Franklin Mayor Ken Moore; and Allen Borden, deputy commissioner of TDECD. / Photos by John McBryde
By JOHN McBRYDE
Before a crowd of local and state officials, employees and visiting orthopedic surgeons from across the country, Medacta International celebrated the opening of its North American headquarters in Franklin with a ribbon cutting and social gathering Friday afternoon.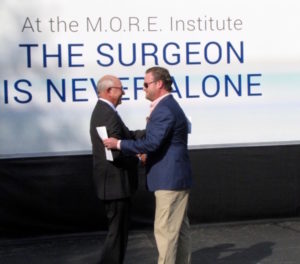 A global company specializing in the design and production of innovative joint replacement and spine surgery products, Medacta USA will invest $2.5 million and create more than 50 jobs in Franklin. The new U.S. headquarters on Carothers Parkway in the Cool Springs area will house the company's Total Joint (Hip, Knee & Shoulder), Spine & Sports Medicine divisions serving North America.
Of those who spoke at the ceremony, perhaps the proudest was Franklin Mayor Ken Moore. He practiced orthopedic surgery for nearly 30 years and continues to stay abreast of the industry.
"I think i've gone to orthopedic heaven," he said. "That's my background, and finally I've got some language I can understand rather than all that computer stuff and some of the other wonderful companies that we have."
"This is a great milestone. Just the week before last, we were welcoming the national headquarters for Mitsubishi and opening the new building for the North American headquarters for Mars Petcare, and now we equally welcome the North American headquarters for Medacta. We pride ourselves in having a great medical community here… And now this is going to put our orthopedic surgeons in the spotlight for their excellence in our community and all across the country."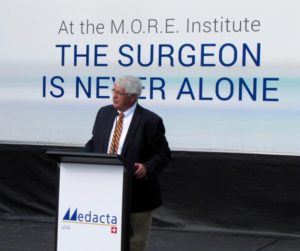 Others speaking Friday were Williamson County Mayor Rogers Anderson ; Francesco Siccardi, CEO of Medacta International; Matthew Goudy, Medacta USA general manager; and Bob Rolfe, commissioner of the Tennessee Department of Economic and Community Development.
"Today we take another step in our company's growth evolution," Siccardi said. "This year Medacta is celebrating its 20-year anniversary and recently becoming a public company with shares available for purchase on the Swiss Exchange. In 2018, we were among the fastest growing orthopedic companies, and opening our North American headquarters here in Franklin, Tennessee, is a testament to the impact we made on the orthopedic market globally. We are grateful for the community's warm welcome and look forward to becoming an active and visible member of it."
Established in 1999 in Switzerland, Medacta's products and surgical techniques have made a significant impact in the global orthopedic market. Medacta is a pioneer in developing new offerings to support minimally invasive surgical techniques with a strong commitment to provide ongoing clinical education programs and products that enhance health care system sustainability worldwide.
Friday's event highlighted recent company milestones as well as Medacta's commitment to responsible innovation that benefits patients, doctors and the health care system at large.
Following the official ceremonies, attendees were invited to participate in a "Meet the Expert" reception and Product Showcase conducted by the Medacta Orthopedic Research and Education (M.O.R.E) Institute. The reception opened a two-day educational forum where surgeons from the U.S. and Mexico receive intensive didactic and cadaveric training on the safe and effective use of Medacta's joint replacement and spine products.