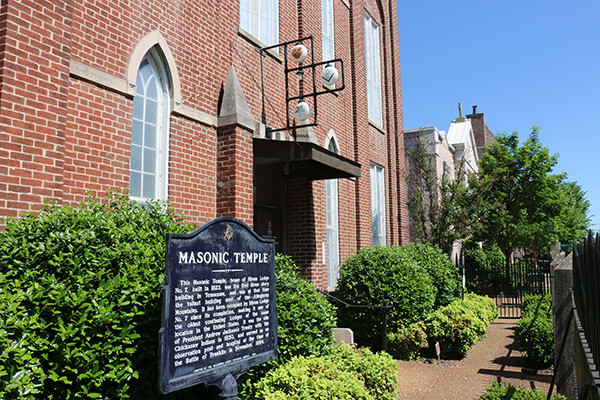 STAFF REPORTS
The Historic Franklin Masonic Hall Foundation will host its first signature event — one that is considered "a truly historic moment" — on Friday and Saturday, Sept. 13-14, at the Masonic Lodge on Second Avenue in downtown Franklin.
Titled Crossroads: Reconsidering Native Americans and African Americans in Tennessee and the South, the history symposium will explore the similarities, complexities and relationships between Native Americans and African Americans and seek an understanding of how their intertwined stories are a significant part of the American identity.
Crossroads is an educational initiative developed with an interdisciplinary approach to the longstanding interrelationships between Native Americans and African Americans and their ties to Franklin, Tennessee and the South.
"This will be a truly historic moment for the historic Hall and the city of Franklin," Executive Director Rachael Finch said. "The significance of hosting a multicultural symposium in such a sacred space will be a remarkable opportunity for all of us to share and hold meaningful dialogue on the difficult topics of removal, enslavement, freedom, citizenship politics and legacies."
Sponsored by the Tennessee Civil War National Heritage Area and Franklin Synergy Bank, Crossroads will address the often overlooked interrelationships that connect Native Americans and African Americans and provide attendees a greater understanding of why American Indian Removal, the Civil War, Reconstruction, citizenship, land ownership, race and gender remain relevant in today's modern world.
Attendees can take part in dialogue surrounding Native American and African American history through presentations, panels, keynote speakers, cocktails and conversations. Attending scholars, historians, museum professionals, community leaders, citizens, K-12 and collegiate educators are encouraged to reach out to anyone who may be interested in engaging in these critical historic and cultural topics.
The Foundation is also hosting specialty tours of the Hall and of downtown Franklin on the afternoon of Sept. 12.
Early two-day registration is $125 and Foundation members are $100. Discounted registration is available for educators and college students.  To register for the two-day event and Sept. 12 tours, go to www.hfmhfoundation.org/crossroads.  For additional information or questions, contact Finch at rachael.finch@hfmhfoundation.org.