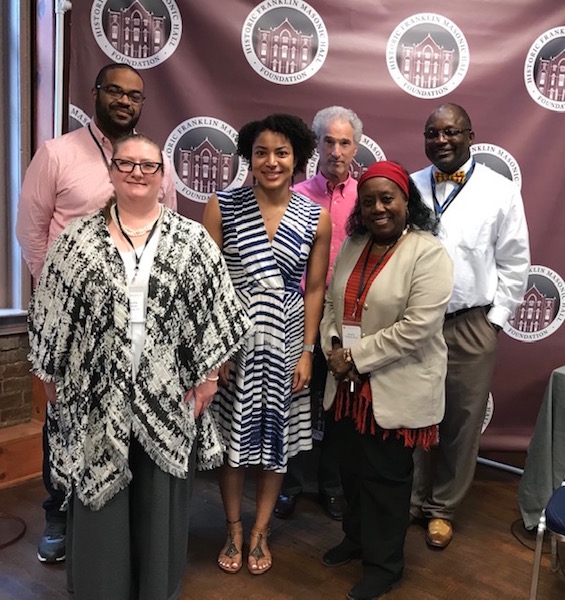 PHOTO: Among presenters at the Historic Franklin Masonic Hall Foundation's history symposium were (from left) Nafees Khan, Danielle Shelton, Alaina Roberts, Daniel Eller, Angela Walton-Raji and Learotha Williams. / Photo by John McBryde
By JOHN McBRYDE
With the quality of presenters and a "better than expected" turnout for its first history symposium, the Historic Franklin Masonic Hall Foundation will likely be hosting similar events and making the symposium an annual affair.
That was the takeaway from Foundation Executive Director Rachael Finch at the conclusion of the two-day history and multicultural symposium held over the weekend at the Masonic Lodge in downtown Franklin. Ten scholars presented individual perspectives for the event titled Crossroads: Reconsidering Native Americans and African Americans in Tennessee and the South.The symposium explored the similarities, complexities and relationships between Native Americans and African Americans and helped to seek an understanding of how their intertwined stories are a significant part of the American identity.
"This went even better than we expected," Finch said late Saturday afternoon as the event was winding down. "We hit numbers more than we even projected in attendance for both days."
Presenters came from as near as Tennessee State University and Middle Tennessee State University and as far as the University of Pittsburgh, the University of North Carolina-Greensboro and the University of Massachusetts Amherst. Keynote speaker was David Ikard from Vanderbilt University.
"Given the immense response, all scholars said this should be an annual event," Finch said. "They're all wanting to come back and participate, not just in another symposium but at other events.
"I think we've clearly struck a positive nerve with what we put on here, and I couldn't be more pleased with our attendance and all of the presentations. All the presenters really brought their A-game and gave our attendees a lot to think about in a very positive way."
Below is a list of the scholars and the titles of their presentations:
Tony Boudreaux
The Archaeology of Chickasaw Peoples from the Sixteenth through Eighteenth Centuries
Robbie Ethridge
Mapping the Shatter Zone: The Colonial Indian Slave Trade and Regional Instability
 Daniel Eller
Andrew Jackson and Indian Removal
 Nafees M. Khan
Slave Voyages: The Trans-Atlantic Slave Trade Database
Barbara Krauthamer
Black Slaves, Indian Masters: Slavery, Emancipation, and Citizenship in the Native American South
Greg O'Brien
The Choctaw Nation and Indian Removal
Alaina Roberts
Coming to Terms with an Intertwined African American and Native American History and Present
Danielle Shelton
Rethinking Red Clay: Multi-Racial Descendants at the Last Pre-Removal Capital of the Cherokee Nation
Angela Walton-Raji
Old Trails and New Paths in the African-Native Family Narrative
Learotha Williams
Searching for Peace in the Valley: An Exploration of African Americans' Transition from Enslaved to Freed Persons in Middle Tennessee
Established since 2013, The Historic Franklin Masonic Hall Foundation is a 501(c) 3 dedicated to the preservation and interpretation of the Historic Franklin Masonic Hall, a National Historic Landmark. The Foundation's mission is to bond place, all people, and story witnessed at the crossroads of the American experience.