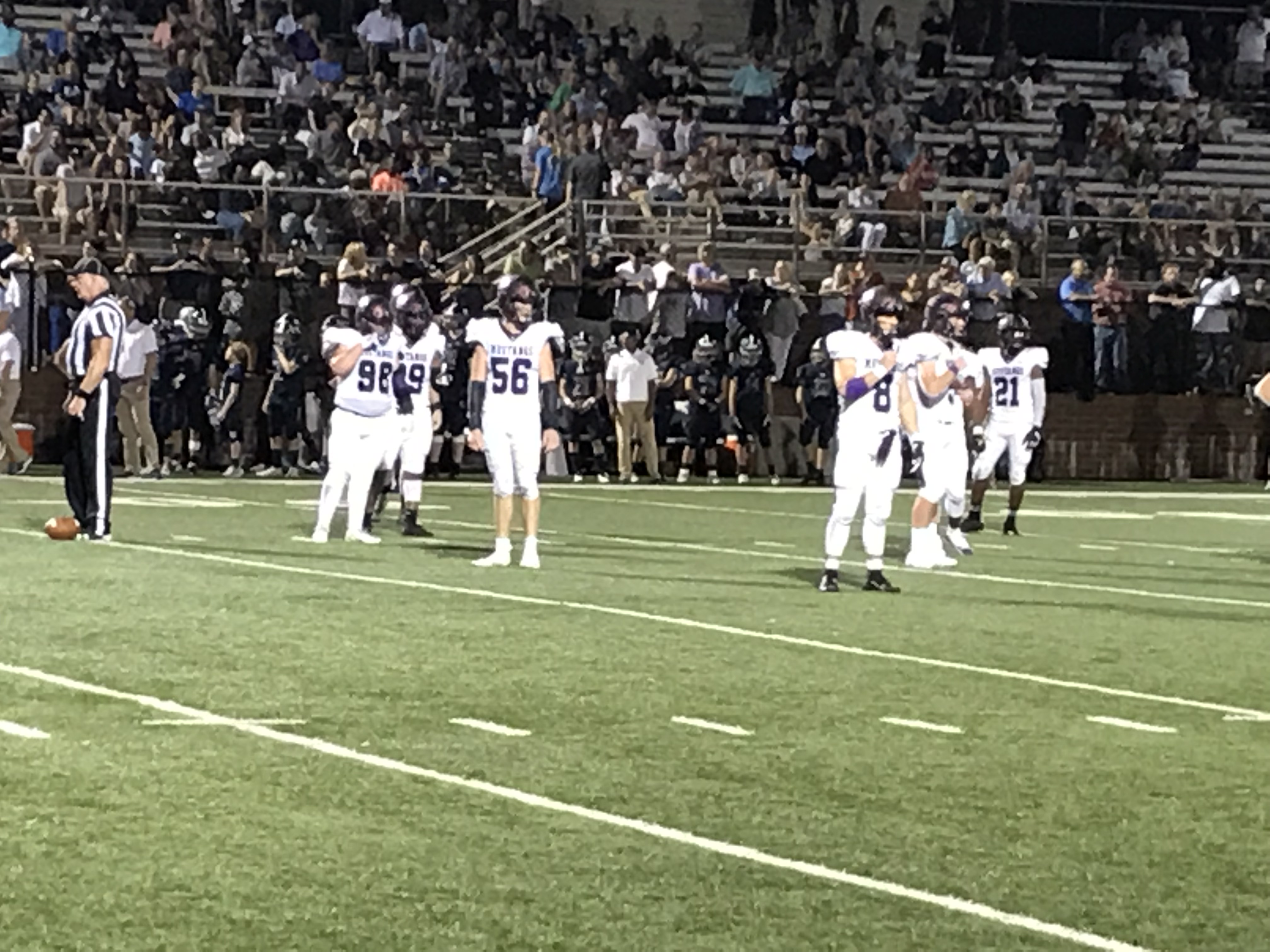 STORY AND PHOTO BY GRANT BRICKER 
For those of you who love high-powered offenses, the most recent bout against Lipscomb Academy and Franklin Road Academy was for you.
Both teams came exploding out of the gate and it didn't feel like they were planning on slowing down any time soon. Once the smoke had cleared, both teams had racked up over 800 yards of offense. However, like in most cases, the team that took advantage on defense won the game.
It would the Mustangs, though, who would emerge victorious in a 56-26 victory over the hosting Panthers.
Both FRA and Lipscomb Academy played a pretty clean game when it came to turnovers until the start of the second half. FRA was the loser of the turnover battle as they lost two fumbles and gave up an interception to a very opportunistic Lipscomb team.
It would not be for a lack of trying however, as FRA outgained Lipscomb by a total of 150 yards offensively.
FRA started off its first drive of the game with 53 yard touchdown run from Jeffrey Vercher on the first play from scrimmage. Vercher would finish the night off with 32 carries for 206 yards rushing and two touchdowns.
Another key performance for the Panthers came from Junior wide receiver Kingston Gardner. Gardner had his fair share of big plays, catching two huge bombs for touchdowns and finishing with 197 yards receiving.
However, FRA's best efforts would be for naught as Lipscomb would control the pace in the second half pulling away from the Panthers for the 56-26 win.
FRA Coach Bill Whittemore shared his thoughts on tonight's game and how the team can improve going forward.
"Our boys played hard tonight and I'm proud of them, but we made a lot of mental mistakes and Lipscomb capitalized on everything and played a good game." Whittemore said. "We gotta get back in there and look and what we're doing, and make sure our guys are knowing exactly how they need to execute on the field.
Lipscomb had considerably less yards than FRA. Most of which were mainly as a result of taking advantage of the mistakes that FRA made throughout the game.
Jaden Lyles would have another great game running the ball as he scored twice with 38 yards rushing.
The air attack for Lipscomb wasn't as impressive as it was for FRA, but Jake McNamara still had a solid outing through the air with 126 yards passing, two touchdowns and an interception late in the game.
On the other hand, Lipscomb rebounded from last week's disappointing loss to John Pope Paul II at home. LA head coach Trent Dilfer praised his team for being able to fix the mistakes they made last week.
"It takes a special group of guys to take a look at themselves in the mirror and to go work on fixing them and not got defensive or point fingers." Dilfer said. "You can always tell how a team is by their special teams. To come out and play at that type of intensity and block a couple of kicks and winning the field position battle is really what flipped this."
After tonight, both teams moved to 2-1 on the year. FRA will continue its home stretch against St. George's.
Lipscomb Academy will go on the road against a red-hot Page team that will not give them an easy game by any means.