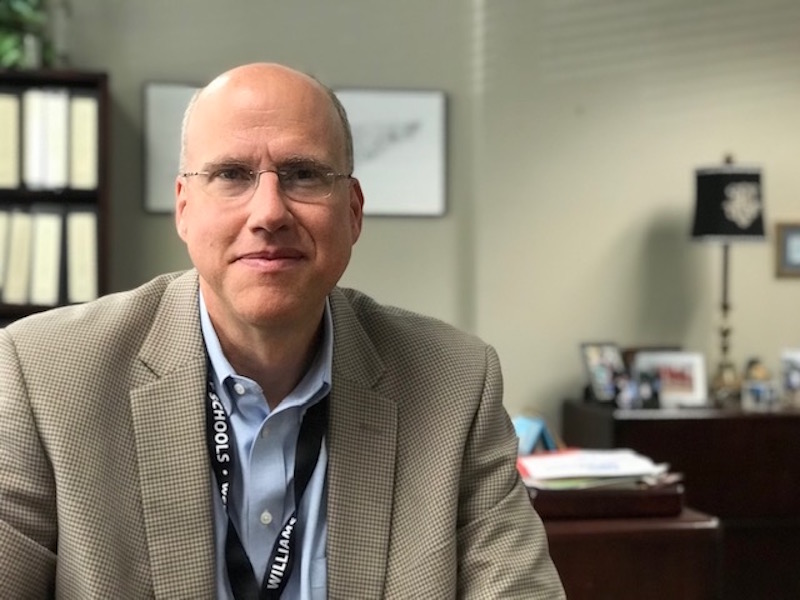 By JOHN McBRYDE
Williamson County Schools Superintendent Jason Golden has been with the district since 2006, and served as deputy to former Superintendent Mike Looney for the past seven years. When Looney left to take over as head of Fulton County Schools in Atlanta in May, Golden was selected by the Board of Education to fill in as interim superintendent. The board later voted to make Golden WCS superintendent, a job he officially began on June 18.
In an interview with Franklin Home Page, Golden sat down to talk about his experience so far, future goals, diversity in schools and more.
Franklin Home Page: What was your first day like as the new superintendent for Williamson County Schools?
 Jason Golden: I had actually scheduled a mini-retreat with the leadership team, and we spent the bulk of the day doing some planning with the assistant superintendents. We walked through a number of things, including long-term strategic planning items, annual strategic planning items. And we even got down to what needs to be done over the summer. So we worked our way down from long-term strategic to short-term. So that was a good day. They learned about some of the areas of focus that I'm going to have, and we just spent some time as a team doing some planning.
 FHP: What are your priorities this summer?
 JG: How we think and how we project what we want to be in the future — that's really important before you start talking about immediate priorities. So those themes I've grasped after talking with so many stakeholders over the last few months are really important. Number one is students first. Any decision we make we're going to think students first. As part of that, I think it's important that we develop empathy for our students, to know where they're coming from. One of the things we've learned over the last few years is, it's very easy to inadvertently interfere with a student's ability to receive instruction if you don't know where they're coming from.
More: It's full speed ahead for WCS as Golden inks contract to become next superintendent
Another theme, at least with our faculty and our building-level leadership, is, don't go it alone. We have a great team here. One of the great things about WCS is we're not top-heavy. We put most of our effort, most of our expenditures, into the schools, but the people we do have at the central office are excellent… We want to create a culture where we're operating as a team. And when we operate as a team and people at the building level are comfortable getting help, we're going to serve our students better.
FHP: How did your position as deputy superintendent for seven years help prepare you for your current job?
JG: So much of what I did as deputy superintendent was problem solving. When you go through the process of problem solving, you really have to listen. You have to learn what the issues are, what's driven somebody to the point where they have a problem that needs solving. So over the course of all those years, being the deputy, I have learned so much about the district, learned a lot about people, about our professionals. I've learned about operations of the district, even down to things like the backflow preventers in the water system. The scope of what I did as a deputy was pretty complete. We have so many professionals that know their stuff. Over the course of that and helping them take the next step, it has become second nature to listen and help people find a way to do things better.
 FHP: What steps are being taken to ensure there is ample diversity on the district level as well as among administrators and teachers?
JG: Diversity is important. The reality is our community is growing more diverse all the time, and it's not just in one area. The spectrum of our diversity is growing. You think about the traditional areas of race, religion, age, national origin, sex — those traditional areas — and we are growing more diverse. But we are also growing more diverse in family backgrounds, whether it's children with a single parent or otherwise. So one of the things we're emphasizing is empathy for students, knowing where they're coming from.
We're always going to hire the best candidate we have available. One of the things our human resources department is focused on is making sure we have those candidates in the pool for principals to interview from as diverse a background as we can find. That is important. But when we're actually going to make a hire, we're going to hire the best that we can. Many of our new hires come from a diverse background. It's something that needs constant attention.
FHP: What's the status of the "Bring Your Own Technology" (BYOT) initiative launched a number of years ago? Is that still an emphasis with the district?
JG: BYOT is continuing. Now, back in 2011 when we started that process, it was an acknowledgement that we didn't have enough devices for students and there was a need. One of the things we're piloting this year — at Independence High School, Brentwood Middle, and the fifth grades at College Grove Elementary and Lipscomb Elementary — we're going to assign every student a device. It's basically a Chromebook. They're going to take it with them everywhere they go. Our goal is to see if this will work countywide. We're very close to every student having a device, based on the numbers, because we've had so much PTO support with those devices.
One of the goals we have with this pilot is to figure out what logistically we need to have in the district to support an initiative like that. For example, how much tech support does a school need for every student to have a devise? If a student comes in and they can't get it to work, how many backup devices do we need to have so that it can be simply traded out on the fly while a technician takes a look at the Chromebook later to see if it can be repaired. I'm very curious to see how that pilot works over the course of a year, to see if it's feasible for us to start transitioning from the BYOT structure, where it was a nod to us not having enough for students, to a time where every student can have a device.
FHP: The Entrepreneurship and Innovation Center (EIC) opens in August on the campus of Franklin High School. What are you expecting from this new program's first year?
JG: We're very excited about it. It's a very specialized career and tech program that allows students to take an idea they have for their own business and learn the gamut of what it takes to run your own business. We have many, many entrepreneurs in our community, and one of the things we're working on is getting schedules for those entrepreneurs and specialists in different areas to be available to help us teach our students how to run their own business— whether it's an accountant to help with the books; a lawyer to help with the scope of what you need to do [legally] if you have an idea; to advertising and marketing people; to internet usage.
We have 130 students signed up for courses this first year. I can't remember a time when we've had that many students commit to a career/tech program the first year. [The facility] has that industrial business look to it that really encourages innovation. It's going to give students a feel for innovation, almost a think-tank type of feel to it.