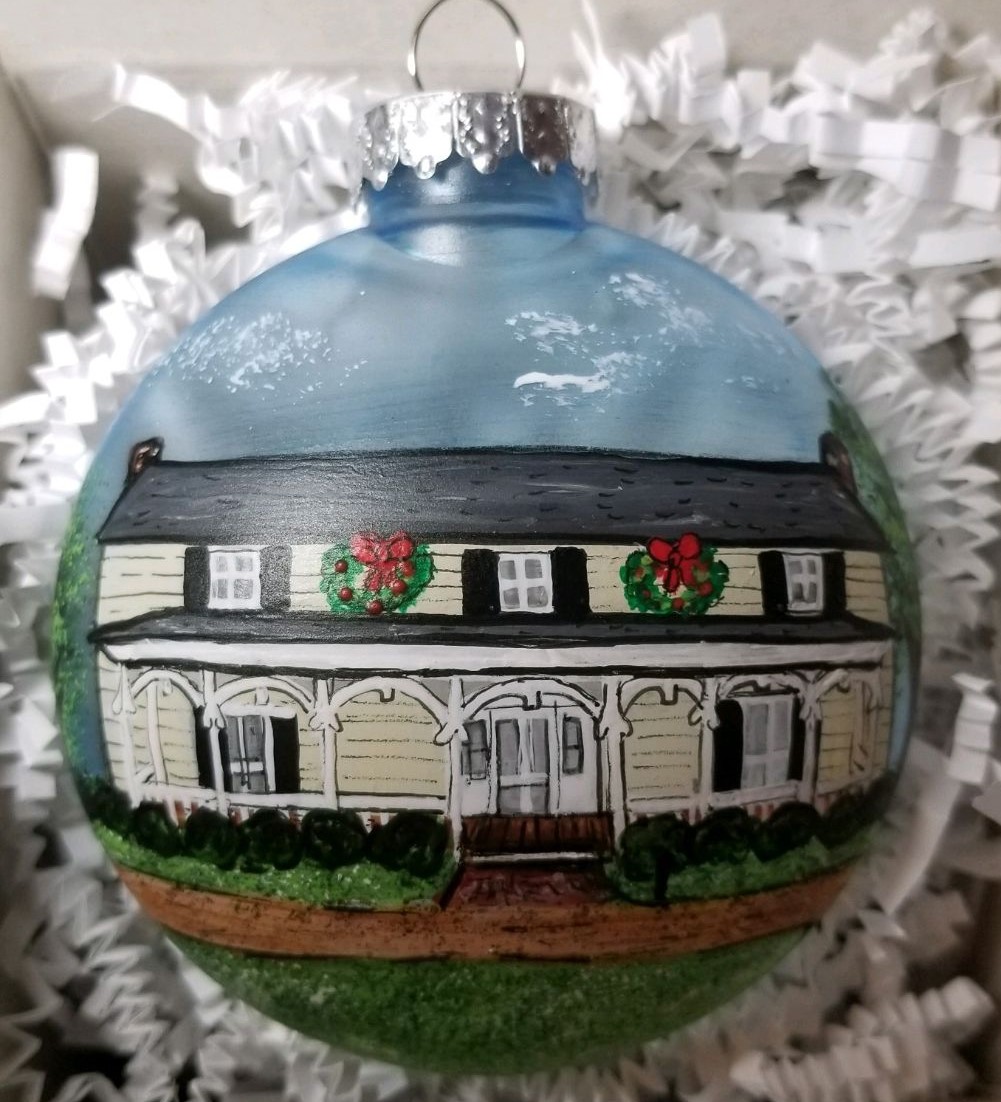 ABOVE: The 2019 Brentwood Woman's Club Christmas ornament depicts the Cool Springs House. // SUBMITTED
BRENTWOOD WOMAN'S CLUB
With the coming of summer, it is time to prepare for Christmas — that is, if you are an artist responsible for hand-painting each Christmas ornament sold to fund the work of the Brentwood Woman's Club.
The annual sale of the ornaments, that show well-known local landmarks, is a fundraiser for the service club.
This year's ornament is Cool Springs House, the historic white house in Crockett Park next to Crockett Elementary. The first rooms of the house were built in 1830 by James and Penelope Barfield Carothers, near what now is the busy intersection of Cool Springs Boulevard and Mallory Lane. As the Cool Springs retail area began to boom in 1993, the house was purchased by the City of Brentwood and now is primarily used as a wedding venue.
Each 3½ inch non-breakable ornament is hand-painted by local artist Lori Wegenka.
Last year, the response was overwhelming — so overwhelming, in fact, that the ornaments sold out before everyone was able to purchase one. Since the artist needs a good amount of lead time, orders are being taken now. The actual ornaments won't be available until October, and you don't have to pay for them until you pick them up.
In addition to the 2019 ornament, the Club is offering a limited number of the following ornaments from previous years: Franklin Theatre (2018), Ravenswood Mansion (2017), Owen Chapel (2016 ornament), Old Turner Barn, Mooreland Mansion, and Brentwood Library. The cost of each ornament is $30, of which $18 is tax-deductible.
To place an order or for information, email Ilene Maslan at ilenemaslan@gmail.com. If you are placing an order, include your name, your cell phone number, the number of ornaments you would like, and the design you want. Orders should be placed by August 10.
Brentwood Franklin Woman's Service Club is a 501(c) 3 volunteer service organization supporting the arts, conservation, education, home life, international outreach, and public issues in the community.
To learn more about the organization, go to www.brentwoodfranklinwomansserviceclub.com.