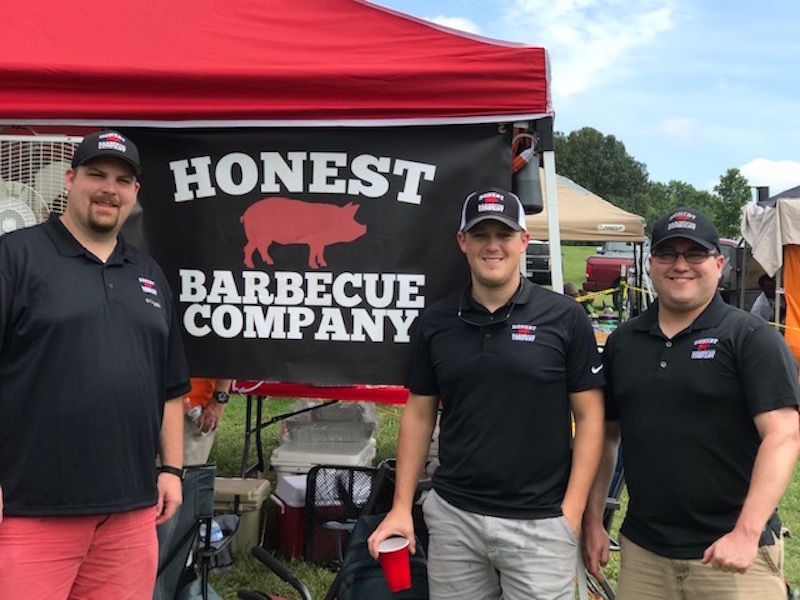 PHOTO: The Franklin-based Honest Barbecue Company are (from left) Nic Hord, Kurt Gadke and Kris Kubicher. They were among close to 30 teams from the Greater Nashville area competing in the Great Americana Barbecue Festival Saturday. / Photos by John McBryde
By JOHN McBRYDE
The state of Alabama showed out in Franklin over the weekend, making a clean sweep at the Great Americana Barbecue competitions at the Park at Harlinsdale Farm.
Four barbecue teams from Alabama were crowned grand champions and reserve champions in both the pro and backyard divisions. Grand champion in the pro division was Smoke Me Silly while South Pork claimed reserve champion. In the backyard division, Hell on Squeals was grand champion and Rib Life came away with reserve champion.
In all, 73 teams from seven different states competed in the fourth annual festival hosted by the Franklin Noon Rotary Club, with close to 30 coming from Franklin and the Greater Nashville area. Attendance was estimated at around 5,000.
"We had a good turnout," Jeff Nichols, coordinator of this year's festival, said. "The weather was perfect, and everything went pretty much as we expected."
The Flavor of Franklin on Friday night also had good attendance, Nichols said, with 30 restaurants represented and plenty of "tremendous music."
Here are a few scenes from Saturday's Barbecue.