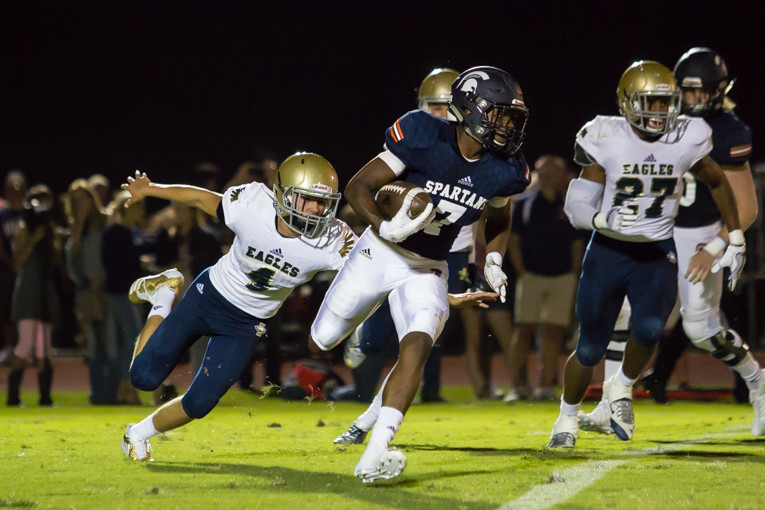 Our Game of the Week story is brought to you by Vanderbilt Orthopaedics.  
STORY BY CORY WOODROOF | PHOTO BY KINDELL BUCHANAN 
With another season of Williamson County football on the horizon, we turn our attention to one of the area's most underrated rivalries.
The "Border Battle" doesn't feature two teams in the same class, but it carries the weight of a playoff rivalry. The Independence Eagles, poised to be one of the more dangerous air assaults in 6-6A, will head out to Summit this year in a Thompson's Station/Spring Hill bout that has its title resting with the Eagles now.
Indy got the win 42-32 in 2018.
The Eagles hoist Ethan Cash to lead their offense, and will lean on senior receiver Chayce Bishop to get its offense back to the same heights it saw when running grads T.J. Sheffield (now at Purdue) and Isaiah Collier in its route tree.
"We have some new guys at the wide receiver position this year, we lost T.J. and Isaiah, the big players but two players don't make a whole team, or a whole group," Cash said in our season preview. "We have some young guys who are just working their tails off getting better every day. Their confidence level is rising with every catch, every rep."
On defense, Princeston commit Chase Roberson will be tasked to lead the defensive line's effort to contain Summit's dual-threat quarterback, sophomore Destin Wade, who should only continue to grow as the Spartans' signal caller.
The Spartans are no offensive slouch themselves, with senior wide receiver George Odimegwu moving there from running back. It's likely Summit will try to get him involved his old role running the ball some outside of getting him the ball in the air. The more versatile Odimegwu is, the easier it will be for Summit to move the ball.
The keys to the game will be Summit's secondary holding in Bishop and the rest of Indy's passing attack, with Cash poised to go off for big yardage any night, and Indy's ability to contain Odimegwu in all phases on defense and watch for Wade's ability to scramble.
The Spartans' home advantage will come in handy this time around, with playing a class up against a talented team like Indy hard enough for Summit as it is.
Summit head coach Brian Coleman recognizes the potential the "Border Battle" has to be one of the team's toughest contests.
"With Indy being first, they're going to be thrown into the fire," he said in our season preview. That's probably going to be one of the biggest games they play all year far as the crowd goes as far as the atmosphere. It's going to be tough to say to them until they feel that."
PREDICTION: Independence 35, Summit 27
In what should be a high-flying affair, Cash gets his senior season started off right, and Bishop hauling in multiple touchdowns. Summit will put up a fight, but watch for Roberson and Indy's DL to make one play enough to help slow down the Spartans' offensive attack.