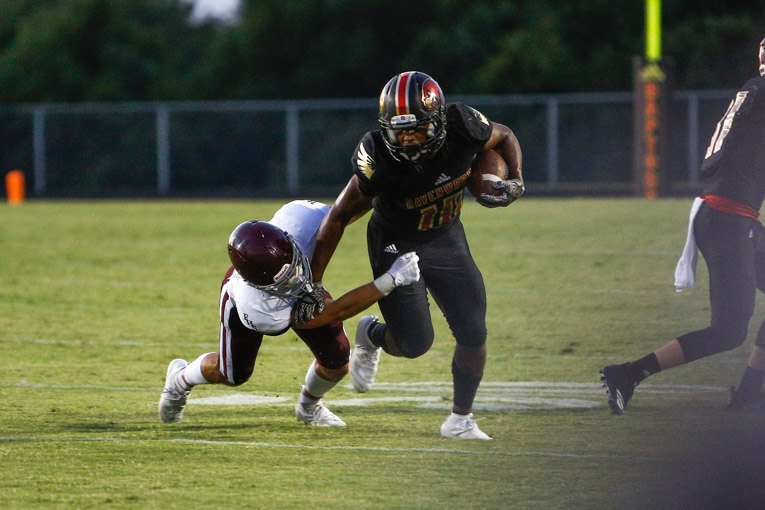 STORY BY JAKE DONOVAN | PHOTOS BY DEB SCALLY 
Our Game of the Week story is brought to you by Vanderbilt Orthopaedics.
One year ago, quarterback Brian Garcia orchestrated yet another comeback in a season full of rallies in leading the Ravenwood Raptors past the Franklin Rebels.
This year's Raptors squad is all about being first to the punch.
Four rushing touchdowns and a shut-down Raptors defense paved the way for a 28-0 shutout of the visiting Rebels in Class 6A play Friday evening at Ravenwood High School.
Garcia scored on the opening drive, with Tony Rice carrying the rest of the offensive load with three touchdowns and 134 yards on the night. The Raptors defense forced three-and-outs on Franklin's first four possessions and also prevented the Rebels' from converting on four 4th down attempts.
"The defense has been on a nice upward trajectory all year," Ravenwood head coach Matt Daniels told Home Page. "It started with a strong performance versus Centennial to open the season, then again in a solid game versus a very tough Blackman (Blaze) team and here tonight. We're a in very good place, defensively."
The offense isn't looking all that bad either. Ravenwood came storming out the gate, scoring on each of its first three possessions beginning with a 1-yard touch by senior quarterback Garcia less than three minutes into the night,
After 12 minutes, the hosting Raptors jumped out to a 21-0 lead by the end of one quarter.
"Once again we were able to score on the first drive of the game, which really helps us relax," Garcia (14-18, 179 passing yards, 1 rushing TD) said of the vast different between last season's heart-attack squad.
"It's always easier to work with a lead… but the way the defense played (Friday), we could've scored two points and still won the game."
The initial lead provided by the Raptors offense was all that the other side needed to rev up its collective engine.
Ravenwood's defense put up seven sacks on the night along with a 1st half interception by Damon Owens (2 tackles, 1 sack, 1 INT) to kill what was the Rebels' best drive of the night to that point.
"We just continued on what we started last week (versus Blackman)," noted Junior Colson, who had a game-high 8 tackles along with a QB sack. "We knew we had to build on that momentum and keep Franklin out the end zone. We covered the entire field really well tonight."
Not just keeping them off the board, the Raptors barely even let the Rebels get a glimpse of the end zone on Friday.
Franklin (1-2)—who hosts the 3-0 Summit Spartans next Friday—managed just one trip to the red zone, an impressive drive engineered by senior quarterback Guy Lipscomb (125 passing yards, 95 rushing yards), who was made to feel like a one-man army for much of the night. His heroic efforts weren't enough to punch the Rebels into the end zone, as a goal-line stance by the Raptors forced a turnover on downs.
"We knew we were up against a strong Ravenwood team," admitted Lipscomb. "We don't ever stop fighting and we did a lot of things better in the second half than at the start. We just couldn't get in the end zone."
Franklin's defense held Ravenwood to just one touchdown after the disastrous 1st quarter, but couldn't completely slow down the Raptors attack. They certainly couldn't contain Rice, who put an exclamation on the night following his 3rd tcuchdown midway through the 4th quarter.
"It's a big difference with the defense getting all those stops, giving us really good field position and keeping (Franklin's) defense on the field longer, wearing them out," commented Rice. "At times the game was tough, little things being called and we had to maintain our focus."
Those little things led to a staggering 27 penalties called on the night, stalling drives on both sides and ultimately depriving the game of any true momentum—aside from the shutout.
"It was a little disheartening," Lipscomb admitted. "We finally get a good drive going and then it gets called back for a block in the back, a hold or what have you. It can get to you, but you just play through it as best as you can."
Ravenwood was gigged for 17 penalties costing them 150 yards.
"There was one drive where started out at their 10 yard line three plays and three flags later we're almost at midfield," Garcia noted. "It's not the referee's fault, of course. They see a (penalty) and they have to call it. But it does slow down the game and take away from the energy on the field. We just have to do better of not giving them a reason to throw the flag."
Maintaining that focus should go a long way toward a team with a perfect record ultimately becoming a perfect team.
"We've had that point in all three games so far where we just hit a lull," points out Daniels, the opposite of last season where Ravenwood fell behind early only to rally back in no fewer than four early season games before hitting its stride. "We were able to hold on last week, with the early lead like we've done every game so far.
"With each week, though, it will help build towards becoming that complete team. Last season we hit our peak at the ring time in the season, and we're starting to build towards that this year."
Ravenwood improves to 3-0 and with their next game serving as their homecoming. The first-place Raptors host Little Rock (Ark.) private school Pulaski Academy. The four-time Arkansas state champions travel to middle Tennessee on the heels of an 84-point explosion in their home opener last weekend.
"It's going to be nothing like we've ever seen next week," Daniels exclaimed. "We're excited for it. This is what high school football is all about."
Along with those 84 points, the visiting Bruins—who advanced to the Arkansas state finals last season–allowed 68 points in their season opener. Both sides of the Raptors' squad are looking forward to the matchup.
"I'm really intrigued by what our offense can do against them," states Garcia. "With our defense, there's no way they're scoring close to 84 points, if they even get to score at all.
"With all of our weapons on offense, I'm really looking forward to seeing what we can do against their defense. They are a great team, so this will be a great time for our squad to put together that complete team effort that coach keeps demanding."