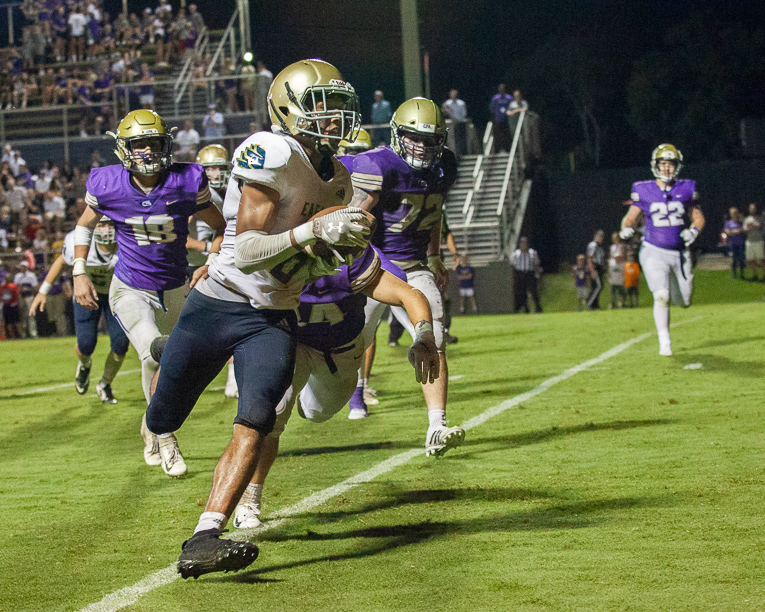 STORY BY CORY WOODROOF | PHOTOS BY MATT MASTERS 
Our Game of the Week story is brought to you by Vanderbilt Orthopaedics. 
The Independence Eagles took the potential "0-2" record and flipped it to their advantage Friday night.
The team scored 20 unanswered points against hosting D-II AA foe Christ Presbyterian Academy to get its first win of 2019, 20-10.
Senior quarterback Ethan Cash tossed a ball to receiver Jaxson Campbell its first and only necessary lead of the night with less than a minute to go in the third quarter, a rebound drive after missing a goal line stand to close the half.
"It was a really good game," Cash said of the outcome. "I was really proud of my guys. We just kept fighting and came out on top."
CPA got off to a 10-0 start in the first quarter, with Independence's defense facing the hostile Lions' Den environment that ensnares many visitors. It wasn't until Ethan Pickering scampered in from short to get Indy its first and only score of the first half that the Eagles found any success on offense that wasn't stymied by CPA's young, hungry defense.
But the Lions, who graduated 31 seniors in May but still field 17 seniors now, fell prey to Cash's dual-threat skillset eventually, and let the Campbell touchdown drive slip by to give Indy the lead late (a muffed XP certainly helped keep the game in arm's length, 13-10).
But Indy got a major stop of its own, when a major CPA drive, sparked by rusher Andrew Whitley, stalled in the red zone and saw a missed field goal prevent a tie. Indy's offense, regaining its fire, sealed the deal with just a few minutes to go in the fourth when Cash led the team on a drive capped with a Jack Phillips touchdown.
The Eagles defense held CPA scoreless in the second half.
The win gets Indy to 1-1 on the season and avenges their 2018 road loss to the eventual state champion Lions.
"Just the energy was different this week," Cash said of what helped Indy shake off last week's Summit loss. "I felt like we were more ready to compete and come out with a win."
Indy head coach Scott Blade commends Cash for the growth he's shown in his second year under center for the Eagles.
"He's a mature kid," he said. "He's an amazing competitor, a major competitor. We love having him. He is the leader of that offense, the undeniable leader of that offense. He's going to keep getting better and better."
As for the Lions, they'll head to 0-2 with a lot of new starters getting valuable experience for the season ahead.
"This early in the season, it's an opportunity for us to learn and grow," CPA head coach Ingle Martin said of the game. "That's what we plan on doing."
A slider with the ID of 729 doesn't exist.