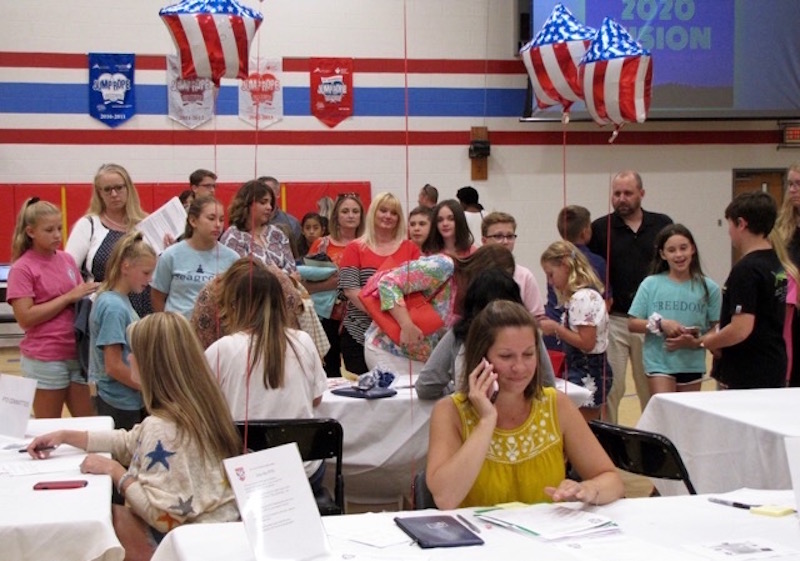 PHOTO: Lindsey Overman (front) works the PTO table as a crowd of families gather at one of the stations inside the gymnasium at Freedom Intermediate School. / Photos by John McBryde
By JOHN McBRYDE
One sixth grader said she is excited that school is about to start. A fifth grader moving up from Johnson Elementary School said he isn't ready for summer to end.
That conflicting sentiment was likely expressed throughout the Franklin Special School District Monday evening as all eight schools prepared for Wednesday's start of the 2019-20 school year with a Meet and Greet session. It gave families the opportunity to take care of things such as meet their child's teachers, turn in missing paperwork or forms, receive schedules at the middle schools, sign up for PTO, MAC or other events, pick up school supply boxes, and more.
At Freedom Intermediate School, sixth grader Elizabeth Kunkle said she can't wait for Wednesday.
"I'm excited," she said as she stood in one of the lines for the various stations inside the gymnasium. "I'm looking forward to seeing my friends and just coming back to school."
Israel Quabner, a newcomer to Freedom Intermediate who attended Johnson Elementary last year, was on the other side of the coin: "I wish summer would never end."
Freedom Intermediate Principal Joel Hoag said the school is ready for the start of things.
"We're excited and really looking forward to a new year," said Hoag, in his fourth year as principal. "There are four elementary schools that feed into Freedom, so we have about 300 students that come to us. It's always a big year for the fifth graders."
Meet and Greet sessions were also held at Poplar Grove Middle, Freedom Middle, Franklin Elementary, Poplar Grove Elementary, Liberty Elementary, Moore Elementary and Johnson Elementary.
School starts Wednesday for first through eighth grades, and will be on a half-day schedule.