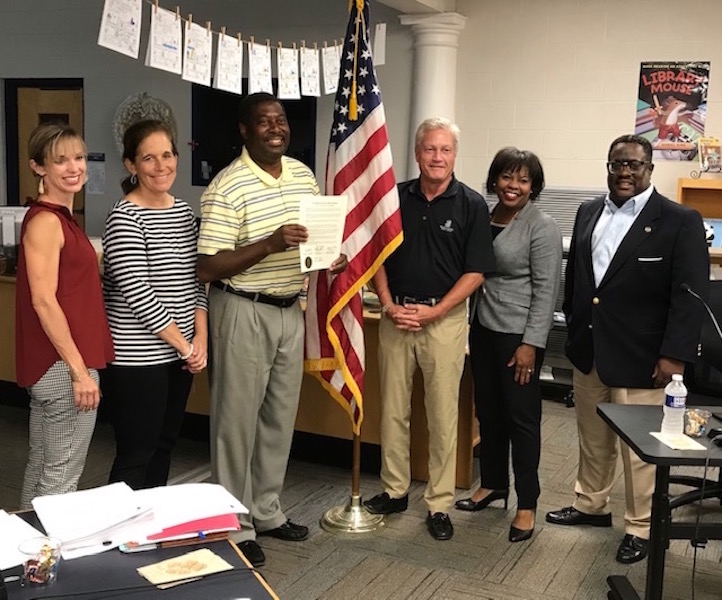 PHOTO: FSSD school board member Robert Blair holds the 2020 Census Proclamation while fellow members (from left) Alicia Barker, Robin Newman, Tim Stillings, Allena Bell and Kevin Townsel stand with him. / Photo by John McBryde
By JOHN McBRYDE
In addition to voting unanimously on several policy revisions Monday night, members of the Franklin Special School District Board of Education received several updates, heard a 2020 Census Proclamation and got a summary of the 2019 Tennessee Teacher & Administrator Survey.
Catherine Stephens, associate director of schools for Teaching and Learning, presented the board with results of the survey that has been given for the past five years across the state. The survey is hosted by the Tennessee Department of Education in conjunction with the Tennessee Research Alliance at Vanderbilt University.
The survey, which is given to all licensed educators and administrators, is meant to get a deeper understanding of their perceptions around many topics, including school climate, school leadership, instructional rigor, teacher time use, parent engagement, instructional support, curriculum materials and evaluation, among others.
The FSSD had 84% participation in the survey, compared to 62% for the whole state. Broken down by each of the district's schools, Moore Elementary and Freedom Middle had the highest participation at 96% each, followed by Franklin Elementary and Poplar Grove Elementary at 95% each. Poplar Grove Middle was at 94%, with Freedom Intermediate (76%), Johnson Elementary (75%) and Liberty Elementary (49%) following.
Meanwhile, Chuck Arnold, associate director of schools for Finance and Administration, gave members a report on critical capital projects, including the new gymnasium for Poplar Grove School and the district's new performing arts center. Of the 10 firms that were submitted a request for qualifications, only two indicated they are not interested.
Projected presentations and interviews on the projects are scheduled for Oct. 28 through Nov. 1, and selection and contract completion should happen by the end of the year.
Proposed to be built adjacent to Poplar Grove Elementary School in Franklin, the Performing Arts Center would be just over 40,000 square feet in total size, feature dozens of rooms for things like prop storage, concessions and changing rooms, and feature seating for 430 guests.