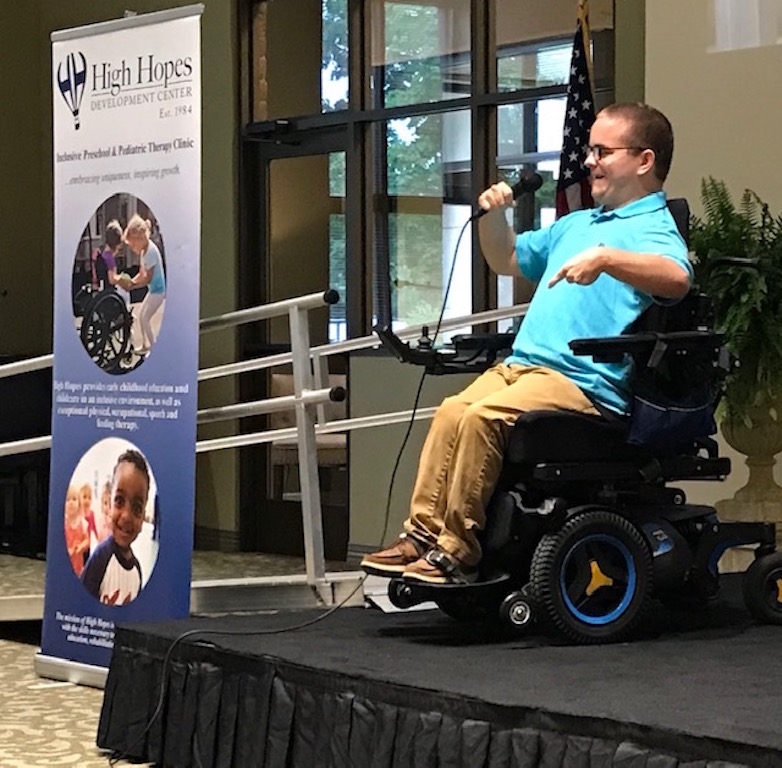 PHOTO: Barrett Patton, who received care and therapy at High Hopes Development Center until he was 14 and is now a rising junior at the University of Illinois at Urbana-Champaign, speaks to the audience Wednesday. / Photos by John McBryde
By JOHN McBRYDE
There was no internet 35 years ago.
Families whose world was "rocked" by bringing a special-needs child into it had virtually nowhere to turn, no immediate outlet for gathering information and no discernable source of support.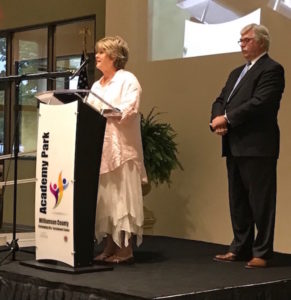 But in 1984, five families who had children with special needs as well as children who were typically developing found each other and, though they may not have had Google at the time, ultimately had high hopes of enduring the challenges they faced.
Their determination marked the beginning of High Hopes Development Center, a Franklin facility that offers an inclusive environment where children with special needs play, learn and grow alongside their friends that are typically developing.
To celebrate the center's 35th birthday, Franklin and Williamson County officials joined with board members and others in the community for a breakfast and a presentation Wednesday morning at the Williamson County Enrichment Center. Among those presenting were Bob and Karen Sircy, who made up one of the five families that came together to create High Hopes. Their special-needs son, Clay, turned 37 last week.
Bob Sircy said life wasn't easy when he and Karen discovered Clay would need extra care.
"Your world is rocked and it actually stays rocked, or at least it feels that way," he told the audience. "We know that children don't come with a manual, and they sure don't come with a manual because they're different or they have special needs. When you first learn that things aren't going to be as you planned, you're overwhelmed, you're sad, you're challenged. You really don't know where to turn."
Karen Sircy was equally blunt when describing the early days, the fears and uncertainties they faced.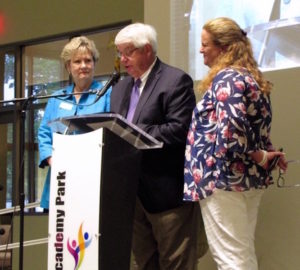 "I wish I could say that High Hopes began a lot like Disneyworld with this dream of grandeur and magic, but in fact it really began because of nightmares," she said. "There were five unconnected families with one thing in common, a life-changing diagnosis of a child.
"And the nightmare was this: We had all been uprooted from normal and replanted into a life that wasn't supposed to be this way. And 35 years ago, there was really no place to go. There was no one to turn to for help or support or encouragement. Something needed to be done and somebody needed to get busy and do it, and so our very humble beginnings were humble indeed."
Wednesday's presentation also included a proclamation from Williamson County Mayor Rogers Anderson that was presented to High Hopes Executive Director Gail Powell and Development Director Brandy Blanton. In addition, one of the "success stories" of High Hopes told of his experience.
Twenty-year-old Barrett Patton, who was born with cerebral palsy and received therapy and care at High Hopes from the time he was 21 months through age 14, is a rising junior at the University of Illinois at Urbana-Champaign and has a double major in Spanish and communications. A 2017 graduate of Centennial High School, where he served as class president for two years, Patton told the audience he is among a multitude of High Hopes' success stories.
"There's a book full of success stories that have been written out of the walls of High Hopes," he said. "I'm just proud to be one of them."
Powell concluded the program by explaining how High Hopes has not only helped its students through the 35 years but how the students in turn are helping their community.
"This is anti-bullying," she said. "These kids are learning love and compassion and acceptance, and then they're going to go out in our community and teach every one of us to be a better friend every day. So it's a big deal what is happening here."