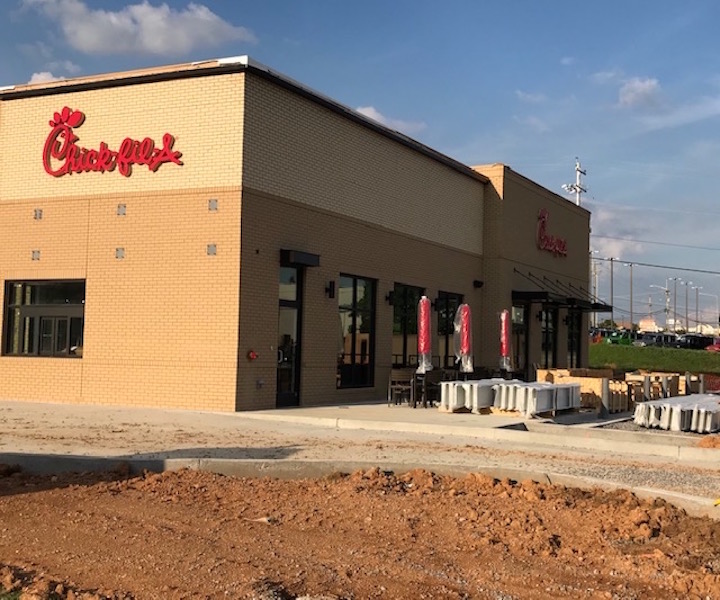 PHOTO: The new Chick-fil-A on Murfreesboro Road will have its grand opening Wednesday, Aug. 7, with details on a ceremony to come later. / Photo by John McBryde
By JOHN McBRYDE
Those who can't get their fill of Chick-fil-A will have another Franklin option on their plate soon as the newest location at 1122 Murfreesboro Road in Franklin is scheduled for a grand opening Wednesday, Aug. 7.
It will be the fourth Chick-fil-A to operate in Franklin, preceded by those located in the CoolSprings Galleria, on Mallory Lane in Thoroughbred Square and in south Franklin on Columbia Pike. A spokesperson for the company said the grand opening ceremony will include an F100 event, the campout where the first 100 guests can win free Chick-fil-A for a year. More details will follow.
As a bonus of sorts, fans of the popular restaurant will have another Franklin location to visit as one in Berry Farms is scheduled to open in early 2020.
"We are looking forward to opening our Berry Farms restaurant early next year and can't wait to serve the community delicious food in an environment of genuine hospitality," Jessica Ferrell of Chick-fil-A Inc. said in an email. "We'll have more information to share about the projected grand opening date and franchise owner in the future."
In the meantime, the location on Columbia Pike is scheduled to reopen Tuesday after having been closed for several weeks for remodeling.  It will include a new centerline kitchen, dual drive-thru, canopies over the drive-thru ordering portion, and a complete reconfiguration of the parking lot.