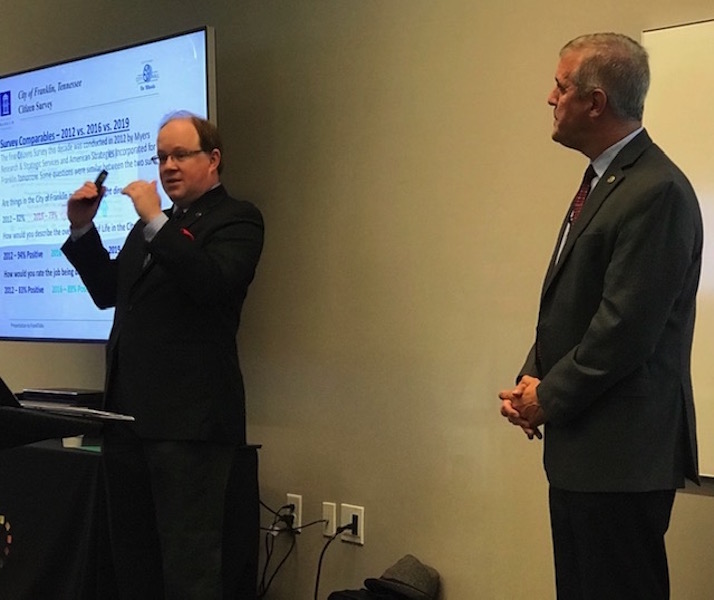 PHOTO: Michael Walters Young (left) and Eric Stuckey from the city of Franklin presented to a FrankTalks audience the results from the Franklin Citizens Survey that was released recently. / Photo by John McBryde
By JOHN McBRYDE
From results of a survey released a few weeks ago, residents of Franklin appear to feel overwhelmingly positive about their city and most of the facets that shape its quality of life.
In fact, the Franklin Citizens Survey, taken earlier this year through a partnership with the National Research Center, showed that Franklin ranks in the top 3 nationally in 10 categories and at the top in half of those — image or reputation, economic health, vibrancy of downtown/commercial area, employment opportunities and as a place to work.
But as Franklin City Administrator Eric Stuckey pointed out during Monday morning's FrankTalks lecture, the good news presented to the audience was offset by a multitude of concerns from citizens who took the time to offer comments in the survey. Most of the 586 residents who responded to a specific question in the survey expressed issues with Franklin's pace of growth.
"Growth is the reality of our region," Stuckey said. "This is one of the fastest-growing regions in America. Both Franklin and Murfreesboro are consistently on the census bureau's fastest-growing cities in America with populations over 50,000."
And according to the bulk of residents who commented, that growth needs to be better handled in their hometown.
To cite just three comments, Franklin is:
"becoming overbuilt and losing our charm;"
experiencing "excessive growth (and) seems as though developers are outpacing infrastructure;"
"growing too large and not having that 'small' town feeling."
Stuckey, who was joined in Monday's presentation by Michael Walters Young, city of Franklin's budget and strategic innovation manager, said both city aldermen and staff are taking these comments seriously and mapping out next steps to address the concerns.
"I think that's something the board has taken note of and something we want to engage further with community conversations so we're making sure we understand what those concerns mean to our citizens," he said. "But we are also looking at things we are doing to manage growth and take advantage of the opportunities that are with us, but also look at quality of life and the values of what made this community a great place."
He continued, "That's a really important community conversation over the next year or so and we want to look at that and help you all understand that's top of mind for our city team. That's a big deal."
The survey, which was presented to the Franklin Board of Mayor and Aldermen during a work session in late May, was taken among 2,800 randomly selected residents from February through early April this year. In addition, the survey was opened to all Franklin residents online for three weeks between March 12 and April 2.
Franklin Tomorrow, host of the monthly FrankTalks series, will be holding its Exemplary Community Volunteer Awards July 24 from 7-8:30 p.m. at the Franklin Theatre. Later in the month, on July 30 at Rolling Hills Community Church in Franklin, all are invited to Breakfast with the Mayors to hear the topic titled "Community Character & Williamson County's Future." The next FrankTalks is scheduled for Monday, Aug. 12.