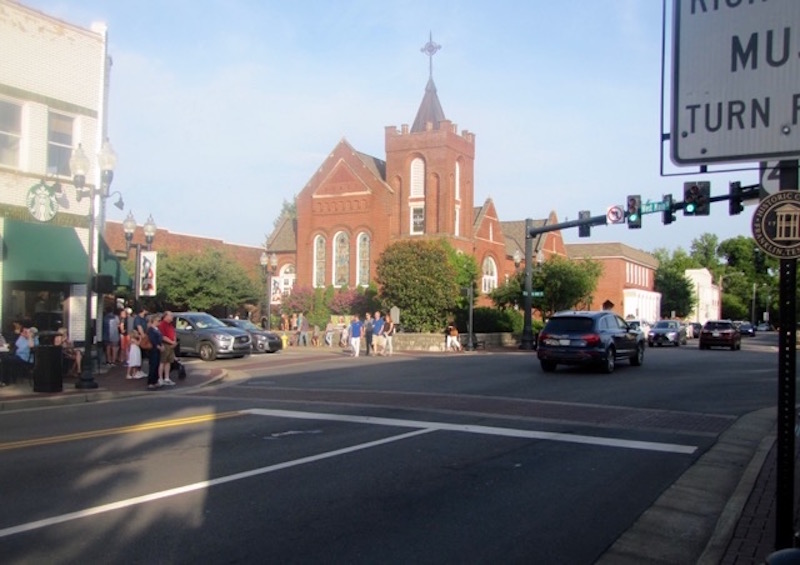 By JOHN McBRYDE
When members of the Downtown Neighborhood Association come together Sunday for the organization's annual meeting at the Franklin Theatre, they will enjoy refreshments and mingling with their neighbors.
And before the afternoon winds down, their conversations will likely turn to what is considered the leading concern of those who participated in a survey that was sent by the DNA about a year ago: parking. When asked through the survey what they were most concerned about with downtown Franklin, 87 percent of respondents cited parking.
"In response to that, what we have done is put together a 21-page parking analysis," said Lynne McAlister, first-year president of the DNA.
To help pull together the analysis, McAlister enlisted Walt Green, a retired engineer who sits on the board of the association, to lead the research. He contacted 17 different cities of various sizes and demographics across the country, and compiled information on how they handle parking.
More: Downtown Franklin neighborhood organization is getting a rebrand, will focus on parking
 "We shared our information with the Downtown Franklin Association, and they responded by doing a similar survey," McAlister said. "We've met with [city of Franklin] leaders Eric Stuckey, Vernon Gerth and Paul Holzen and shared our findings. We feel like we've opened a dialog."
At Sunday's meeting, Jonathan Marston, assistant director for capital improvements in Franklin's Engineering Department, will discuss and take questions on the issue of parking.
Attendees will also hear from city employees on other interests they included in their survey responses. Lisa Clayton, director of Parks and Recreation, will focus on parks and trails, while Kelly Dannenfelser, assistant director for Planning and Sustainability, will address concerns about overbuilding in downtown Franklin.
McAlister said the Downtown Neighborhood Association, which was founded 22 years ago and now totals approximately 120 households, is generally within what the city of Franklin has defined as the historic overlay.
"But anybody can join as long as they love Franklin," she said.
The first hour of Sunday's meeting begins at 1 p.m. with the three scheduled topics and the unveiling of the DNA's new website, while attendees can enjoy refreshments and visiting with neighbors from 2-3 p.m.
Annual dues of $25 can be paid at the meeting.