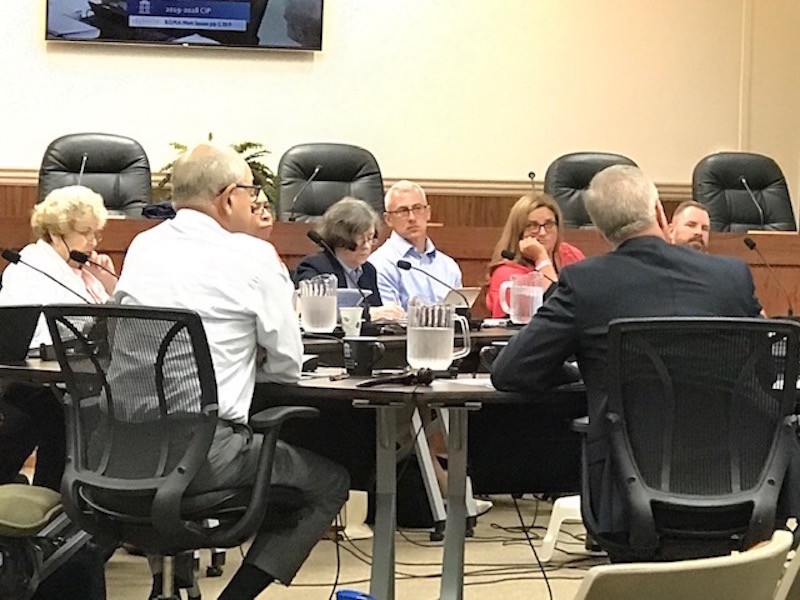 PHOTO: Franklin city aldermen discuss projects that can be undertaken or completed in the next 10 years as they join Mayor Ken Moore (left) and City Administrator Eric Stuckey during a special-called BOMA work session Tuesday. / Photo by John McBryde
By JOHN McBRYDE
From a new city hall and a connector between Long Lane and Old Peytonsville Road to restorations at Harlinsdale Farm and a neighborhood park at Thompson Alley, the city of Franklin has enough money to fund a multitude of projects over the next 10 years.
Aldermen were presented with details of the budget Tuesday afternoon during a special-called Board of Mayor and Aldermen work session in the board room at City Hall. City Administrator Eric Stuckey led a presentation on the three different tiers of projects that can be tackled within the next decade. Michael Walters Young, Franklin's budget and analytics manager, explained how the numbers shake out in terms of cash on hand and how much money would need to be borrowed. City staff has estimated that $301 millions worth of resources are available over the next 10 years to fund 37 capital projects. The full list of projects totals over $281 million.
The idea, Stuckey said, is for aldermen to reach a comfort zone with all or a portion of the projects to put forth a resolution they can vote on within the next couple of months or so.
"We've got more than capacity in the modeling we've done, and with your prioritization (list of projects) and the other projects we've identified, we recommend we move forward with it," Stuckey told aldermen.
"If you're comfortable with this list or if you're comfortable with a portion of this list, let's move forward to where there's a consensus. If you want to revisit a group of these or have a little more time with them, that's fine. We don't have to do this in one motion. We can, but if you want to say let's go with this group and then come back in the fall and visit [a different group] further, we're comfortable with [that as well]."
The first tier of projects out of three includes a list of itemd that aldermen determined several months ago to be priorities. Ranking at the top of the list is the construction of a bridge that would cross Interstate 65 and connect Long Lane on the east side and Old Peytonsville Road on the west. The project is estimated to cost nearly $22.3 million. The list totals 13 projects, including a new Franklin City Hall at $24.5 million, an upgrade to Bicentennial Park at $4.175 million, drainage improvement on Battle Avenue at $2.5 million and a Fifth Avenue parking lot at $500,000.
Another tier consists of seven projects that were approved in 2017 and are already underway or will be soon, including the construction of Fire Station 7, McEwen phase 4 and phase 1 of the Southeast Park.
Finally, Stuckey briefly mentioned each of the 17 projects that are on the third tier otherwise known as the "opportunity" tier. These are projects deemed as a community need or would perhaps have access to funding through a grant or a private-entity partnership.
"This is a blending of your priorities and other needs and opportunities that have been identified," Stuckey told aldermen. "All of this has been done in the context of our financial capacity and a preliminary funding plan for every project and how that rolls together in a collective funding strategy for capital investments over the next 10-year window."
Aldermen meet again Tuesday for a work session at 5 p.m. The full Board of Mayor and Aldermen meeting will follow at 7 p.m.