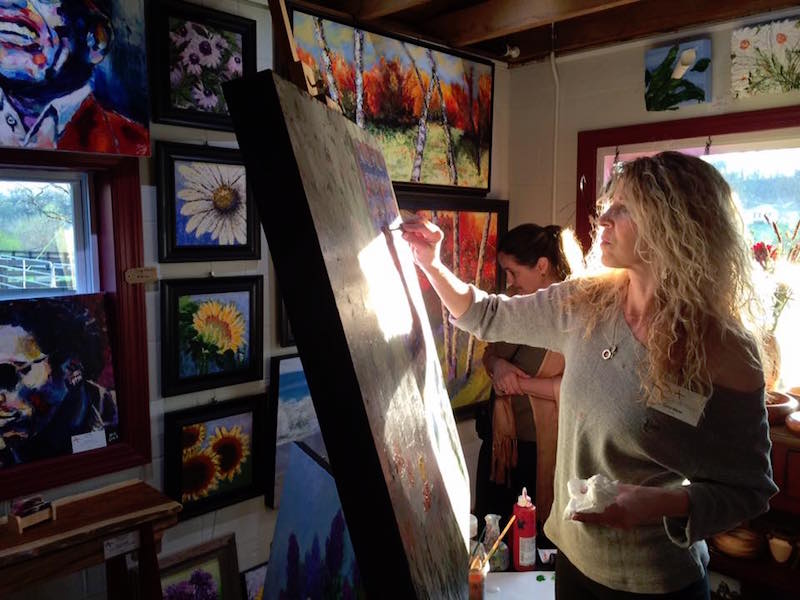 PHOTO: Carol Moon finds joy in painting with a multitude of colors, and she hopes viewers of her work will discover joy in what they see. / Photos submitted 
By JOHN McBRYDE
Whether it's the brilliance of a flower, the hues of a sunset or even 1970s-era wallpaper, Franklin artist Carol Moon has always been fascinated by colors.
It came from her mom and dad, who taught her to not only stop and smell the roses, but to also breathe in their beautiful colors.
"My best friend from high school and I will still reminisce about my mom pulling off the side of the road on a fall day and saying, 'Oh, girls, look at the beautiful colors in the trees that God made. Look at what He gave us,' " Moon said. "It's definitely my parents who drew my eye to color, and that's a blessing."
Now 58, Moon has taken that blessing and put it toward her lifelong enjoyment of painting.
Her current studio is in the dining room of the apartment where she lives with her husband, John, and where she works her "day job" as a leasing consultant.
Moon's paintings can be viewed and purchased during Friday's Art Scene in downtown Franklin. Her work will be on display at the Historic Presbyterian Church located at Fifth and Main Street. She has shown several times at the monthly Franklin Art Scene, as well as at other art crawls in Nashville and elsewhere. Her work can also be seen and purchased at her website.
"For some reason, I've always liked the contrast [between colors]," said Moon, who is self-taught. "You know the 70s wallpaper that so many homes had, the mod lime green, bright pink or bright orange? That was in my bedroom. I loved the color and the contrast of that wallpaper."
As Moon shows her paintings, she hopes the viewer will come away feeling new emotions.
"I want people to connect with something inside of them that connects to something in that painting with really any kind of emotion," she said. "For me personally, I hope they get joy."
Friday's Art Scene will have more than 20 sites displaying an array of work from area artists, from 6-9 p.m. One of the newer spots is VintageTN, an artisan destination for those looking for inspiration, community and materials. Free trolleys will be headed to its location on Columbia Pike as well as other places.
In addition to Moon's work being shown at Historic Presbyterian Church, other locations are:
Dion's South, located at 422 Main St., will feature Sydney Clawson, a Nashville based artist focused on portraiture and abstract
Franklin Creative, located at 1261 Columbia Ave., will showcase Samantha Ornellas whose specializes in charcoal, acrylic and oil paintings.
Franklin Road Apparel, located at 508 W Mains St., will showcase artists Amy Elizabeth, Valerie Duncan and Richard Sturtride as well as musicians Ashton Angelle, Marqus McDermott and Jessica Craven.
Gallery 202, located at 202 Second Ave. S., will feature artist Susan Blair Truex, who uses visual textures and layers in her work to create a luminosity and depth.
Hester & Cook, located at 340 A Main St., will host artist Kristena Derrick, who is inspired by modern Japanese and Scandinavian form.
Imaginebox Emporium, located at 311 N. Margin St., will showcase the original illustrations of Cory Basil as well as his other creations using mediums such as watercolor, oil and gauche.
John H. Green, located 118 4th N., will display the pen and ink sketches of Mike Krupek, whose lines are free flowing and capture memories of vanishing sights.
ONYX & ALABASTER, located at134 2nd N., will host multi-media artists Cailyn Davidson, whose value and mission is simple: Made to create. Rooted in purpose.
Posh Boutique, located 231 Public Square, will feature artist Blaque Reily, who will be displaying her contemporary collection of jewelry based on simple lines and asymmetry.
Sage Sleep, located at 434 Main St., will showcase acrylic artist JD Wise, whose hope is to inspire the heart and refresh the soul with his modern, musically inspired paintings.
Twine Graphics, located 304 Public Square, will display the work of Mike Moyers, whose passion is to use fine art to communicate matters of faith.
VintageTN, located at 1261 Columbia Ave., returns this month as an artisan destination for those looking for inspiration, community and materials.
Visitor's Center, located at 400 Main St., will be featuring handmade rustic frames created by Scott Ewing with Kaleidoscope Frames.