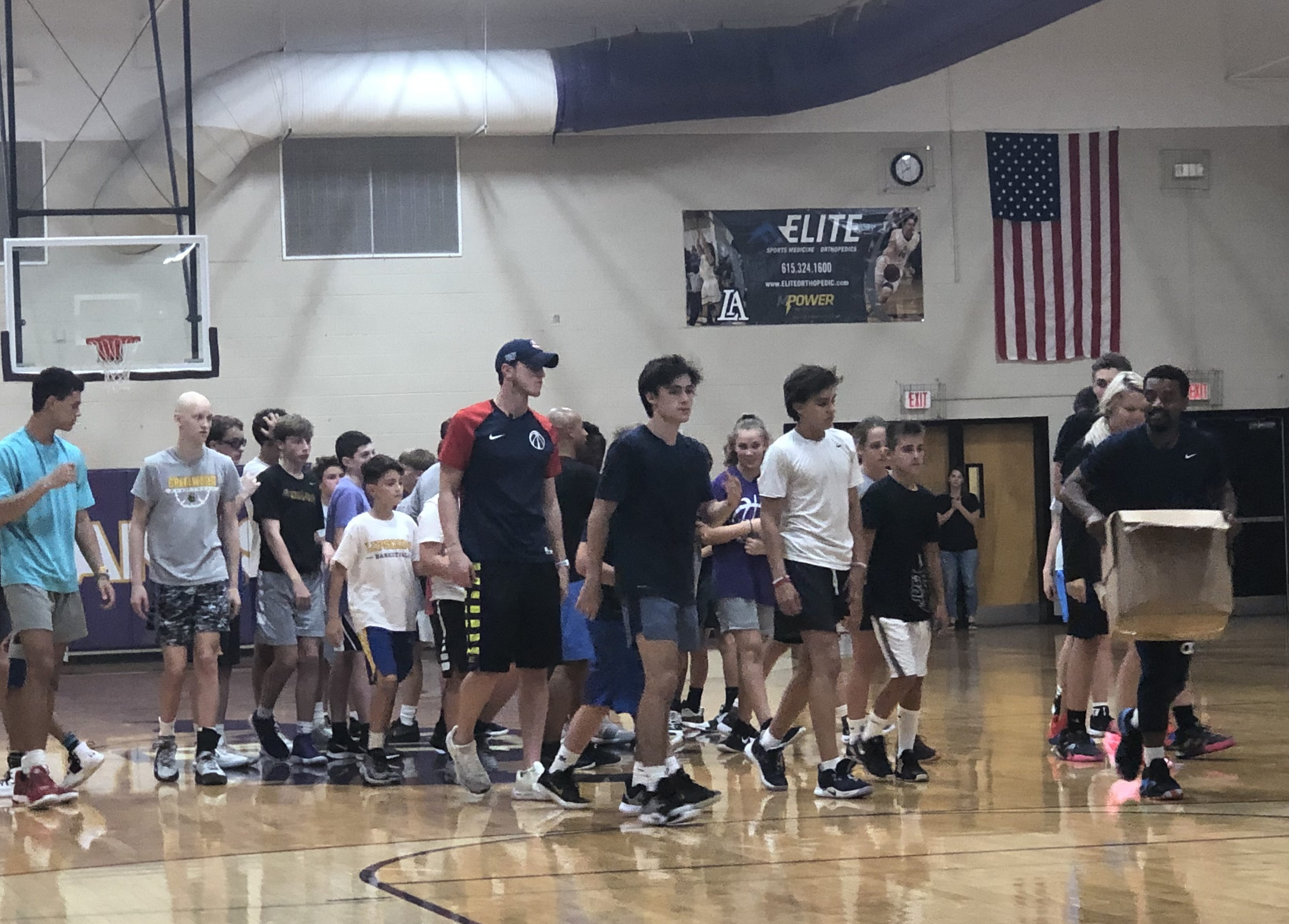 By GRANT LEDGISTER 
Before campers began to learn about basketball Tuesday night from a brand-new NBA player, he had a quick word of advice for them about the game.
"When things get difficult, you have to push through and bring your best attitude, because this should be fun," he said.
These are the ideas and goals stated before the first day of Franklin High School graduate and former Lipscomb University star Garrison Mathews' basketball camp.
The camp, presented by Mathews and F2 Basketball, a training company that works with professional athletes across different basketball leagues, was hosted Tuesday night at Lipscomb Academy for its first of two installments. Boys and girls in grades 6-12 were invited to attend.
Before day one of the camp got underway, Mathews and NBA skills coach Colin Stevens shared words of encouragement about the coming two days of work. Mathews stressed to the attendees the importance of having people that will encourage them when things get tough.
"One thing I want you guys to realize is you can't do it by yourself," Mathews said. "You need guys that'll help push you. It's been a huge part of me and my improvement."
After the huddle broke, the training started, and the intensity didn't drop until after the day was over.
Mathews, Stevens and skills trainer Jordan Romine put the several dozen athletes at the event through a gauntlet of ball handling drills, including high-middle-low dribbles, dribble-jabs, behind the back shuffles and others before finishing up with some three-on-three competition.
All of the drills practiced are drills that were used to help train Mathews for the summer league and in the time leading up to the beginning of his first season in the NBA G League with the Capital City Go-Go (the Washington Wizards' affiliate) this fall.
Mathews signed a two-way deal with the Wizards in June.
Throughout the evening, the importance of repetition was stressed. The athletes were told that it's okay that they're not going to become a master of a technique instantly, and that they should do things until they've done it as perfectly as they can. Former NBA player Kobe Bryant's work ethic was brought up as an example of how immensely a hard work ethic can pay off.
"If you're not pushing yourself, you're not making mistakes. You're not doing it hard enough," Stevens said.
Mathews ended the evening in the huddle. He told the attendees they should take the opportunity and make the most of it, and that who they are becoming is more important than who they are now. He emphasized the significance of leaning into that truth.
Night two of the camp Wednesday will build off of the fundamentals taught in day one to eventually and into more shooting practice.