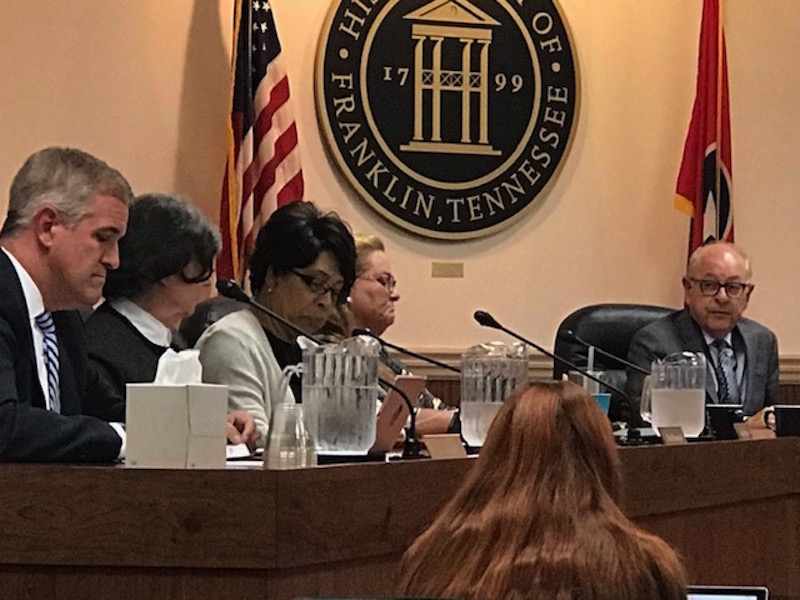 PHOTO: Discussing matters at Tuesday's Board of Mayor and Aldermen meeting at Franklin City Hall were (from left) City Administrator Erick Stuckey, aldermen Ann Petersen, Pearl Bransford and Brandy Blanton, and Mayor Ken Moore. / Photo by John McBryde
By JOHN McBRYDE
The Franklin Board of Mayor and Aldermen voted unanimously Tuesday night to approve the design concept for a pedestrian walkway that would stretch out Lewisburg Pike to the Eastern Flank Battlefield and perhaps even farther.
The project was placed on the list of those that fall under the Capital Investment Program the board had approved in August. It's a list of projects that city staff considers priorities for fiscal years 2019-28.
Aldermen were presented with four design options, from the least costly one at $1.162 million to the most expensive at $5 million. The board voted for the latter option.
"I know that the people on Lewisburg Avenue and out Lewisburg Pike are jumping for joy tonight, and I'm jumping with them," Margaret Martin, 4th Ward alderman, said. "For years and years and years I walked in the mud, too, down Lewisburg Avenue. I'm thrilled to death, and I know all the residents are."
According to the design, a sidewalk will be constructed on both sides of Lewisburg Avenue, with one side becoming a multiuse trail at Stewart Street and the sidewalk on the opposite side ending at Thompson Alley. The multiuse trail would lead out to the Eastern Flank Circle at Carnton, on that side of Lewisburg Pike.
During discussion, at-large Alderman Brandy Blanton asked about the possibility of including in the plan a design that would take the trail out to where Lewisburg Pike and Mack Hatcher Boulevard intersect.
"We could look at it as an alternative when we bid it out and seek that design work and what that might entail," Franklin assistant City Administrator Vernon Gerth said in response.
Otherwise Monday night, aldermen breezed through 13 other resolutions with unanimous votes and little discussion.
The board meets again Tuesday, Nov. 12, for a work session at 5 p.m. and regular meeting at 7.