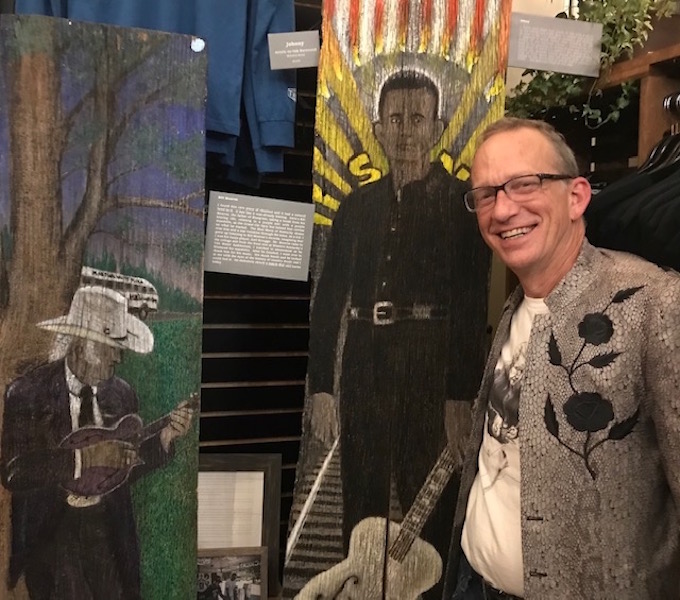 PHOTO: Franklin's Matt Jenkins stands beside his barn-wood paintings of Johnny Cash and Bill Monroe at Twine Graphics during Friday night's Franklin Art Scene. / Photos by John McBryde
By JOHN McBRYDE
As a rock 'n' roll musician for over three decades, Matt Jenkins pounded on the drums.
Now he's painting on them.
"I played drums for 35 years, and now I'm painting on drumheads, of all things," Jenkins, of Franklin, said Friday night during the Franklin Art Scene. "After playing them, I never thought they'd be canvases."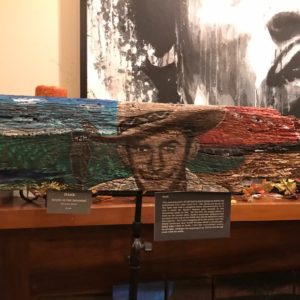 Jenkins, who played in a band in Nashville during the 1980s and continued with the music scene into the '90s and the 2000s, began painting about 2½ years. He was doing his first-ever show Friday at Twine Graphics in downtown Franklin.
"These people at Twine have been so glorious and really, really supportive," Jenkins said. "They do whatever they can do to help me out."
The spark that led Jenkins toward painting came from Manuel Cuevas, the Nashville designer best known for the clothing he has created for prominent country music and rock 'n' roll stars. Jenkins had created a portrait of Manuel on a drumhead using colored sharpies that highlighted his hair in all manner of colors. He presented it to him, and Manuel was immediately impressed.
"I got encouragement from Manuel," Jenkins explained. "He said I need to stop hiding and become an artist. I've been painting ever since, and it's been a great run."
In addition to drums, Jenkins also uses barn wood for many of his paintings. On display Friday were pieces done on wood of Keith Richards, Hank Williams, Johnny Cash, Dolly Parton and Bill Monroe. The one of Dolly will end up in a new Puckett's restaurant opening in Pigeon Forge.