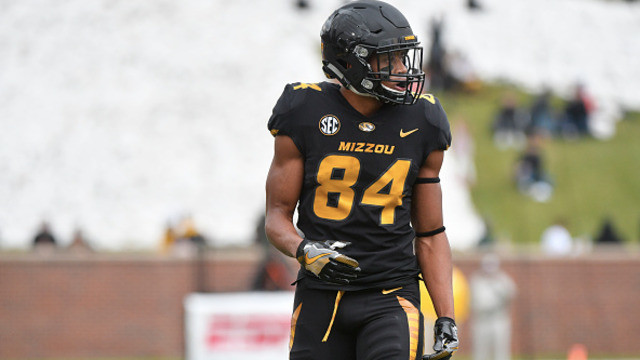 Emanuel Hall's time without an NFL team didn't last long.
The former Centennial High School grad and Mizzou ace at wide receiver was claimed on waivers by the Tampa Bay Buccaneers Wednesday after the Chicago Bears parted ways with him earlier in the week, per ESPN's Field Yates.
The team confirmed the pickup Thursday.
Hall's draft process was widely-documented, taking a fall from being a mid-round prospect with upper-round potential after his time with Missouri to a high-priority undrafted free agent in April.
The Bears paid him well to join them for the offseason, but a crowded receivers room and Hall's lingering issues with injuries caused Chicago to place him on the waiver wire.
In Tampa Bay, he'll be under new Bucs head coach Bruce Arians, a respected offensive mind, and could have a legitimate shot to make the roster.
The team has a Pro Bowl talent in Mike Evans and a rising impact player in Chris Godwin. After that and improving former first rounder Breshad Perriman, the team has openings in its receiving core for 53-man roster and practice squad spots.
Hall will have to read up quickly on the Bucs' playbook and be healthy enough to get in the preseason action. Injuries were, after all, part of why he wasn't able to latch on in Chicago and why his draft stock lowered.
The Bucs play the Dolphins in preseason play Friday night. It's possible Hall will suit up for that game, though he's got two more contests after that to prove his mettle.
The Bucs waived former Tennessee safety Micah Abernathy in correspondence to the move.
Abernathy came out as an undrafted free agent after the 2019 draft like Hall, and has spent time with the Bucs and Minnesota Vikings this spring and summer.
Photo from Getty Images.