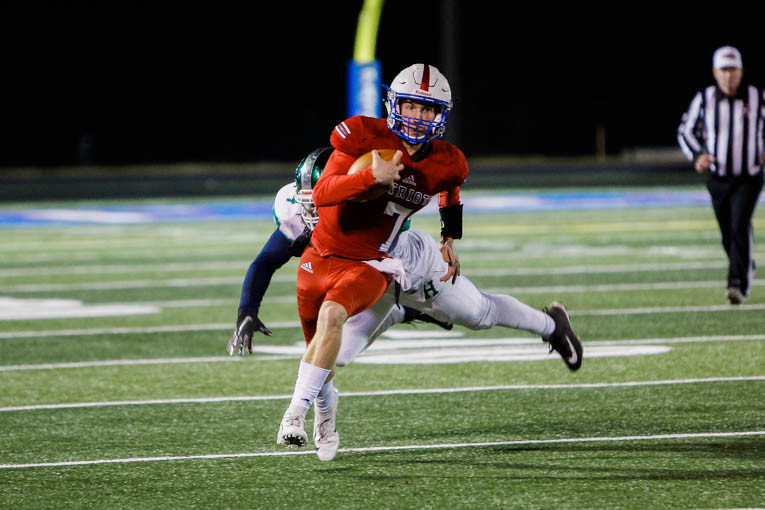 STORY BY KEVIN WARNER | PHOTO BY DEB SCALLY
The Page High School Patriots look to move on to higher ground after capturing their first region championship in 19 years last season.
Page went 10-2 on the way to the Region 6 5A championship before losing to Beech High School in the second round of the TSSAA state playoffs. While the season was historic the Patriots, head coach Charles Rathbone talked about how he didn't want this year's team to be satisfied with their success from a year ago when he spoke at a Williamson County School media event in July.
"Our biggest challenge this year is about moving on, getting past last year, and winning the championship for the first time in 19 years," Rathbone said. "All that's great, and it's something we're very proud of. … But when you start resting on your laurels and being satisfied with last year, sooner or later, that next year is going to come."
The Patriots return a lot of experience from last year's team, including 22 seniors. They also return 13 starters from a year ago with six starters on offense and seven starters on defense.
One of those starters will be senior quarterback Cade Walker, who enters his second full season as the Patriots starter. He talked about how the Patriots prolific offense looks to be a little more balanced in 2019.
"The offense will look a little bit different just because I feel like we have a little bit better running game to go with our pass," Walker said. "Last year, got to where a lot of teams were dropping eight in coverage, so it got a little hectic."
Walker did lose his favorite target in Michael Burdick to graduation, but Miles Bonn looks to lead a very talented receiving corps this season.
Senior Jacob Dahl returns on the offensive line with Joel Meier and Cade Ashman. Dahl will also play some nose tackle on the defensive front.
The Patriots defensive line will return all district performer Max Van Landingham at defensive end. Van Landingham recently received his first Division I football offer from Tennessee Tech University. The Patriots defensive line will be coached by former Tennessee Titan and NFL pro Karl Klug for the second season.
Even in July, the Patriots were already looking forward to their week one matchup with county rival Fairview in the annual Battle of 840.
Last year's game came down to an onside kick, which Walker recovered to seal the game. He talked about how the 2017 game, the latest in Fairview, saw several guys cramping because of the extremely hot and humid conditions.
"It's such a big game for our schools and our student bodies get into it, it's our rivalry," Walker said. "No matter what team, or what year, for some reason it's a dog fight when we play them. … There's no telling what happens when you play Fairview, and that's why I think it's fun."
Page travels to Fairview to renew the rivalry and try to win its third "Battle" in a row this Friday. Game begins at 7 p.m.