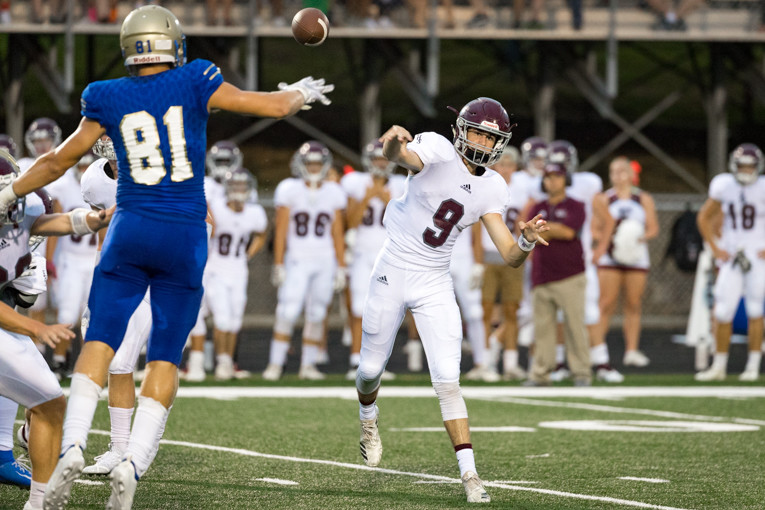 STORY BY KEVIN WARNER | PHOTO BY ANDY COLLIGNON 
The Franklin High School Rebels went 6-5 and made the playoffs in 2018, relying heavily on their defense. This season they look to flip the script.
The Rebels lost a tough matchup to Cane Ridge High School in the first round. The Rebels stingy defense kept the game close, 7-6, until late in the second half when they began turning the ball over and Cane Ridge went on to win 28-6.
This year, the offense—namely the offensive line—will be asked to keep the Rebels stay in games with the defense graduating eight starters from a year ago. Head coach Donnie Webb hopes that will be a strength of his team.
"I hope it's the offensive line. Defensively we were pretty good," he said at a WCS July media event. "Offensively what we did was keep ourselves from hurting ourselves and that's what gave us a chance to get back on track and back to the playoffs where we want to be. … Now we've got to turn tables and hold onto the ball and give our youth on defense a chance to get better."
Webb also said that he likes to platoon his linemen to keep them fresh. He says he enjoys having one start on one side of the ball and be a backup on the other. For example, senior Miles Burgess will be a starter on defense while being a backup lineman on the offensive side of the ball.
There will also be changes along the front seven as senior John Kirkpatrick moves from inside linebacker to a strong side linebacker. Kirkpatrick also serves as the team's long snapper and ranked eighth nationally at the Rubio Long Snapping Camp this summer. Kirkpatrick will also season time at fullback in the Rebels' option attack on offense.
"We feel like some form of the option is our best way to be different from everybody else in this league," Webb said. "Everybody in this league is some form of spread, RPO, quick game, screens. We're going back to more of our option type stuff."
Two-sport athlete Guy Lipscomb, who also plays baseball and recently committed to Belmont, will see time at quarterback and corner, while starting at safety. Senior Joshua Nichols started at quarterback a year ago for the Rebels and has some college interest.
The team loses Chancellor Bright to a transfer, a top-flight prospect at receiver, and will need a new group of wideouts to cover for his absence.
Webb also talked about how the game has changed over the years and how teams today have multiple ways to beat you. He also talked respectfully about how the other coaches in the county coach their teams.
"This County is fun. … I've always said it's more fun to go against the team that's coached right as you know where they're going to be. If they're not then, well heck, we'll just figure it out Friday night."
The Rebels open the season Aug. 23 on a Friday night at Siegel High School to begin their push to get back into the playoffs.
The team's big Battle of Franklin match-up with Centennial will be October 4. They face rival Brentwood Oct. 18, and Ravenwood Sept. 6.
Indy hosts the Rebels Sept. 20, and WillCo bouts with Summit (Sept. 13) and Nolensville (Oct. 25) are also on the slate.