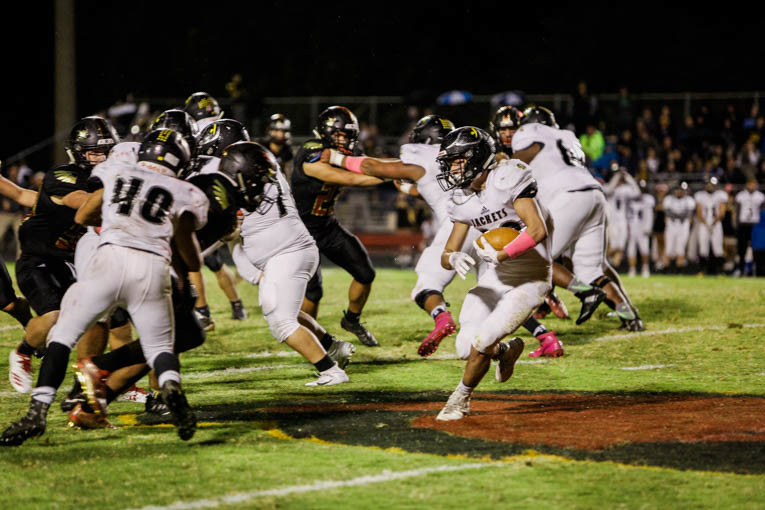 STORY BY KEVIN WARNER | PHOTO BY DEB SCALLY
The Fairview High School Yellowjackets (11-2) come into 2019 as the three-time defending Region 6-3A champions but will have to replace a lot of talent from last year's team to make another playoff run.
Big contributors like the wildly athletic Mr. Football finalist and Tennessee Sports Writers Association 3A All-State team Kam Harris-Lusk (signed with UT-Martin) and quarterback Brock Harris graduated last spring.
The Yellowjackets also lost a lot of size from last year including, offensive lineman Hiller Gray. Gray also joined Lusk as a TSWA 3A-All state selection.
Despite the losses, head coach Chris Hughes has confidence that his team will not need to rebuild this season and can simply reload.
"People have always asked me if were rebuilding and I say no, I never feel like were rebuilding," Hughes said a WCS media event in July. "I just feel like we have a system, our kids buy in and we just plug-and-play."
Hughes hopes to plug-and-play with a new quarterback in senior Anakin King, who played junior varsity and scout team quarterback the past three years and knows the offensive system very well.
The first year-signal caller did not lack confidence when he spoke to the media and seems poised to embrace his role for the Yellowjackets this season.
"I've been in Coach's Hughes' system for four years and gotten a lot of reps as the scout team quarterback getting used to his system, and I'm feeling pretty confident with it," King said. "Come summertime, I'm just going to camps, getting prepared for this moment that's coming up. And honestly, I'm ready for it, and I know my team is ready to go."
King will rely heavily on returning junior running back Logan Nordozi in the offense of line led by offensive tackle Connor Lindsey.
Defensively, the Yellowjackets are going to be very young, so Hughes hopes standout kicker Skyler Wilson can improve on his 25 touchbacks from a year ago and give the opposing offenses a long way to reach the end zone.
Hughes credited some of his teams' success to playing tough 4A and 5A schools like Page High School early in the season and looked ahead to this year's week one "Battle of 840" matchup.
"Page is always tough, the last two years they've got us both years. . .They're a Top 10 5A team, we're a Top 10 3A team and it's going to be a battle," Hughes said. "We're up to the challenge. But like I told our guys, to try our best to beat them, but they really sharpen us."
Hughes added that he liked that it's a home game for the Yellowjackets and believes all pressure is on the bigger Patriots.
For all opponents, the coach has a hint, particularly anyone who plays the team in November.
"Don't sleep on the Yellowjackets," he said of his team for 2019. "Hopefully, will be making noise in week 10 or week 11 when we're supposed to."